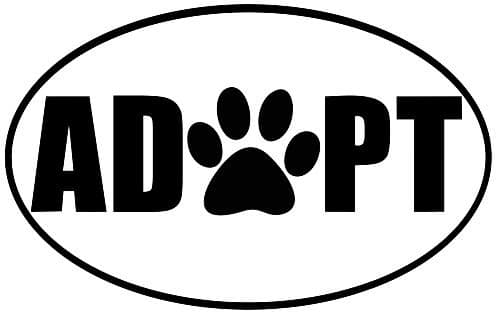 As the recent new adoptive mother of a lab mix, I can tell you adopting a rescue dog is not all rainbows and sunshine.
It's hard work and can be extremely daunting at times, even so much so that I actually debated shamefully returning my newly rescued pup because I just couldn't take it anymore – And I'm a woman who has spent the majority of my life protecting and caring for animals in need.
Many dog rescues provide a sort of buffer zone where you can return your adopted dog to the rescue and choose one that's a better fit and sometimes, that may be the right thing to do.
But if you are simply having a hard time adapting to your new four legged friend, I'm here to tell you – don't give up because it's so worth it.
Many of us animal lovers who are hooked on the idea of a rescue dog, proceed with rose colored glasses. We envision picking them up from the cold confines of a shelter or removing them from a bad situation to your comfy, safe and happy home.
You know they'll get tons of love, plenty of food and exercise and the best care available and imagine evenings running along the beach with your new best friend by your side.
Remove them from a shelter, give them a bed and food and *poof* you're the proud new owner of a Lassie-esque dream dog. Unfortunately, that's usually not how it goes.
There are situations where the rescue dog you fell in love with at the adoption event may not be the right fit. You may have young children and the dog turns out to be aggressive, or an elderly dog at home that just can't get along with the new family member.
There are situations where it's necessary to return the rescue dog and there is absolutely nothing wrong with that. But if you're like me, you had an idea in mind of how your rescue dog would act and the bond you would automatically share.
You wanted to fit this new dog into your life and shortly after adopting, you realized that's not how it goes. It's not about the dog fitting into your life, but instead much more about you learning to adapt to the dog.
I'll be honest. I made some big mistakes when I adopted my dog Jackson. After a few weeks, I felt defeated and that he wasn't anything I had been looking for originally. That's when I started reading "Control Unleashed" and one of the first things it talked about was loving your dog for whom it is.
We can't make a dog into what we want, just like people, dogs are who they are. We can train and work with them and do everything possible to help, but we cannot change the fundamental core of who they are, and really – we shouldn't want to. That was my turning point.
As I was sitting on the bed crying after being yelled out of the local dog park and was seriously debating returning Jackson to find a better home, I realized what I was doing. I was trying to get him to fit into my life instead of the other way around. Once I changed my mindset, everything started turning around.
So from one new adoptive dog mother to many others, here are my tips for learning to adapt your life to your new dog:
Keep an open mind: What works for one dog, may not work for the next. Just like people, dogs learn in different ways.

Some are extremely food motivated and others just want to play. Be open to changing your training technique and even working with a range of different trainers and training tools until you find the right fit.

Ask a vet: It's easy to pigeonhole a new rescue dog and think everything they do is behavioral, but sometimes an act like urinating consistently in the house, while incredibly frustrating, can actually be a sign of an underlying medical issue.

Before adopting, make sure you have plenty of money put aside in case health issues arise and don't hesitate to ask your vet about any abnormal behavior.

Give it time: It's important to remember the situation is new for your rescue pup as well. He or she is adapting to a completely different environment, which can be overwhelming.

While we all want to be able to play and run and have fun with our dog right away, it's not always the best choice. Take the time to ease your new dog into situations including meeting other dogs, meeting new people, riding in the car, and especially going to a dog park.

Be prepared: Being prepared to bring a new dog into your life isn't just about buying a food bowl and crate, it's about being mentally, emotionally, physically, and financially prepared for the task.

There will most likely be some stressful days, maybe a lot of stressful days while you adapt to your new dog. There will most likely be accidents in the house, a few chewed toys, some thrown up meals, and embarrassing moments, but the love you'll get is worth it.

Just make sure you are in a happy and secure place in your life before bringing a rescue dog into your family to ensure you can handle the stress. It's important to take your time when adopting a new dog and be 100% stable and secure before taking the leap.
*Article submitted by Carli L. – Carli is a proud rescue dog mom and past equine and small animal vet assistant. She currently works in public relations and spends her free time blogging, riding her horse, and hiking with her pooch.