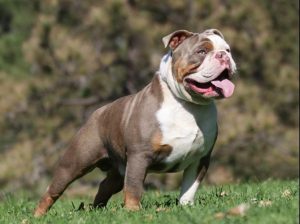 As early as 16th century the famous dog breed, the English bulldog, was introduced into our lives. Although it hadn't received the modern spelling of its name till later, the famous dog had already served its special purpose. Even in the early years of the 1600's the demand for this breed was already highly emphasized.
The term bulldog was coined because during the early centuries the dog was used in bull baiting, where dogs and a bull fight. It might be quite hard to imagine or figure out how these dogs were able to defeat such massive opponents. Because of partaking in this amusement for centuries, the dogs that were used to participate in bull-baiting developed stocky and muscular bodies with a big head and jaws. This physical structure of the breed made them the epitome of sturdiness and ferociousness. Luckily, as human understanding and empathy evolved, bull bating was finally ended. With this extension of brutal animal usage, bulldogs have moved forward to play its role at the farm and homes.
Bulldogs are truly famous even today. As seen in the movies and pictures, bulldogs have a muscular body, built with a massive head and drooping cheeks that make them seem and look angry all the time. The face of the English bulldog has extra skin that falls into the folds of its facial structure. It has deep seated eyes that are dark in color, while its nose is also black and its nostrils large and broad. Its ears on the other hand are small and thin which are located high on its head.
English bulldogs have a life span averaging 8-12 years. Its average weight can reach up to 24 – 25 kg for female bulldogs, while the male bull dogs can reach up to 22 – 23 kg. Although there is no specific height that is prescribed, bulldogs' height can reach about 12 – 16 inches (31 – 40 cm).
Although the English bulldogs' physical build can be a bit scary and intimidating, they are considered among the gentlest dogs. Bulldogs love little kids and they have a friendly personality and good temperament because of their patience. Despite there mildness, bulldogs shouldn't be mistaken as harmless because they do not like intruders and they are very persistent. Despite this persistent attitude, this breed is also easy to train so long as their master, owner, or trainer knows how to display and act based on the alpha canine behavior.
In today's generation, the major role of this breed is to act as a pet that guards the house, or a working and sporting dog. This kind of breed is not high maintenance but they do need to be exercised every day.