Abyssinian cats are one of the oldest feline breeds in the world.
Although they may not be closely related, their appearance greatly resembles the cats depicted in Egyptian hieroglyphics and scriptures. They are known to be extremely curious felines and can almost never be seen just sitting in one place. This makes them perfect furry companions for those looking for playful pets but can't handle the responsibility of caring for a larger animal.
A Brief History On Abyssinian Cats
Contrary to its name, it is not exactly known whether Abyssinian cats are actually natives of Abyssinia (Ethiopia). However, the first Aby that was brought to England was by Captain Barrett Leonard when he returned home after fighting in the Abyssinian war. These cats bear a close resemblance to ancient Egyptian cats but it has not been proven whether or not they closely related. However, this idea may not be too farfetched as almost all breeds of domestic cats are descendents of the felines in ancient Egypt.
The breed was refined and firmly established in England. Abys arrived in the US in the early 1900's but it wasn't until the 1930's that breeders decided to take steps to improve it. Through the years, Abyssinian cats have won the hearts of pet lovers because of their elegant appearance and temperament.
The Appearance Of Abyssinian Cats
Abyssinian cats have sleek muscular bodies, long legs, and short coats. Their heads are wedge-shaped with slightly rounded edges. They have almond shaped eyes which appear to be too large for the size of their face and large pointed ears.
The Aby's ticked or agouti coat is one of the most appealing physical characteristics of this breed. Each strand of hair has bands that alternate between light and dark shades. This makes their coat look shimmery even if they are stationary.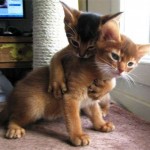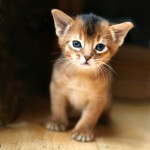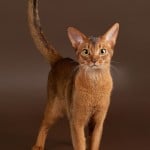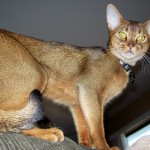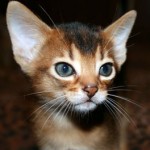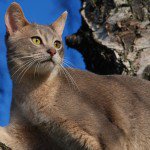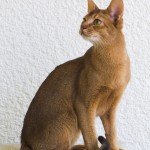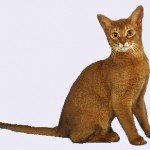 A Abyssinian Cat's Temperament
Abyssinian cats are very active and curious creatures. Needless to say, this breed is not suitable for those who looking for lap or decorative cats. Occasionally though, they will allow their owners to stroke them and will even ask for some cuddle time.
Their curiosity can be troublesome at times as they like to stick their noses into almost anything. They will climb up bookcases and cabinets when curiosity strikes. However, Abys rarely knock off items on shelves and table tops because of their agility and fluid movement. Their curious nature makes them clowns of the feline kingdom as it can lead them to do strange and funny things. Some of these include playing with running water and figuring out where ice chips go when they melt. They can be quite entertaining to watch.
Abys are extremely loyal and affectionate felines. They are always willing to play with their owners and even guests. They like being around people which means they don't hide out when there's a party going on. In fact, they love being in the center of things.
Health Concerns
Abyssinian cats are very easy to care for and don't really require special attention. However, it is important that they are checked up by a vet regularly as there are a few hereditary diseases that have been discovered in the breed. One of these is progressive retinal atrophy. This disease can cause blindness when left untreated.
Another is a kidney disease called renal amyloidosis. Renal amyloidosis usually affects cats that are below 5 years old. While there is no cure for this disease, there are treatment plans that can help them live longer and more comfortable lives.