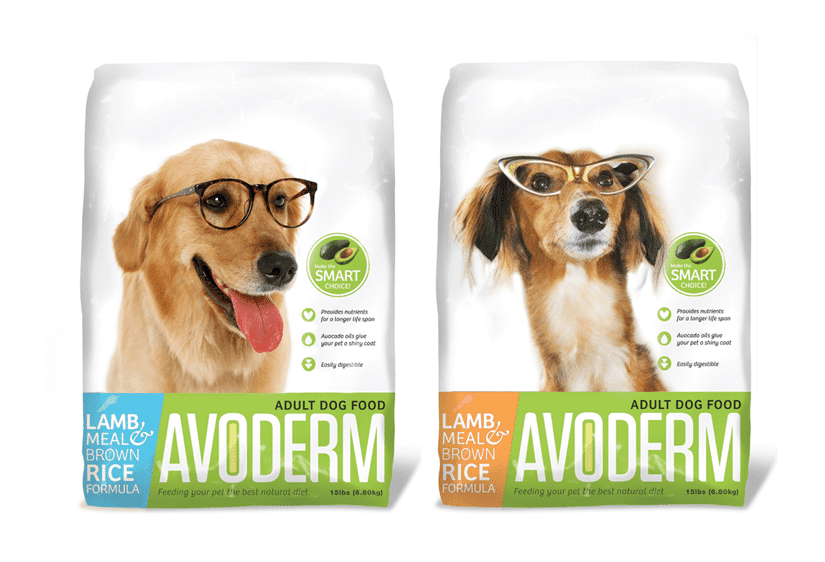 Avoderm is manufactured by Breeder's Choice Pet Foods which is a division of two merged companies, Central Garden and Pet Company. They started introducing pet foods in the market in 1947; frozen dog meals in particular. It wasn't until 1960 when they finally decided to sell dry meals and dog biscuits; Breeder's Choice then introduced Avoderm in 1982. Since then it has been recognized as one of the premium products for pet nutrition. The company aims to provide products with higher a value of nutrients far better than their competitors.
Avoderm is one of the most unique pet foods since it's made with avocado. There are some pet owners who are skeptical about avocado, they say that dogs are quite sensitive and avocado can cause allergies in their pets. Anyhow, avocado is still an interesting ingredient – this fruit is rich in vitamins and good fatty acids. Avoderm has a wide variety of treat selections and snacks for your pets and items that are specifically made for your dogs sensitivities. Most products are oven baked, retaining its overall nutrients.
There are certain criticisms in the use of avocado as an ingredient for dogs. There are certain studies showing that this fruit can harm the wellness of canines, and others that consider avocado as unhealthy which could lead to heart failure. But they also said that it can only have a bad effect on your pets if the fruit is consumed more than what is recommended.
Ingredients
Avoderm contains other ingredients aside from avocado. Main components include chicken meal, lamb, chicken liver, ocean fish and chicken meat. Avoderm uses an average amount of poultry meals which is the main source of proteins. The company is trying to expand their products as often as possible to cater new pet foods for a better quality of life for your dogs and cats.
When feeding your dog with Avoderm, the first question that most pet owners will ask is how much of is enough? For this product to work well with your pet, try to consider their size, age, weight and lifestyle. Also, there are instructions for specific amounts on the packaging that will help you verify the proper quantity for your pet.
Food Recall
Just like any other brands that experience issues, one batch of Avoderm was recalled, last September 2012. Avoderm Adult Lamb Meal and Brown Rice Dog food was recalled due to contamination of Salmonella. This product is only applicable for 26 lbs. of food with "best by" dates of 8/28/13 – 8/30/13.
When choosing the best brand for your dog, check the labels to see if there are ingredients with possible allergens that may cause problems to your dog. For example in Avoderm, if your dog has an allergy to gluten, then verify that the package doesn't contain any of those allergens. There are certain products available that will fit your pets' needs. These Avoderm products are available in pet shops and retail stores.