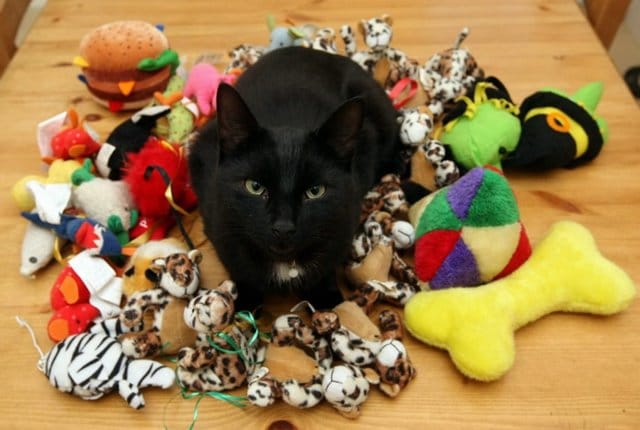 Cats are very playful creatures. They play around with almost anything they can lay their paws on. This can sometimes be annoying to their owners especially when their cats decide to play with something they aren't supposed to.
The best thing to do is of course, get a couple of cat toys that can deviate their attention. There are a lot of cat toys you can buy at a pet supplies store with prices that range from cheap to pricey.
While this certainly seems like the easiest thing to do, not a lot of cat owners can afford to buy their furry companions a bunch of toys.
What's more is that cats can sometimes become picky with their toys and completely ignore the ones you just bought. That can be really frustrating especially if you spent your hard earned money on them. To save yourself from all of the frustration, you can just make cat toys out of things you have lying around your house.
Not only will you be saving money, you will also be having a lot of fun making them and you won't have to feel bad when your cat outgrows it.
Here are a few ideas for great homemade cat toys:
1. A mini cat gym out of cardboard boxes
Instead of sending off your cardboard boxes to the recycling center, use them to build a mini cat gym for your furry little friend. You don't need to be a handyman to build one!
All you need is a paper cutter, a pair of scissors, duct tape, some old shoe laces, and your cat's favorite toys. Of course, you will need a little space to set your cat's mini gym in.
First, you need to think of a design. You don't need to be an architect for this because all you need to do is think of how you're going to join the boxes together to form the gym.
Since you'll be using cardboard boxes, it would be best to keep it low to prevent your cat from getting injured in case it decides to climb up on the boxes.
Next is to cut out holes that are big enough for your cat to get in and out of. Last is placing old shoe laces and toys around the gym.
2. Bean bags out of old socks
Cats love to mess around with rolled up socks. You can make bean bags out of your old socks by filling them up with small beans and rice grains.
Make sure to choose beans that are small enough so in case the sock breaks, there's no risk of your cat choking on the contents.
3. A shiny rattling toy out of an empty medicine bottle
Shiny things that roll around and rattle are irresistible to cats. You can make your cat one out of an empty plastic cylindrical medicine bottle filled with some rice grains or beans, aluminum foil, and a piece of yarn.
First, make sure to clean the medicine bottle thoroughly to remove all traces of the medication. Fill one fourth of it up with some rice grains or beans and make sure that the cap is secure.
Wrap the bottle up with aluminum foil then tie a piece of yarn around it. Make sure that the yarn is long enough for your cat to chase and pull.