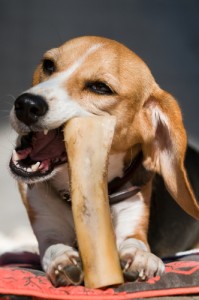 It is undeniable that dogs like to chew. Chewing is an innate behavior in canines. Puppies chew on things around their environment because this is their way of learning about the world. Adult dogs chew because it is a part of their dental hygiene regimen, a form of exercise for their jaw, and a way to entertain themselves when they are bored.
However, leaving a dog's chewing uncontrolled can lead to behavioral problems. For one thing, it can be destructive to have a dog that chews excessively around the house. Next is the dog will have a tendency to become aggressive. To prevent problems that may arise because of a dog's excessive chewing, it is best to train your dog as early as possible and one of the best ways is providing it plenty of dog chews.
There are different types of dog chews available in the market and shopping for one can get pretty confusing especially if you don't know too much about them. First of all, it is important to remember that digestible dog chews are always better than those that aren't. Also, you would have to play a game of trial and error before you are able to figure out which type of chew your dog likes.
Dried Animal Parts (hooves, antlers, bones, etc.)
In the past, dogs were given dried animal hooves or bones as chews. This type of dog chew is still available in the market but pet owners are highly advised to steer clear of them because they pose as a serious health risk for canines. Dried hooves, antlers, and bones are extremely hard and are indigestible. Not only are dogs at risk for choking and sustaining injuries to their teeth and mouths, they are also more susceptible to gastrointestinal diseases.
Rawhide
Rawhide dog chews are one of the most common and probably cheapest type of chews today. However, there is a lot of controversy surrounding the safety of rawhide as chews. This type of chew is very hard and can be quite difficult to digest thus putting dogs at risk for blocks in the gastrointestinal region. In addition, cattle hide needs to be processed heavily before it can be made into a dog chew. As such, the different kinds of chemicals used in the manufacturing process should be a cause for concern.
Digestible Dog Chews
Digestible dog chews are safest to give dogs because they are made from natural ingredients. However, they can be quite expensive and don't last very long. Since digestible dog chews don't undergo rigorous chemical processing, some varieties may have a strong odor that can be quite unpleasant for some people.
A popular digestible chew choice among dogs and their owners are bully sticks. Bully sticks are dried bull penises. Dogs find them to be flavorful and owners buy them because they are natural and have a high nutritional value. Bully sticks come in different sizes to suit any dog breed.
The second most popular digestible dog chew is cow ears. Much like bully sticks, cow ears are not processed with chemicals but are either dried naturally or smoked. This type of dog chew is cheaper than bully sticks but is not suitable for large dogs and aggressive chewers.
Dog Dental Chews
Dog dental chews are kibbles loaded with ingredients that promote dental health. These chews are completely edible but it is best to consult a vet before you decide to give this to your dog to ensure that it won't cause your pet any harm. Dog dental chews are more pricey as compared to other digestible dog chews but is highly recommended if your dog has dental problems.