Cat parents like me will tell you that their furry babies are part of the family. Dishing out big bucks for health care is part of the deal we make when we bring our critters into our homes. We love our feline babies just as much as if they were human (and some surely seem that way!). 
Any time someone tells that me it's not worth the time and money, I actually feel sorry that they don't understand the relationship between cats and people.
For some people, their relationship with their cat(s) is a lifeline to sanity. Our family-friend Therese is like this. She has taken a lot of hits over the last couple of years, dealing with a number of life's issues in quick succession.
Losing a husband, fighting some health problems, getting her children off to school, finishing school herself, one of her children dropping out of school (in the UK!), that same child getting engaged to a less than reputable fellow…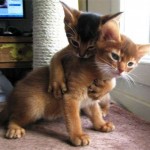 On top of this, Therese moved from her hometown to a brand new area, she got a new job and then got married (again). In the meantime, the new husband was having trouble at his job and didn't seem to get along with anyone; especially his wife. He was angry, she was nervous and anxious a lot of the time.
I know. That sounds like I just pulled about 10 things out of the "awful things to happen in life" grab bag.
But sometimes, life hits you, and it hits you hard.
Life was changing constantly; when you get older, that becomes harder to handle. And to add icing to the cake, Therese hit the big 5-0 last year; that's a milestone which, if you don't have stability to start with, can lead to some depressing moments of recognition (or so she's told me – I've been counting my blessings and being grateful for all the lovely things in my mid-late 20s life as Therese has gone through this).
And then it hit.
In addition to all of these life changes within a fairly short period, Therese's "favorite" older cat, Marty, developed lymphocytic leukemia. Therese didn't have insurance for her cat, either.
Lymphocytic leukemia, in a nutshell, is a cancer that initiates in bone marrow and moves to other areas of the body; it is different from the feline leukemia virus which veterinarians always keep tabs on.
Lymphocytic leukemia is either acute — the disease becomes fast moving, severe and can begin affecting organs quickly — or it is chronic, where the cancer cells reproduce and spread slowly. Veterinarians say that if the cancer is moving slowly and caught early, it is controllable with medications.
Marty was pushing cat years at this point where, at age 13, he was considered to be past his prime and into the geriatric stage of his life.  After all the blood work and diagnostics and doctors and hospital costs, the dollar amount was up in the low five-figures.
Treating Marty with meds for the rest of his life would surely increase that. Therese spent thousands of dollars and she took a lot of flak for it but there was no decision to make; the doctors said that as long as Marty took his medicines, he could continue to live to his natural end; whenever that would be.
Therese's current husband couldn't understand why she would invest so much money into a cat when everyone knows "they're a dime a dozen."
I'm going to let Therese tell the story here through my paraphrasing of our conversations. I've done my best to give the most complete overview of her thoughts and she'll let me know if I've misrepresented her in any way here!
"I couldn't believe he said that," Therese said, showing me the medicines that Marty now takes on a daily basis.
"But I guess I shouldn't be surprised.  He thought I should put the cat down.  If there was nothing we could do, then I know that would have been something to consider. 
But the doctors all said this was treatable. My husband, my kids — they don't understand; no one really does except maybe another cat-mama. Marty has been with me through so much. I've had him since he was a kitten and through the death of my first husband and then when I was sick. 
The kids grew up and left, but Marty stayed with me. Everything is always different all the time, every day, nearly, but at the end of the day, I come home to a purring ball of fur right on my pillow. 
He shows me love and affection, constantly … every day. Actually, they all do."
Therese has 3 other cats, too.
"All of my cats understand when I have a bad day.  They crawl up and snuggle. They know when I'm crying.  They know … everything."
"When I adopted Marty and his littermate, Shelley, I promised them I would do the best I could to keep them happy and healthy for all of their days. They've given me all of their love in return. How can I let them down?
You make choices in life. It's OK that I don't have fancy things or that my house is a little torn up. I don't regret a dime of it. I have the inner peaceful knowledge that I did all I could do to give back to God's creatures, that He entrusted to me. These little kitties have given me something to hold on to."
Alright, I hope I did her justice in my paraphrasing – if I can convince her to read this I'll let her chime in!
Now, I couldn't disagree with any of what she said.
In fact, I agree wholeheartedly because, after all, I'm a cat-mama, too.
We do a lot for our "children," and to us, if we can swing it; nothing gets in the way, no matter what.  We don't have to justify our choices to anyone. We know that our fur babies only have so many years on this earth. The saying that "you're lucky if you've been adopted by a cat" is very true!
Oh, and Marty's doing great. He takes a chemotherapy drug by pill form every day. Therese slips it into a "pill pocket" and Marty gobbles it right up. 
Cats do not have the same reaction to chemo as people do — they do not lose their fur and do not typically have nausea or stomach ills. I know she is satisfied that she's done all she could to give him as much love as he's given her, over the years. Last time we spoke she said he was doing as well as you could expect, and had perked up significantly since getting some treatment.
And so when the question is posed, "is it acceptable to pay out the big bucks for cat health care?" I hope this gives you something to hold on to. If you're being pestered by people who don't understand, if you're having a tough time internally deciding what to do…
ABSOLUTELY it can be worth it.
Our animals give us so much love and understanding. They're always there for us when all else may fail.  Yes, we as cat parents do know that someday we will have to say goodbye. But life is for the living and I cannot imagine the emptiness in my life without my fur-critters.
Perhaps the most powerful lesson of this story for me is just the fact that Therese got through the part of her life I explained above. I think that would drive a lot of people insane, or to allow destructive forces into their lives. She attributes getting through it all, and her stability, to her cats.
It's that simple. For Therese, saving Marty's life was no question.
He'd already helped to save hers.