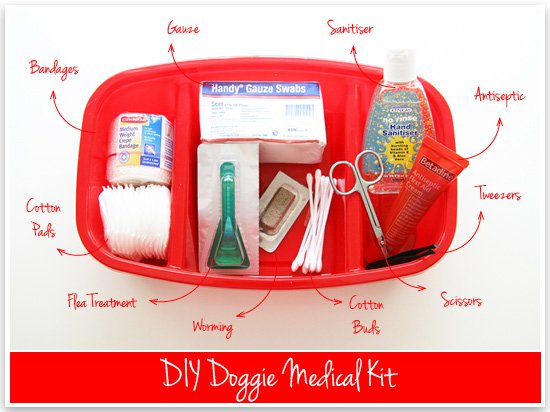 I woke up this morning, just the same as most mornings…slowly.  I'm not a morning person.  After a cup of coffee I'm just starting to arrive in the land of the living.  My cat however is a morning lover and usually sends me not-so-subtle hints that she wants me up to feed her.  This morning she left me in peace, it was nice and I was hopeful of a good day ahead.  Then, my first step out my room door BANG! Wake up!  My cat is sick, very sick!  Yeah, let's just say, it was not exactly how I expected my day to go.
Situations can change so fast and we, as animal lovers, must be prepared for most unexpected events that can arise.  No matter the animal, we can all be prepared for emergencies. We usually tend to buy all kinds of supplies and products when we first get our baby animal.  Then over the years we tend to forget about being prepared until one day we wish we had planed ahead.  Here we will review the essentials you will want to include in your first aid kit.
Product list
First off you will want to have a plastic container with a lid where all the supplies can be stored and protected.  Then find a good first aid book.  This book will guide you to wrapping wounds or giving your dog CPR ect.  You not only need the supplies but a guide to use them well.  Here are the basic medical supplies you need:
Cotton pads and swabs
Gauze
Bandages
Scissors (preferably blunted)
Tweezers
Antiseptic
Sanitizer (for your hands)
Gloves
Saline solution
Peroxide
Leash and muzzle
Towel
Thermal blanket
Small flashlight
Tongue depressor
Cold pack
Rectal thermometer
Eyedropper
With these supplies you should be set for most unexpected emergencies you will find listed in the first aid book.  Yet this still leaves a wide range of internal problems that cannot be bandaged.  We will review what else can be included in your first aid kit for these other internal problems.
Time to De-clutter Old Kits
How old is you pet? How many years have you had him/her?
The longer we have had our faithful companion, the more papers, medications, supplies ect. we accumulate.  It is excellent practice to save important documents and papers, yet if unorganized and some very old and now un-useful papers are kept, it can become a confusing mess.
Now we tackle the first aid supplies and medications.  I commend you for having a kit, but how old is it?  When was the last time you checked the expiration dates?  It's a good idea to periodically update the first aid supplies and dispose of expired medications, remedies or supplies.  We certainly don't want to use expired supplies and make our pet's condition worse!!
If well done and looked after, your first aid kit should always be safe and ready to use at any moment.
What to do in Extreme Emergencies
We all hate to think of situations in which we cannot prepare for what has happened.  In extreme emergencies, being able to think and act fast is a must.  Therefore, the de-cluttering step will be a great time saver in this case.
Papers, papers, papers!  Having emergency numbers included in the first aid kit will save time trying to remember where you last put Fluffly's documents.  The latest medical records can also come in handy if you must go see an emergency vet and he does not know your pet's history.
In any emergency case, being prepared will help you stay calm and in turn help you beloved pet stay calm as well.
Extra Remedies to Include (Just in case)
Few people know that one of the top reasons people call emergency for their pet is because of different forms of digestive problems.  Let's face it animals will eat a lot of things they are not supposed to.  An innocent food or object can end up irritating their digestive system and leaving us with a mess to clean up.  True, it's easy to panic when our beloved pet is suffering, but with the right remedies, we are equipped to help them.
As I mentioned above, there are many internal problems that may pop up without warning.  Again, it is always better to be safe than sorry, so why not have a few remedies on hand just in case.  Here are some remedies for common emergencies:
Vomiting or Diarrhea relief (use as needed)
Constipation relief (use as needed)
Ticks and fleas treatment and prevention (seasonal)
Worms and Parasites treatment
Probiopet (probiotics for pets- this helps the digestion and boost immune system for recovery)
First Aid (my favorite for swelling, bruising, redness, pain and so much more)
It would be easy to make this list much longer, yet, we want to be careful not to buy remedies or products that we will likely never need or only need in extreme or specific cases.
Happy Pets and Happy Pet Parents
Congratulations! You are a great pet parent for being prepared to care for your beloved furry friend through thick and thin.  True every day will not necessarily be filled with delightful moments, but the good moments always outshine the bad.
In your journey together, stay prepared with a knock out first aid kit.  From bites, to cuts, to unannounced vomiting, you will have all you need ready to go. This way you can both face the future healthy and happy.