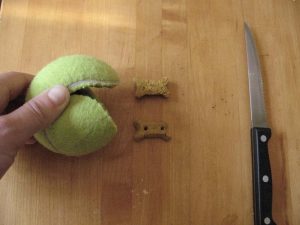 Dogs love to play with their toys. Sadly, their idea of "play" is tugging and chewing on their toy until it is shredded to pieces. While it is heartwarming to see your pets having fun, it can also be frustrating to see yet another toy ripped apart. To save yourself from the frustration of seeing your money go down the drain or in this case, ripped to pieces, you can just create dog toys out of items you would usually just throw out the trash.
Here are a few great ideas for DIY dog toys:
1. A braided toss toy
You don't need a ball to play catch with your dog. You can gather old rags, torn T-shirts, or denims and turn them into a toss toy. All you need to do is cut them into strips and braid them together. If your dog is already an adult, a single braid may not last very long. What you can do is make 3 braided strands and weave them together to form one sturdy braid. Make sure to knot the ends properly to prevent the toy from unraveling.
2. A tennis ball toss toy
For medium and large sized dogs, it is best to reinforce your braided toss toy with a tennis ball. All you need is an old tennis ball, a DIY braided toss toy, and a knife. Cut 2 holes in the tennis ball, making sure that the unknotted end of the toss toy will fit and secure the ball by tying a knot at the opposite ends.
By adding a bit of weight on to the toss ball, you would be able to fling it farther thus ensuring that your dog gets exercise. Also, the toy would last a little bit longer because your dog would focus on chewing on the tennis ball rather than the braid.
3. Chew Toys Made from Old Socks
There are many ways you can turn old socks into dog toys.
First, you can create chew toy by stuffing a main sock with rolled up pairs of socks, knot the end, and toss it over to your dog. If you're making the chew toy for a new puppy, it is recommended that you use unwashed socks. It may sound unhygienic but this is an excellent way to your pup to recognize and appreciate your scent.
Another great chew toy idea is stuffing a sock with an empty plastic bottle. Your dog will have so much fun chewing on the sock because of the crunching sound that the bottle is going to make. To prevent your dog from ingesting plastic shards, you should layer at least 2 pieces of socks before inserting the plastic bottle and make sure that you knot off the end securely.
4. Tennis ball treat trick
If you want to add a little more fun for your dog, you can also puncture some holes in a tennis ball and fill it up with dog treats. The scent will drive your pet crazy and figuring out how it can get to the treat will keep it occupied for quite some time. We are sure that if you put your mind to it that you will be able to come up with a few more ideas on your own.