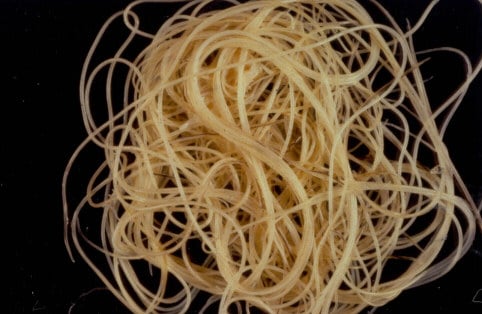 Heartworms are gross and they can be fatal to your pet if not treated. This is what they look like…
GROSS!
Heartworms can grow to as long as sixteen inches in length. Heartworm prevention is a must no matter what. Even if you're anti drug treatment in your pets, a heartworm pill is the one thing you need to sway on.
Heartworms are carried by mosquitoes. Once an animal is bitten by an infected mosquito the larvae travel through the bloodstream and start infecting many different organs. Because they do not just affect the animal's heart, symptoms can vary; the most common symptoms are signs of heart or lung disease.
The worms have been found in all fifty states and do not discriminate by breed. Even animals that are mostly indoors can contract heartworms. Often times once an animal starts to display symptoms it can be too late.
The doctor will perform a blood test, or in severe cases, an X-Ray to determine the proper course of treatment. Once the organs have been taken over there is little that can be done and the animal will most likely have to be put down.
Fun Facts:
There can be as many as 250 worms affecting one organ.
Your pet could have little to no symptoms until the worms are established in the organs.
Around 300,000 dogs are infected by heartworm each year in the United States.
Fortunately this is 100% preventable. There are a few different monthly treatments available on the market so you can find what works best for your pet.
You should begin treatment at six or eight weeks of age and be sure to have a yearly blood tests done to be sure your pet is free and clear. If you live in an environment where there are higher amounts of mosquitoes, especially in tropical areas, it's even more important to treat your dog.
In more tropical climates, such as Florida, there are no mosquito seasons. You have them year round giving them more of a chance of infecting your pet. Unfortunately alternative treatments such as herbal baths or sprays are not completely effective.
Just as with bug spray on humans, those treatments are short lived and can easily wash off. It would be a shame to have to lose your pet due to something that is so easily treated and preventable. It is easier and cheaper to provide your dog with the once a month treatment that it needs rather than not.