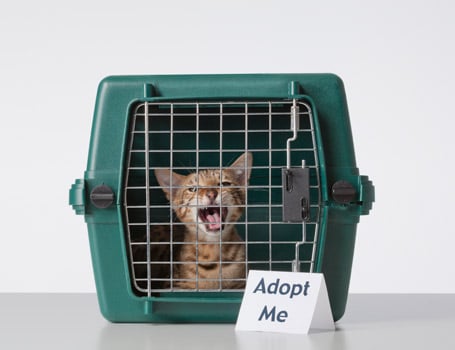 Cats are probably one of the most sexually reproductive animals on the planet. Female cats can start reproducing as young as 4 months old and can produce an average of 5 kittens each pregnancy. A molly's heat period can start again after only a couple of months.
Over population of cats has been a problem in the US for many years. Hundreds of felines are put down by the NSW each year because they just can't keep up with the number of cats being reproduced and abandoned on the streets.
Although there are steps being taken to stop the over population of stray cats, there are still a great number of felines in shelters that are waiting to be given a permanent home.
For this reason, people who are thinking of owning a cat are being encouraged to adopt one from a shelter. However, there are few important things that one needs to consider before adopting a cat.
Cat Ownership is a Long-term Commitment
Pet ownership is a very exciting and rewarding experience. More so if the pet was adopted because there is nothing more fulfilling than knowing that a homeless animal was given a permanent home. However, it is important to not forget that it is also a long-term commitment.
This is even more true when it comes to cats because they have a lifespan of 15 to 20 years. That is a very long time so you should first consider whether or not you are capable of handling the responsibility of caring for a pet that long before you adopt a cat.
Cat Ownership Costs Money
While it may not cost much to adopt a cat, caring for it entails additional expenses for your household. Initially, you would need to shell out around $300 for adoption costs, implantation of microchip, desexing, deworming, and purchasing the basic necessities for your cat.
You would also need to buy a few things to cat proof your home. Subsequent expenses such as food, treats, nutritional supplements, and toys alone can cost more than $500 each year. Bills for routine veterinary checkups, vaccinations, and grooming can add up to almost $600 annually.
Emergency visits to the vet can set you back a couple of thousands, depending on the severity of your cat's injury or illness.
Cats Require Love, Care, and Affection
The most common misconception about owning a cat is they don't require care and attention. Some think that all they have to do dedicate a couple of minutes a day in preparing their cat's meals.
Cats are very lovable animals and love to be stroked, cuddled, and played with. It is important that you are able to allot time for your adopted cat once you take it home.
Required Documents for Adopting a Cat
You must be at least 18 years of age.
A photo ID indicating your current address.
A fully filled out cat adoption application and questionnaire.
Cat adoption agencies conduct rigorous checks to determine whether an aspiring owner of an orphaned cat is eligible. Not everyone gets approved so you should consider yourself very lucky if you do and make the most out of the opportunity given to you. Give your cat all the love and attention it needs and craves to realize the benefits of having a furry companion.