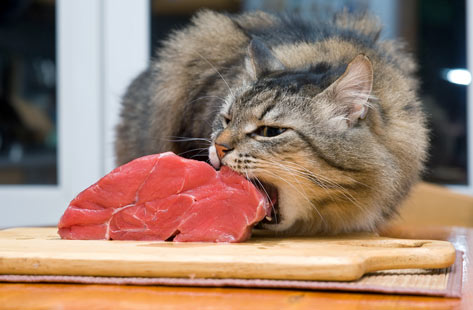 The raw food diet for pets tends to get more attention from media as more pet lovers are getting curious about the concept of raw food preparation.
Though there are some reluctant pet owners who are skeptical about the effects of the raw food diet to their dogs and cats, some veterinarians assure that it provides whole body wellness to pets. Either way, it has become a new trend these days among the many feed options available.
What is the Raw Food Diet?
The raw food diet is a controversial food preparation for pets which focuses on serving fresh and unprocessed food, meaning everything is in its natural form.
The raw food diet was first proposed by an Australian veterinarian in 1993 named Ian Billinghurst. He promoted the BARF (Biologically Appropriate Raw Food) diet and suggested that adult dogs should eat raw meats equally alike to what they consume before they are domesticated.
He claimed that meaty bones and vegetable-based pet foods were effective in securing a good and healthy life for canines and felines.
What are the Pros and Cons of Feeding Your Pets with Raw Foods?
Some pet owners who have fed their pets with the raw food diet announced that they have seen improvements on their pet's overall well-being.
Here are some magical results they stated:
Cleaner and Fresher Breath
Shiny and Healthier Skin
Weight Loss – Obesity Prevention
Improved Energy Level
No Preservatives, Cholesterol and Additives
Smaller and more Compact Stool
Brighter Eyes
Better Food Digestion
On the other hand, there are some who explained that supplying your pets with raw meats and vegetables are pointless as these pets have already outgrown their medieval ways.
The following are some disadvantages explained by raw diet skeptics:
Raw meats may contain unsafe bacteria like Salmonella and E. coli
Uncooked bones when unintentionally swallowed can cause you pet to choke
Diarrhea
Can break pet's teeth and cause internal upset
It is an incomplete diet which can lead to health abnormalities due to insufficient nutrients
More expensive than the usual commercial food diet
Bowel obstruction
What are the Three Raw Feed Choices?
Unlike the old days, when the only option was to eat the kill fresh after hunting, today it has changed so that pet owners can feed raw diet meals in three ways:
Frozen
Homemade
Freeze-dried raw food (now available in every grocery or pet store)
Home-prepared food is the best option as you make it yourself so you know exactly what's in it. Commercial frozen dog foods are available online or from pet shops and freeze-dried raw food is ideal when traveling or out of freezer space.
Read more: How to choose good dog food
Despite the many positives of raw meals, the complete raw diet of your pet should not simply consist of table food scraps and raw meaty bones. You need to consider your pet's ability to ingest foods which may vary depending on the size, breed and lifestyle.
To avoid any future health concerns, talk to your pet's vet about it and discuss if this is the best feeding option for them. Don't be too excited to start anything that you are unsure of!