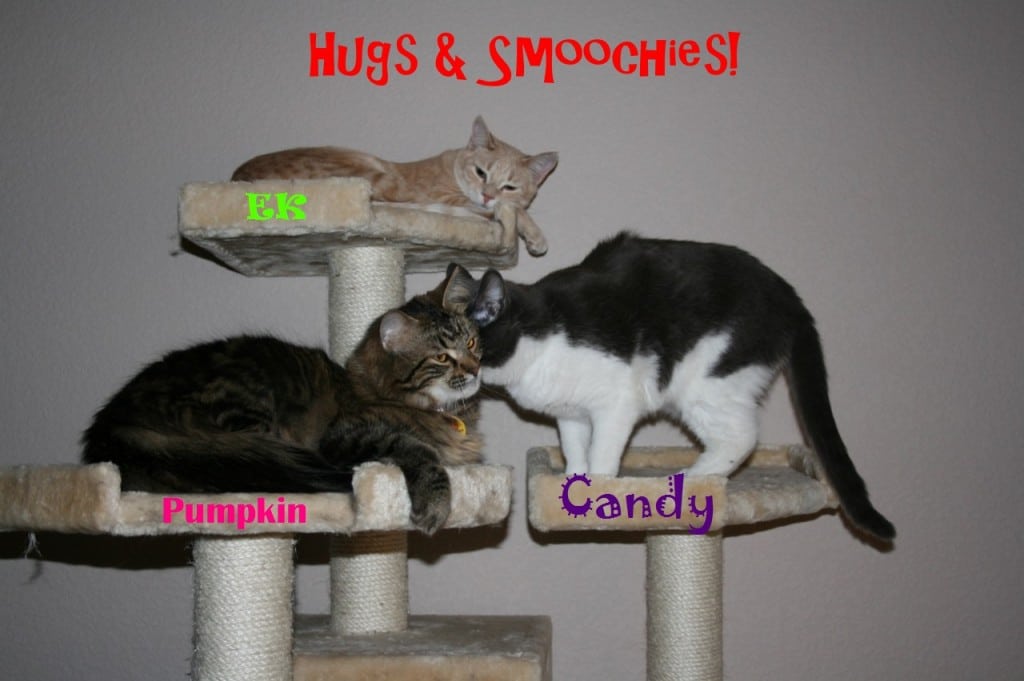 Hi! I'm Pumpkin. I'm an (almost) 5 year old Maine Coon mix and I live in the suburbs of Denver with my fursibs, Candy and EK. I'm on twitter (@pumpkinpuddy) and I have a blog, Adventures of a Suburban Kitty (pumpkinpuddy.com) where I write about my adventures in my stroller. I also write about the adventures my stuffies go on and I do product reviews.
I think I must be one of the luckiest kitties that ever was. You see, I started out life as an abandoned kitten. That's right – abandoned. My littermate and I were left alone, scared, hungry, and not even quite weaned. Our mom cat abandoned us in somebody's pickup truck.
The pickup truck turned out to belong to someone who loves cats! She took us in and fed us and kept us warm until she could find us a home. Well, it turned out she kept my brofur and gave me to her friend who's now my humom. I think I got the better end of the deal. There's only three kitties here mom's gotta make time for. The lady that found us has lots and lots and lots of kitties!
My fursibs, Candy and EK have similar stories. They were both rescued by the same shelter – Candy from a trailer park and EK from a farm where he was being mistreated. The shelter first thought Candy was boy. When they took 'him' for his little boy operation, they got a huge surprise!
Mom's a real softie. When she went to adopt a fursib for me she was only gonna get one kitty. Once she learned that Candy and EK had bonded at the shelter, she felt bad that they would probably get split up so she adopted them both together. I wasn't too thrilled with two new kitties in the house at once, but we all get along ok. It just took a while.
Most of my adventures are close to home like going to the park to see the ducks and climb on rocks. But I've had some big adventures too! I've been to festivals and conferences, I've stayed in hotels, and I even went to Salt Lake City! One of my favorite things to do is to go to the pet store and watch the birdies and the fish there. And see the toys in my stroller? I picked them out myself! So that's a brief introduction to me and my family. I hope you'll stop by my blog and read more about us.