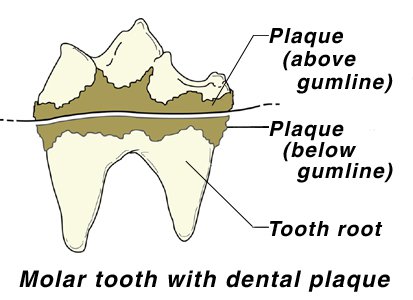 What is periodontal disease?
Periodontal disease is a chronic progressive disorder of the oral cavity which is characterized by the formation of plaque on the teeth and the subsequent inflammation of the gums and underlying structures and can lead to tooth loss if left untreated.
According to the American Veterinary Dental Society, about 80% of dogs and 70% of cats will show signs of periodontal disease by the age of two. Small-breed dogs and purebred cats are at most risk of developing periodontal disease, but pets of all breeds may be afflicted.
Stages of periodontal disease
Formation of plaque – a substance composed of bacteria, sugars and proteins – on the teeth. Plaque is invisible, but may be visualized with special colorants. It can easily be removed by brushing the teeth, but forms again in about 24 hours.
Gingivitis – inflammation of the gums, caused by bacteria located in the plaque, which by this stage will have extended under the gum line. This inflammation is reversible, but will progress to periodontitis without treatment.
Periodontitis – inflammation of the deeper tooth supporting structures (bone and soft tissue). At this stage, the disease process is irreversible, but can be inhibited with therapy. If left untreated, it will result in the destruction of the underlying tissues and tooth loss.
Signs of periodontal disease
Initially, in the gingivitis stage:
swelling and reddening of the gums
bleeding gums
presence of tartar (hardened dental plaque)
halitosis (bad breath)
The clinical signs of periodontitis include the above, plus:
gum recession
difficulty eating
increased tooth mobility
Diagnosing periodontal disease
Diagnosis of periodontal disease is very straightforward and can made during a routine clinical exam. To evaluate the full extent of the damage done by the disease, however, a more thorough inspection of the oral cavity under anaesthesia and dental radiographs may be needed.
Prevention and treatment
Routine professional teeth cleanings once or twice a year are the best way to prevent or slow down periodontal disease.

The procedure is perfectly safe and painless, but has to be carried out under anaesthesia in order to be done properly, so your vet may want to run some routine bloodwork and a urinanalysis on your pet beforehand to make sure if there are any special anaesthetic considerations.

Homecare – brushing your pet's teeth once daily – is an equally important prophylactic measure that helps to inhibit the formation of plaque.

Toothbrushes branded specifically for cats and dogs are available, but a soft children's toothbrush will do the job nicely.

The treatment of periodontitis will probably also require some form of oral surgery, like tooth extractions. Your veterinarian will recommend the best course of treatment for your pet.
A few general notes
Small-breed puppies (including Chihuahuas, Yorkies, Poodles) have a predisposition for having retained milk teeth – baby teeth that are still present after the permanent teeth have erupted.

These are best removed at once, as they will predispose the pup to periodontal disease and may cause them a lot of problems later in life, like an incorrect bite pattern or an incorrect jaw position.

Some clinics offer anaesthesia-free teeth cleanings. As tempting as these may seem, they cannot be recommended, as they mostly only have cosmetic value.

Even the most docile pet is not going to allow the thorough cleaning of the area between the gum and the tooth, which is where the bacteria that cause periodontal disease are located, or a proper polishing of the teeth, which is very important for inhibiting the re-attachment of plaque.

Enzymatic toothpastes for cats and dogs are available, but they are not an absolute must: you can also brush your pet's teeth without toothpaste. In any case, DO NOT use the regular kind that's meant for humans!
In conclusion: 
Periodontal disease is a relatively recent and very common problem, which can  be prevented by providing proper oral care for your pet.