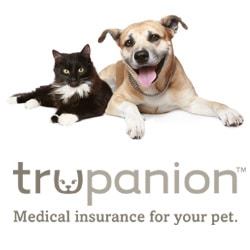 Trupanion is one of the most well known pet insurance companies in the United States. Based in Seattle, Washington, this provider offers both cat and dog insurance in the United States, Canada, and Puerto Rico.
Although Trupanion now has a large following in the United States, the company actually got its start in 1999 when CEO Darryl Rawlings opened the business in Canada under the name Vetinsurance.
In 2005, the company decided to expand its operation in the United States. At this time, it was the first pet insurance company in North America to receive licensing to provide its own underwriting. While this was a major milestone for Trupanion and the industry at the time, other companies have followed in their footsteps since.
Over the years, Trupanion has relied heavily on outside funding to aid its growth. For example, the company raised $22 million from Maveron. After that, the company raised Series B funding in 2008 and Series C funding in 2011.
With so much financial backing, Trupanion has been able to move to the top of the industry while growing its brand throughout North America.
Trupanion has long been known as a company with a great interest in improving the pet insurance industry as a whole. As the founding member of the North American Pet Health Insurance Association (NAPHIA), it is easy to see how much the company cares about improving the industry and educating pet owners.
Types of Plans
One of the primary reasons for the success of Trupanion over the years has been its "One Simple Plan" guarantee.
Rather than provide pet owners with a variety of options, forcing them to sift through several plans and premiums, they make it simple to understand the entire process.
With one comprehensive policy, the buyer knows exactly what they are doing. Even more so, you can be rest assured that you are buying one of the best policies on the market because it covers all of the following: surgeries, medications, diagnostic tests, treatments, and even hospital stays.
Additionally, Trupanion is one of the only companies that will reimburse policy holders from the vet bill so there are no concerns with a benefit schedule.
Even more so, depending on your specific budget, you have the ability to choose your own deductible. The higher the deductible the lower your premium. You can even opt for no deductible if you don't mind paying a higher premium.
Insurance Premium
At Trupanion, you can be rest assured that the premium is reasonable based on factors including but not limited to:
Breed of your pet
Age at the time of enrollment
Gender of your pet
The cost of veterinary care in your local area
The company does adjust their rates from time to time based on the cost of care in your area, however, you will never see an increase in premium due to your pet getting older. In other words, Trupanion does not believe in increasing your cost just because your pet had another birthday.
It is also important to note that you are never penalized for making a claim. This is not home insurance. This is pet insurance. At Trupanion, they realize that your pet is going to need care from time to time. When you make a claim, you don't have to worry about your premium increasing.
Cost
Although the cost of pet insurance will vary from one customer to the next, Trupanion makes it known that it covers 90 percent of all actual vet costs for any approved accident or illness, minus the deductible and any exam fee. This level of coverage is available at any vet hospital or emergency care center, so you never have to worry about waiting to take your pet to one particular vet.
While you are responsible for all routine coverage, Trupanion will take on any big claim that is filed. Trupanion also takes great pride in providing your pet with unlimited lifetime coverage. There is no annual or lifetime limit.
There is no per incident limit. This allows you to choose the best care for your pet, without having to worry about time constraints or hitting a limit that will force you to pay out of pocket.
The High Cost Of Veterinary Medicine

Features
The features offered by Trupanion pet insurance are similar to many other companies. Here are some of the most important features:
90 percent coverage for treatment of illnesses and injuries
No financial limits – not annually or over the life of your pet
Coverage included for surgeries, testing, medications, and hospital stays
Covers dietary supplements as well as therapeutic foods
The customer is paid based on the actual vet bill not a benefits schedule
Customer is free to use any vet or hospital, as opposed to being forced to choose just one upfront
Customer has the ability to choose their own deductible amount, based on their budget and level of comfort – this includes a $0 deductible option
Final Thoughts on Trupanion
There are many companies doing business in the pet insurance industry, but Trupanion has clearly become an industry leader over the years. Since getting its start in Canada in 1999, the company has come a long way.
Thanks to their unique approach to the industry, with "One Simple Plan," it is easy for consumers to understand what they are getting for the premium they are paying.
When you combine competitive coverage with their involvement in the industry as a whole, it is easy to see why Trupanion has become one of the top pet insurance companies in all of North America.