Choosing a dog to be a new addition to your family is no small decision. There are a ton of little factors that go into deciding what type of dog is best for you and the other people in your life. First you should always factor what type of dog is best for your lifestyle. Do you live in a house with a yard or a small apartment? Do you have the schedule to take it out often during the day? Can you provide the dog with all the exercise it needs not only to stay healthy but also for its energy level? How energetic can you and your family handle? Is a good dog for kids/ other pets? Many people don't take these questions into consideration when looking for their furry friend. This accounts for the many dogs that have to be surrendered to shelters every day. To help you through this process we've compiled a list of the top five large and smaller dog breeds, the ones that are most often sought after, through the American Kennel Club.
Top 5 Large Breeds
When thinking about getting a large breed dog you really need to make sure you have the space and time for one. They need to be run and played with everyday to get rid of energy that could otherwise cause destruction to your home or even aggressions towards other people. If you do live in a small apartment make sure there is a dog beach or park easily available to you. Large breeds can be left for up to six hours so are generally good for people with busy work schedules during the day.
Labrador Retriever: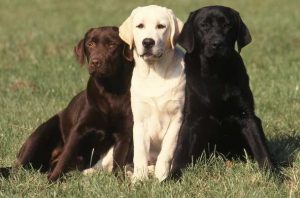 The labs seem to always take the top spot! Notoriously loveable and a great family pet, they are wanted for every type of family. Labs come in three recognized colors: yellow, black, and chocolate. Their coat is very distinctive. It's wiry yet very soft and water resistant. They do shed quite a bit, not in large amounts, but you will need a lint roller and broom close by for weekly clean up. Weekly brushings do help with the shedding. Since they are double-coated they will shed seasonally so be ready for the summer and winter. Being a sport dog they will need a lot of stimulation and exercise. They were bred for retrieving, hence the name, wild game in and out of the water. A good game of fetch is always loved by all labs. They are very kind, gentle, and outgoing dogs. People generally see them as always happy, tails wagging, and with very expressive eyes. They are excellent with kids and become fiercely protective. Labs are very intelligent dogs which make them easy to train. They are quite often used as therapy and guide dogs. Labs are also great with other pets. They get along with other dogs and are very kind and gentle with cats. Although they were made for hunting, it's up to you as the owner to place boundaries with the smaller pets. Overall this is an every-mans breed. Their versatility makes them excellent for the single dog owner in the city or a family on the farm.

German Shepherd: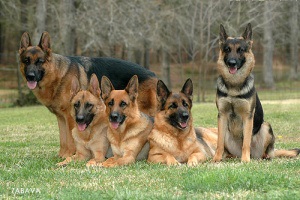 This is another breed that always takes a top spot year after year. They are generally known as being a 9-5 dog working with police, military, and as guard dogs. However, they make amazing family pets. They are an incredibly loving, dependable, and protective breed. German Shepherds are also amazing with kids. This is why they take the top spots. Once they establish a relationship with the kids they become very protective and watchful. Since they are fearless and determined creatures they will stop at next to nothing if it feels its family is in danger. They are an incredibly energetic dog so they will need regular exercising. You also need to make sure you give it constant mental stimulus. Due to their intelligence they can easily become bored and aggressive. German Shepherds also need regular grooming. Their longer coat can become easily mangled and dirty without proper care. If you're looking for a guard dog for your family this is one of the breeds to get. They won't make very good dogs in a small environment or noisy area given their protective tendencies, so a suburb or farm is always an excellent place to have one. They do ok with other pets. Generally they are a one dog type of breed. When introduced to cats and other family dogs at a young age they tend to be fine, but you do get the occasional cat chaser. Shepherds also have a thing with other Shepherds of the same sex. They can become very dominant and aggressive if given the chance during play time or a walk. With the proper training they are wonderful family dogs.
Golden Retriever: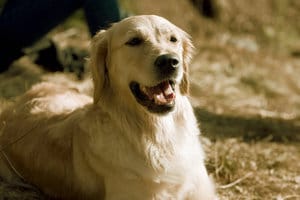 The fun and loving Golden Retriever is always a great family pet. They're great workers and even better companions whether just for a friend or hunting. They have an energetic and eager to please attitude which makes them very nice to train. Retrievers are always noticeable by their coat. It's long and flowing with colors ranging light tan to a deeper caramel. They love water and have a water repellant coat. They do require daily grooming to keep the tangles out and since they shed seasonally most owners opt for shaving in the summer. Just don't laugh at them! They are easily embarrassed dogs. The dog will need to be run and exercised daily. They also love a good game of hide and seek or fetch. This breed does well in smaller environments but can get destructive if left too long with no entertainment or stimulus. Golden's are good with other family pets since they have little hunting instinct. Anyone can own a golden retriever anywhere. They are easily adaptable dogs, just give them what they need to be fulfilled and you'll have a happy, fun, and easy dog to take care of.
Boxer: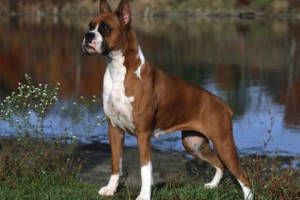 Often confused with the pit-bull, boxers actually make excellent family dogs. Boxers love being with people and are instinctively protective guardians to their owners. They are a very powerful and muscular dog however, they can be easily trained due to their high intelligence. Caring for them is generally pretty easy. They require little grooming since their coat is so short, but they do need daily hard exercise. You must also be sure to give the dog as many social opportunities as possible or else it can become very aggressive towards other pets and people. Boxers are best known for being great with kids. They usually seek out the attentions from smaller children before adults. They also make great watchdogs as a result. Boxers are also known for "boxing" when meeting other dogs. This is not a sign of aggression, just a sign of excitement. This does have a tendency to scare other animals and people so you need to be careful when socializing at a young age. They are not a good dog for everyone. Although they are good for guarding, they require constant companionship and can get separation anxiety after only a few hours. They are also not good with other pets due to their protective instincts. Boxers need space and people; do not get a boxer if you're living in a small home or in a loud city. This breed requires more attention and stimulation than most breeds, so be ready to work.
Rottweiler: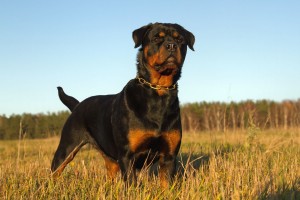 Rottweiler's came at the bottom of the list, but they are still wonderful dogs. They are very loyal and very protective. They have a willingness to work and are always ready to please the owner. This makes them suitable in police work, as a service dog, and even a therapy dog. When interacting with their owners and friends they have may become very funny and playful. They like to see its family happy. But, they are also very protective of those same people. If threatened, they will act. You must train them properly. Without it they can become unruly and hard to handle. Socialization is also a must, or else they will become very aggressive. Very little is required with grooming. You may have to brush out their coat a couple times a month to get rid of excess dirt and to make the coat shine. It's hit or miss when it comes to other animals. As long as you socialize them early and constantly they should be fine with other dogs. They can be territorially aggressive with dogs of the same sex. When it comes to cats or other small animals' early training is again important. If they're older they may be more aggressive. Overall this is a good family dog. It will require lots of work from the owners to properly care for it and to help it receive the training that it needs. Since they do need to be exercised hard regularly, small spaces would not be ideal for this breed.
Top 5 Small Breeds
Beagle: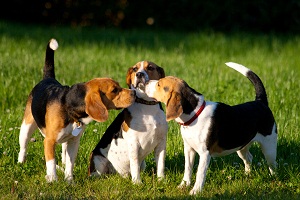 Beagles are the top small breed to have. Their loving personality makes them a pleasure to own. They love being around other people and dogs since they lived in packs for hundreds of years. The breed doesn't do too well with smaller pets because of their hunting instinct. They tend to think anything smaller and fluffy is a rabbit. If you're not using the dog as a hunting companion, be sure to give it an opportunity to use its nose every day; they'll get into plenty of mischief if you don't. Because of their knack for hunting, training is generally pretty easy. Beagles are very intelligent dogs. They have a shorter coat so grooming doesn't require much in the way of work. Just a quick brush out here and here is all that's needed. Given their small size they can live pretty much anywhere. If you are unable to be with the dog for a large portion of the day be sure to leave educational toys that will allow them to use their strong sniffer.
Yorkshire Terriers: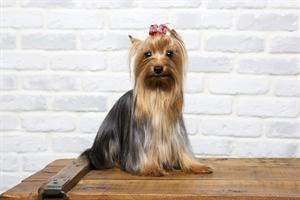 "Yorkies" as they're affectionately known have a lot to offer in such a tiny package. They are surprisingly energetic dogs, and are naturally brave and determined to please. They were originally bred to catch rats and mice in nineteenth century clothing mills. When they eventually fell out of the work force they became fast companions of the English upper class. They do generally get along with other small dogs, but it's best to keep the smaller creatures away from them. Since yorkies are so small they are easily adaptable. They're the perfect dog to have in a small apartment and they don't require much in the way of exercise. They only need daily interaction with people. They do require daily grooming for their long coats and a trim every month or two to prevent matting and tangles. This is the perfect dog for someone who doesn't want the hassle of a large dog; they travel extremely well and will adapt to just about anywhere you take it or live.
Poodle: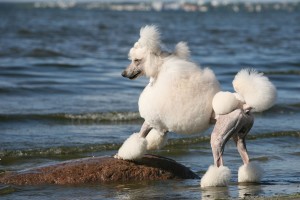 The poodle does come in a few sizes however, the toy breed is usually what people go for. Often time's poodles are seen as unintelligent because they're mostly called upon for their beauty however, they are one of the most intelligent breeds. They excel in obedience training, are easily taught to be shown, and do very well on endurance courses. They are surprisingly active dogs and do require daily exercise. Poodles are great for people with allergies to dogs. They don't have a fur coat, it's actually hair. Because of this poodles need regular professional grooming. This breed can live pretty much anywhere; they are highly adaptable. They do require attention to train early on or else they may become unruly when left to their own devices. Poodles are very loveable and make great family dogs. They do well with other breeds and most cats; just try to keep smaller furry animals away from them.
Dachshund: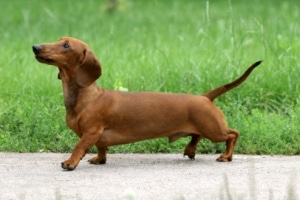 Dachshunds are most popularly known as "wiener dogs." They have a very fun loving personality and a great sense of smell. You can find them with three different coat lengths: Smooth, Wirehaired, or Longhaired. They were bred in Germany to hunt badgers out of their burrows and fighting to the death with them. Smaller animals are not very good companions for dachshunds. They make wonderful family dogs. Dachshunds love kids and can be great companions for them. Because of their size they adapt to pretty much any living situation. Obedience training is always necessary and, depending on their coat, some grooming may be required. They don't need much exercise but a good running every now and then is always appreciated.
Bulldogs: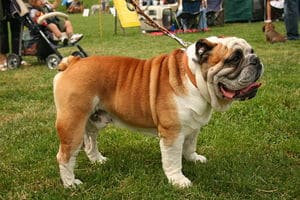 Bulldogs are more of a mid-size breed, but they have a small dog mindset! They love the friendship of a human and will be keen to be your favorite lap pet. Unlike their name suggests bulldogs are very kind and gentle dogs. They were originally bred to fight in England but once that became illegal they began to breed out the aggressive characteristics. They succeeded after a few decades and have since become a wonderful family dog. This breed loves children and will soon become very protective of them acting as though the children were their own. Bulldogs are a pretty easy breed. They require minimal exercise and grooming. If you love in warmer areas just be sure to have lots of water and a shady place for them to rest. Due to their short snouts they can become overheated quickly. They can live almost anywhere just be sure to socialize them with other dogs and people often so they don't become too overprotective and aggressive.