We've all heard the expression "dog-paddling," so some of us believe that all canines are capable of swimming, but this isn't necessarily true. For example, some breeds of dogs, bulldogs, pugs and others with short snouts, are more susceptible to Brachycephalic Airway Syndrome (or BAS), which makes it difficult for them to swim or stay afloat.
"Brachy" means shortened and "cephalic" is defined as head, and dogs falling into this category often struggle when it comes to swimming. In hotter summer months, they're also more susceptible to have difficulty breathing in humid conditions and suffer from respiratory arrest.
Dog Breeds and Water
As mentioned above, not only dogs with flattened faces, but some other breeds just weren't built for swimming. Those with broad chests, smaller hindquarters and shorter legs can sometimes struggle with swimming. Here's a list of the top ten dogs that don't do well in water:
Pugs
French Bulldogs
Dachshunds
Basset Hounds
Maltese
Terriers
Pekinese
Boxers
Shih tzu
Cho
You should never assume that a dog can swim, nor should you force them into the water. On the other hand, these ten canines are often completely comfortable taking a dip:
Labrador Retriever
Golden Retriever
Chesapeake Bay Retriever
Standard Poodle
Portuguese Water Dog
Irish Water Dog
American Water Spaniel
Newfoundland
Otterhound
Nova Scotia Duck Tolling Dog
It's pretty obvious dogs with the word "water" in their breed's title should be good swimmers and retrievers and also comfortable in the pool. Since they're been bred for centuries as hunting and sporting dogs, swimming is almost in their blood.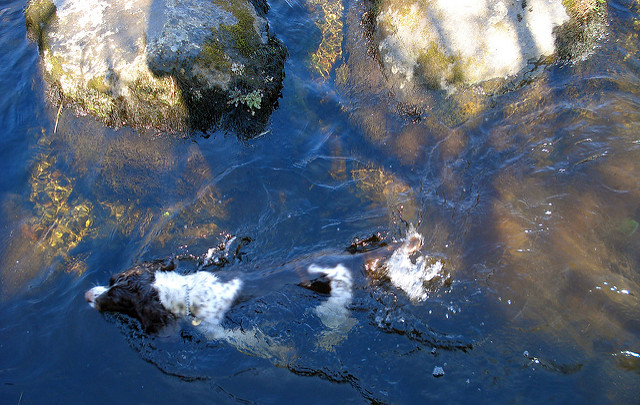 Safety Devices
Especially on boats and around pools where dogs aren't comfortable in the water, consider purchasing them a life jacket or water vest that also serves as a floatation device. For smaller canines, some of them come equipped with a handle on top so you can safely pluck them from the water in case of an emergency.
For those dogs who do enjoy a great deal of time in the pool, think about getting them some eye goggles for some added protection against chlorine and other harmful chemicals. And don't forget the sunscreen, dogs can also suffer from a painful burn from outdoor exposure. While you can usually find these products in pet stores, if you're having trouble locating one that's animal-friendly, consider those brands that are safe for use on children.
Sand & Surfaces
You know that feeling of trying to run across hot sand in your bare feet, your dog will also have to endure this painful experience. When you go to the beach or a lake, think about carrying your pet to your destination if it's too hot. Also, be sure to bring along a towel or blanket for them to lie someplace comfortably in the shade.
When it comes to times spent poolside, concrete, bricks and other surfaces that commonly surround swimming pools can heat up to dangerous levels on a hot summer's day. The same is true when walking our dogs on sidewalks and black asphalt roadways. If you'll be taking your dog out for a stroll, be sure to check the temperature of these surfaces before making them walk.
Summer is a wonderful time of year and we can safely enjoy it with our pets by taking a few precautions. Have fun in the sun with your favorite four-legged friend this season.