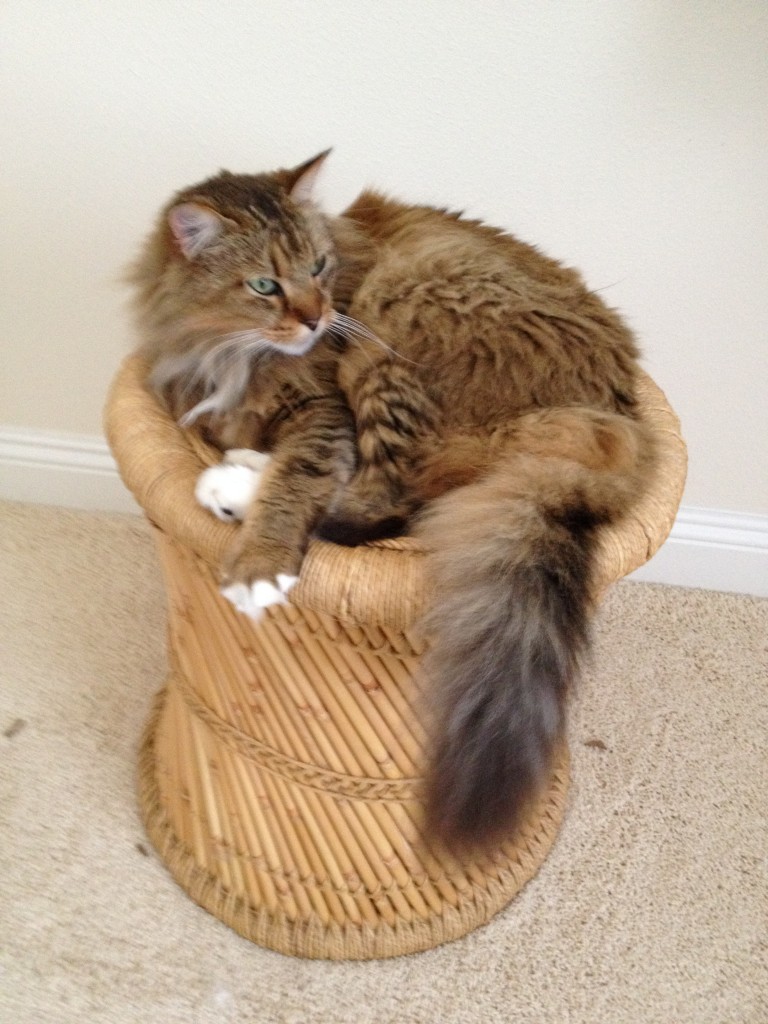 (This article was submitted by a guest writer that frequents our site named Sheila H.)
To start this article, you need to know that I have been a "cat person" since the age of 6yrs. There have been several felines under my roof from then until now. Perhaps it's true that the best is (often) saved for last.
And that would be my big Maine Coon boy cat named "Pretty Boy." This amazing cat is almost beyond description — more dog-like in his loyalty and intelligence – and yet so perfectly beautiful and sweet-tempered. As the saying goes, "What's not to love?"
Before Pretty Boy came into my life, a friend and co-worker stopped in one afternoon and gifted me with a precious little kitten who had wandered up on their back porch. It was Christmas time, and she (we discovered later that it was a female) immediately scampered up to the top of our tree and became our "Angel-kitty."
The name, Angel, stuck and seemed oddly appropriate, even for a regular tabby-colored kitten of no particular breed. She blessed our home with many years of companionship and joy. It was a sad day when she had to leave us. We take comfort in knowing that she is in a better place, awaiting our reunion someday.
A short time after losing Angel, we noticed a large, furry cat who often crossed the backyard on his way home. He was much too pretty and clean to be a stray, nor did he appear hungry or thirsty.
After a while, he became friendly toward us and even allowed a pet now and then. We were curious to know where he lived; but being in a rural area, he could have come from most anywhere. Thus, his home and caretakers remained a mystery.
Still, we continued befriending him – or should I say, he continued to befriend us – for this was no ordinary cat. We were to discover that this was the ever-charming Maine Coon Cat.
According to the Cat Fanciers' Association (cfainc.org), the Maine Coon Cat is a native American long-haired cat that evolved as a sturdy, working cat native to the cold winters in the Northeast.
Their uneven, shaggy coat and long, majestic tail provide both warmth and protection. You will also notice that this breed has large, tufted paws that allow them to walk on top of snow in spite of their obvious size and weight.
Sometimes referred to as "gentle giants", the Maine Coons have a kind disposition and are good with children and other pets.
So, now that you know a bit of Pretty Boy's genealogy, it won't come as a surprise that he is the poster-boy for his breed. I noticed the large cat photo on the C.F.A. website home page.
The markings are identical to those of Pretty Boy – the white bib and white feet. The only exception is that the eye color in the photo is amber, whereas Pretty Boy has big, green eyes. No matter how you look at it, he is incredibly handsome, and intelligent, and loving.
What wonderful stroke of luck happened, allowing me to end up with such a gift?
Well, I'll try to be brief. While chatting with our neighbors one evening, a large, furry cat suddenly brushed by my leg. It was him; it was Pretty Boy. I bent over and managed to pick him up (all 14 lbs.), only to hear his story.
It seems that Pretty Boy's caretakers were preparing to leave the area and didn't want to bring the cat to a new home and unfamiliar surroundings. After all, he was getting older then and wasn't used to busy city streets.
Since Pretty Boy had spent a lot of time in our yard, and we had become quite fond of each other, the option was presented that we could assume parentage of him, allowing him into our house, and taking ownership of all his play toys, feeding vessels, plates, dishes, and the like.
The truth was, he had been a bit spoiled; but that was just a part of his charm. I could hardly wait to inherit this awesome creature! And he has never failed to amaze!
Needless to say, I have continued to spoil him, and he has responded accordingly. But, who can resist those soft, loving eyes, the sweet kiss on my nose each morning, and his constant presence and companionship throughout our days together. I plan to enjoy all these things, plus anything else he will give me, and feel grateful and blessed every day.