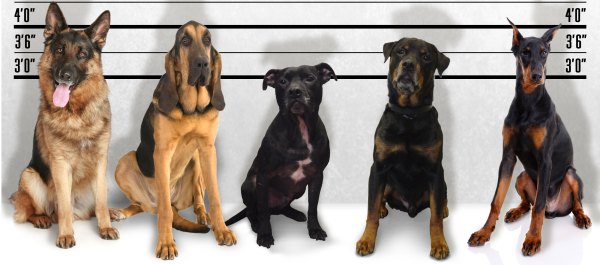 There are 24 laws in the UK relating specifically to dogs, and more relating to animal welfare, and this area of legislation is one which is continually evolving.
Therefore while the aim of this article is to give you a brief overview of the laws relating to dangerous dogs it is always wise to regularly review the situation to ensure your knowledge is current.
The two key areas we will examine here are the Dangerous Dogs Act and what steps you can take if your dog is accused of attacking or biting someone. The first step anyone should take if their dog is accused of falling foul of the Dangerous Dogs Act is to seek specialist legal advice.
Do not sign any documentation or agree to any course of action until you have been able to look into the situation fully and explored every option. This can be the difference between being able to keep your dog and it being destroyed.
The Dangerous Dogs Act
Banned Breeds
In the UK there are four dog breeds which it is illegal to breed, sell or be in possession of and these are: the Pit Bull Terrier; the Dogo Argentino; the Fila Braziliero; and the Japanese Tosa.
If your dog is one of these breeds, or looks like one of these breeds, they can be seized and it will be your responsibility to prove they do not fall into one of these categories, through either breeding or cross breeding.
If the court finds they are one of these breeds it can order the dog to be destroyed or the dog can be returned to the owner but only if several strict guidelines are adhered to.
The owner can also receive a criminal record, a fine of up to £5,000 and be banned from keeping dogs for a period, depending on the circumstances.
All Breeds of Dog
These banned breeds aside, the Dangerous Dogs Act also covers any dog, regardless of size or breed, which is seen to be dangerously out of control or dangerously out of control and causing injury to a person.
Even if a person is not bitten, but feels threatened and as if a bite might have been likely to take place, the law applies. With the extension of this Act in May 2014 this now relates to any behaviour, whether on private or public property, and this element is sometimes one which dog owners are not aware of.
It is now also an offence for your dog to attack a service dog and with these changes to the law there are now more stringent fines and longer prison sentences for some offences.
What Can You Do to Protect Yourself and Your Dog
If you have any concerns about the behaviour of your dog keep them on a lead when you are away from home
Undertake training classes with your dog so you are better able to control it both in public and at home, or in the homes of others
Muzzle any dogs which may pose a bite risk
Allow free passage through your garden for postal workers and for those making deliveries
Consider ways to keep your dog under control if they react when someone knocks at your door. It may be best to confine them to a room while you speak to the caller
Consider how your dog reacts to meeting new people. While he or she might jump up just as a way of greeting people, not everyone will see this in the same light
What Steps Should You Take If Your Dog Bites Someone
If your dog bites someone, or if someone says they feel threatened by a potential bite or that your dog is acting dangerously, you should always treat it seriously.
If someone has been bitten follow these steps:
Try to deal with the situation calmly
Immediately confine your dog to a crate or room of your house or put it on a lead if it isn't on one already
Be courteous to the person who has been bitten and offer them any assistance you can whether that is by helping them to wash the wound or by seeking medical aid if needed. This is not the time to enter into an argument or lay blame. Remember, your actions can be used later in court, so be seen to be acting responsibly
Exchange contact information with the person bitten. If someone wants to take legal action they have up to six months to do so. Also if there were any witnesses obtain their contact details as well
If your dog has bitten someone, is seen to be dangerously out of control or worrying livestock, it can be seized by a council official or the police. However, neither of these have the authority to order your dog to be destroyed, only a court can order that action.
If you find yourself on the wrong side of the Dangerous Dogs Act it can be a worrying experience, both for you, and because you are concerned about the welfare of your dog.
However, not every case will end up in court and even for those that do it doesn't always mean the destruction of your dog. 
The key factors early on are not to lose hope, to seek expert advice as early as possible and to work to find solutions.