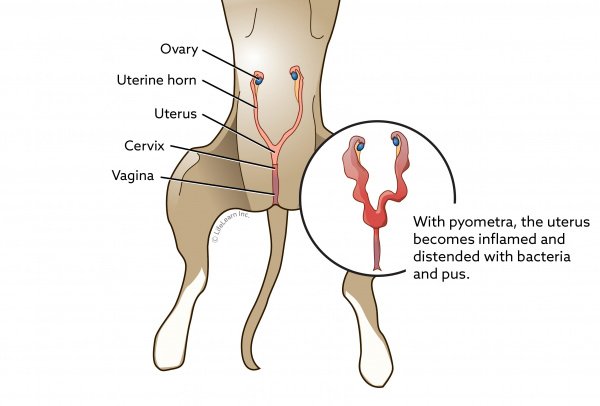 Dr. O.P. Shrivastava
B.V.S.c. & A.H., M.V.Sc. &A.H. (Hons.)
Ph.D. (Animal Reproduction)
Professor
Obst. & Gynae.
Veterinary College, Jabalpur
Canine Pyometra is a complex menstrual disease of the matured bitch. It is mostly associated with various clinical and pathological manifestations related to both genital and extragenital lesions.
In this condition pus is accumulated in the uterus.
PATHOGENESIS-
The genital lesions seen in Pyometra result from hormonal and bacterial interaction. Hormonal dysfunction is a predisposing factor in all cases. The metestrual timing of this disease is considered as a positive substance. Plasma progesterone concentrations are highest during this stage of the estrous cycle and corpora lutea are usually found when the ovaries from bitches with pyometra are examined. All the clinical science and pathological lesions can be produced experimentally by the administration of progesterone alone.
The uterus undergoes a number of morphological changes under the influence of progesterone and estrogen. The most commonly observed hormonally induced pathological change in the uterus is cystic endometrial hyperplasia which is an increased response of the uterus progestational stimulation during the luteal phase of the estrous cycle. It is considered to be the initial phase in the development of pyometra. Repeated progesterone simulation produces an acute inflammatory reaction that may be aggravated by bacterial infection. Secondary bacterial contamination of the uterus is a common complication of pyometra. The type of bacteria most commonly isolated in the pyometra is E.coli bacteria. Sixty to 74 % of clinical cases yield this organism. Other bacteria include Staphylococci, Streptococci, Proteus, Klebsiella and Salmonella spp.
The source of uterine bacteria is probably the urinary tract or anogenital region. Bacteria gain entry to the uterus during estrus and proliferate in metestrus. Spontaneous recovery may occur following regression of the uterine enlargement and vaginal discharge. Rectal temperatures are usually normal. Subnormal temperatures are rarely noted, usually in severally toxic animals.
DIAGNOSIS-
The diagnosis of pyometra is made on the basis of the clinical science, radiography, vaginal discharge and ultrasonography. Abdominal radiography is important in bitches that have no vulvar discharge or in which abdominal palpation does not detect uterine enlargement. In animals whose clinical history and physical examination are diagnostic, abdominal radiography confirms the presence of an enlarged uterus and permits evaluation of the abdomen for unsuspected abdominal disorders including abnormal kidney size, renal calculi and tumours.
TREATMENT-
SURGICAL:
The most satisfactory treatment for the majority of females with pyometra is ovario- hysterectomy. The use of supportive therapy including fluids, antibiotics and blood transfusions may be required before, during and after surgery. Complications related to pyometra surgery include peritonitis, uterine rupture and uterine stump abscess.
MEDICAL:
Medical should be done only for valuable breeding animals or animals that are so toxic that immediate surgery carries to high a risk of mortality. The objectives of medical therapy should include:
Restoration of reproductive capacity to valuable breeding animals.
Drainage of uterus.
Elimination of bacterial infection from the uterus and
Removal of the source of progesterone responsible for initiating the disease.
Estrogen alone is very useful. It initiate cervical relaxation and entries uterine muscular tone and contractility, promoting the expulsion of exudate from the uterine lumen. Estrogens also increase the resistance of the uterus to bacterial infection. Testosterone has also been used as a medical treatment of Pyometra. Oxytocin is used to stimulate expulsion of uterine contents by increasing uterine mortality. Progesterone and related compounds should not be given to females with Pyometra.
Several methods are available to allow drainage of uterus with minimum trauma to the patient. Foley's catheters can be manually passed through an open cervix and antibiotic solution is instillated in to the uterus. When cervix is closed, catheters may be inserted following cervical dilatation. Corpus luteum, relaxation of cervix and discharge of the uterine contents. However these females are prone to recurrent attacks and subsequent estrous cycles.
RENAL MANIFESTATION OF PYOMETRA-
Although many females with pyometra develop renal disease but few may develop lesions severe enough to produce renal failure. The types of renal disease observe with Pyometra may include prerenal uremia, primary glomerular disease reduce tubular concentrating capacity, concomitant renal disease and combinations of these. Renal calculi, pyelonephritis and chronic generalized nephritis have been observed in bitches with pyometra.
PYOMETRA ASSOCIATED WITH OTHER DISEASES–
In addition to the genital ands renal lesions the bone marrow, liver, spleen and adrenals may be altered in canine pyometra. In severally toxic animals, bone marrow depression results in decreased white blood cell counts associated with immaturity and mild to severe anemias.
CLINICAL FINDINGS-
Pyometra occurs most often in bitches over six years of age and is common in ll the breeds. The severity of clinical illness depends on cervical patency, stage of the estrous cycle, the presence of bacterial infection of the uterus, the duration of the illness and the severity of uterine and extra-genital lesions.
The most common clinical signs are depression, anorexia, vaginal discharge, vomiting, polyuria, nocturia and diarrhoea. Signs less commonly observed by owners are abdominal enlargement and vulvar swelling. The volume of vaginal discharge depends on the degree of cervical patency. The discharge is usually yellow gray on reddish brown and has a fetid odour. Closed pyometra cases are more toxic because of accumulation of large volume of pus within the uterus. Polyurea is frequently observed clinical sign. The duration and clinical illness is variable. The mean time fro then last ob served estrus to clinical presentation varies 35 to 45 days. The pseudopregnancy, irregular head cycles and lack of previous pregnancies do no predispose bitches to this condition.
PHYSICAL EXAMINATION-
Physical examination of females with pyometra usually detects a number of abnormalities. The most common are dehydration, depression, palpable.
A potential nonsurgical method of including luteolysis is with the use of prostagladins. The luteolytic agent prostaglandin F2 alpha is used to include regression of the corpus luteum with pyometra. Results are very encouraging.
Systemic and intrauterine antibiotics are important for eliminating secondary bacterial infections associated with pyometra broad spectrum antibiotics including amoxicillin and cloxicillin should be used if response is poor culture and sensitivity test on uterine exudates should be done and effective antibiotic should be used. Intrauterine irrigation with nitrofurazone, urea and metronidazole solutions may be helpful in eliminating uterine infections. Use of corticosteroids along with antibiotics is very useful.