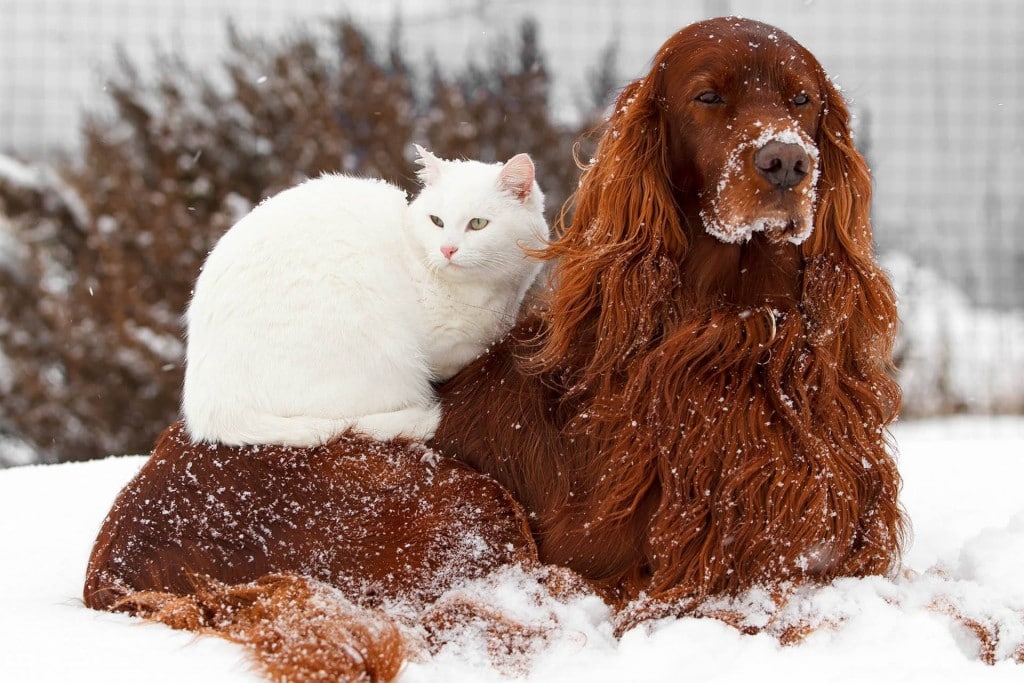 Right now, the country is in the depths of what many have referred to as an arctic blast, or even a vortex. Temperatures are already dropping below freezing in the South, and the North has seen feet of snow, not to mention temperatures dropping below zero some nights.
For humans, this means pulling on snow boots and thick coats—but what about our pets? We know how to adjust to changing temperatures, but do we know the best way to help the animals in our lives adjust?
Consider these tips for keeping your pets safe, warm, and healthy in the coming—or already present—winter months:
1. Acclimate them to the cold
Some pets can stand winter weather and will still spend a lot of time outdoors. If your pet is one of them, make sure you slowly introduce them to the steadily decreasing temperatures rather than expose them all at once.
2. Bring them inside
Whether your pet can stand the cold or not, they should never be left outdoors in winter for prolonged periods of time. Cold temperatures—even colder thanks to wind chills—and snow can cause frostbite on ears, paws, and tails. Even if you regularly take your dog for long walks or runs, be mindful of cold paws, and know that cats should always be left indoors in winter. When you bring them in, towel or dry them off.
Once inside, keep your pets warm—safely. Space heaters and other mobile heating devices can burn your pet, so keep them out of reach, and make sure your fireplace has a screen. Pets should never be left alone with an unattended fire.
3. Provide solid shelter
You are mandated by law to provide your dog with well-insulated, draft-free shelter. The opening should face south, and it should have a sturdy, flexible c over to prevent cold winds from entering. Line the floors with straw, not hay, as towels and blankets can become damp or freeze.
4. Look out for antifreeze and rock salt
Antifreeze collects easily on driveways and roads, but it is poisonous and lethal to your pet. Do not let your pets roam freely in areas with antifreeze, and when you take them for walks pay attention to what they sniff or lick. If you suspect your pet has ingested antifreeze, contact your veterinarian immediately.
Additionally, rock salt can irritate your pets' footpads, so be sure to rinse and dry their feet after being outdoors. For pet-safe ice melts, visit your local pet store.
5. Provide lots of food and water
If your pet is continuing to exercise and play as usual, know that it takes more energy in the winter months to regulate body temperature, and so your pet likely needs additional calories. Keep water bowls full (and unfrozen) at all times, and provide extra food if needed.
6. Keep up with grooming
Your pets need well-groomed and clean coats to help keep them properly warm and insulated. If your dog has short or coarse hair, consider a sweater or coat. If they have long hair, have their hair trimmed around the paws to help in cleaning and snow and ice removal.
In the midst of winter weather protection, don't forget to have fun. Snow and cold weather provides plenty of opportunity for outdoor activity and exercise for some animals, so take part!