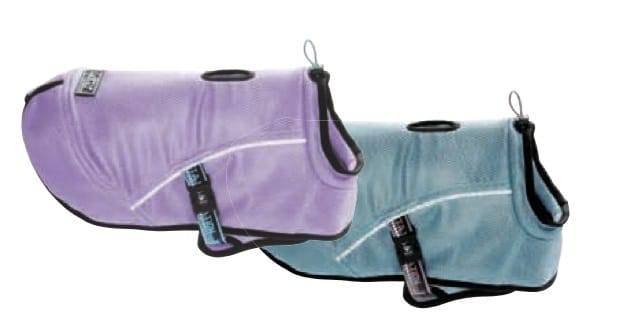 Walk your dog early in the morning and late in the evening. If your dog lives outside, make sure that they can always seek shade.
Make sure that your dog has access to fresh drinking water at all times, also bring bottled water for longer drives.
Getting a kiddie pool or taking your dog for a swim are nice ways to keep your pooch cool. Just remember not to let them drink sea water, as it can lead to severe salt poisoning, and bear mind that you should not get your dog wet for two days after you apply their monthly heartworm preventive.
Take a moist towel with you for cooling your dog if you're spending the day outdoors, e.g. at a dog show or camping. Cooling coats, like this one from Hurtta, are also commercially available:
DO NOT leave your dog alone in the car on a hot day!
Know the signs of heat stroke:
listlessness
intensive panting
increased salivation
apathy
body temperature of over 105.80ºF
brick red mucous membranes
vomiting
diarrhea
shock
loss of consciousness
First aid for heat stroke:
Take the animal somewhere cool and shady.
Give the dog cool water to drink.
Duck the dog's head into cool water or spray them with a shower head/garden hose. Remember to moisten the head.
Put a cool pack on the head to avoid cerebral oedema.
Constantly monitor the dog's body temperature until it drops to 102.2°F
Rub the animal's legs to improve the circulation.
If these emergency measures don't work and your dog is still unresponsive, get them to the vet's immediately!