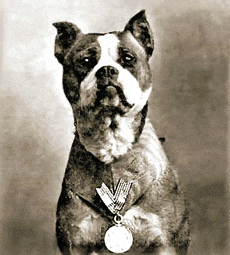 The roots of the Pitbull Terrier can traced back to early Britain. The breed was developed in the middle of the 1800s when enthusiasm for illegal dog games such as baiting waned and was directed towards dog fights. The built of early bulldogs was not suitable for dog fights. To come up with a new breed that had the same aggressiveness as bulldogs but with a smaller but muscular built, breeders crossbred with native terriers. The result was the first line of Pitbull Terriers but back then they known merely as bull-and-terriers.
When British immigrants came to America in the 19th Century, they brought their dogs with them. Dog fighting was also popular in America but those that migrated to the West made use of their dogs in an entirely new way. They trained their Pitbulls in such a way that they became all around dogs. They were used as working dogs in farms and ranches, herding and guarding livestock against wild desert animals like coyotes. They also protected family homes from thieves.
Recognition of the Pitbull Terrier by the American Kennel Club
The American Kennel Club was established in 1884 to help protect the interests of purebred canines and their owners. The club held events where they initiated tests that allowed them to judge a specific breed according to performance and conformation. Conformation events focused mainly on the dog breeds' distinguishable physical characteristics. On the other hand, performance events are held to test out a breeds' aptitude according to the purpose for which they were bred. Performance tests are divided into categories like working, herding, and sporting.
Unfortunately despite the rich history behind Pitbull Terriers, the American Kennel Club refused to recognize this canine pedigree as an official breed. Their main reason for refusing to register Pitbull Terriers is because they were bred for the sole purpose of serving as fighting dogs and the AKC did not want to promote anything associated with dog fighting. This prompted the formation of an organization called United Kennel Club.
The United Kennel Club's sole purpose was for the registration of dog breeds that didn't qualify for the AKC's standards for certification. Needless to say, the founding member of the UKC is the American Pitbull Terrier. By 1936, the AKC finally agreed to list Pitbulls in the their registry but only under the Staffordshire Bull Terrier as they believed it to be the Pitbull Terrier's distant cousin. In present time however, the Staffordshire Bull Terrier has developed into a breed far different from which it was first registered.
American Pitbull Terriers in Modern Times
One of the most famous Pitbulls of all time is Sergeant Stubby. Stubby served as a the first American war dog in World War 1. His numerous heroic acts during the war earned him several medals and was the only war dog to ever earn the rank of Sergeant. He earned a celebrity status after coming home from the war and became the school mascot of Georgetown University, where his owner Corporal Robert Conroy studied Law. Historical figures such as Mark Twain, President Roosevelt, Helen Keller, and Fred Astaire were proud owners of Pitbulls.
Over the years, society has learned to accept American Pitbull Terriers as lovable pets. They are generally safe to have around the home even if there are children and other pets around. However, it is important to remember that Pitbulls have an innate characteristic to attack when provoked. For this reason, responsible pet ownership and obedience training are a must to ensure that they remain harmless.
Click here for the The History of Pitbulls I
Click here for the The History of Pitbulls II