If there is one dog breed that is undeserving of its reputation, it would be the American Pitbull Terrier. Pitbulls have been known to have an extremely aggressive temperament and attack without provocation. This however, is not entirely true. Pitbulls are some of the most loyal dog breeds around are generally safe to have around a home as long as they have been raised properly. While there stories of Pitbull pets that have become violent against children, other pets, and sometimes, even their owners, this behavior is most often contributed by the way they were or are being treated.
Aside from cruel treatment given by their owners, numerous Pitbulls are raised specifically to be used in dog fight arenas. Dog fights are usually organized by underground organizations, particularly in South America, Asia, and Latin-American communities in the US, for entertainment and gambling purposes. Although animal welfare groups and government authorities have tried their best to stop the operations of dog fighting rings, they still have a long way to go in terms of totally eradicating this cruel sport. Sadly enough, Pitbulls have a long history of being used as "bait" in fighting arenas.
Mollosian Dogs
Not unlike the lineage of other dog breeds, it is almost impossible to trace the true origin of Pitbulls. However, experts who have studied the breed say that Mollosian dogs are distant ancestors of Pitbulls. Mollosian dogs are an extinct breed. Their vicious character, agility, stamina, robust stature, and intimidating appearance made them perfect for warfare which is why the Mollosi tribe brought them along to the battlegrounds to fight their enemies' lions, tigers, and elephants.
The bloodline of Mollosian dogs are also believed to be responsible for Mastiff-type dogs as well as instruments in the development of other dog breeds.
The Ancient History of Pitbulls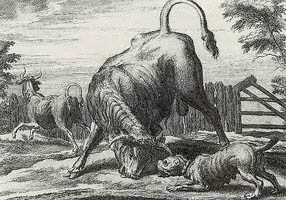 According to historians, the Mollosi tribe also traded some of their dogs with Phoenicians traders for commercial goods and weaponry. It is through this method that early Britons were able to acquire Mollosian dogs which they crossbred with a native breed. Through cross breeding, they were able to produce the first ancestors of Mastiff-type dogs which they referred to as pugnaces. Unlike modern Mastiffs, the pugnaces were very fierce and were also used for wa fare or as entertainment in early dog fight arenas.
When Roman emperor Claudius defeated the Briton Chief Caractacus in 50 AD, he took a notice to the aggressiveness and powerful nature of the pugnaces. He realized that these dogs can be used to quench his countrymen's thirst for blood and entertainment in the fighting arenas and coliseums of Rome. He seized the opportunity to export numerous pugnaces to his country.
The pugnaces were then crossbred with native Roman dogs hence the birth of another breed which was widely disseminated throughout Rome and other provinces of the empire from 50 AD to 410 AD merely to be used as fighting dogs. Through the years, this dog breed was crossbred with various breeds found throughout Europe. Many say that this was how the first ancestors of the American Pitbull Terrier came to be.
Click here for the The History of Pitbulls II
Click here for the The History of Pitbulls III