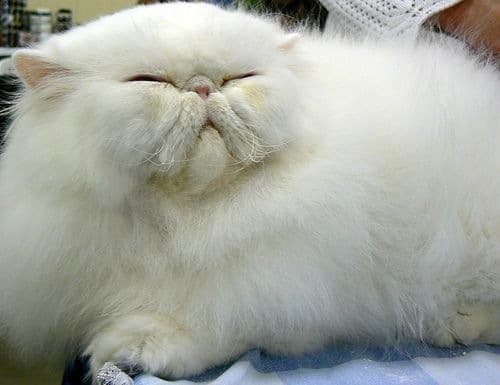 People who love animals and are great with pets usually have 1 or 2 cats around. Yes, cats are popular as pets and are domesticated enough to earn a place in the household, much like their canine counterparts.
One of the most sought after domesticated cat breed is the Persian cat. Persians are domesticated cats that are known for their long and thick fur, round head and flat face. There are two types of Persian cat – the show Persian and the traditional Persian.
Show Persian cats are characterized with a round head that is accentuated with a thick ruff. It has small ears, a flat nose, and its face is enhanced with round copper eyes. They also have short legs, broad and short body, and a thick flowing tail. On the other hand, the traditional Persian cat is also known as Doll Face mainly because of their sweet expression. They do not have that extreme feline features as that of the Show Persian; their nose is of normal length with an equally long and glamorous coat.
The Persian Personality
Persian cats are known to be sweet, docile, and quiet. They are normally very "easy-going" and likes human attention which is why they are in demand as pets. You normally see them lazing on the sofa, or on the lap of their owners, enjoying their favorite feather toy, or a gentle scratch on the back. Persians are known to be the "cat for the elite" because of their discerning and discriminating abilities – they usually just reserve their attention to family members, and to guests that they "feel" they could trust.
Furthermore, this feline prefers a serene environment and, although, it is not suitable in a noisy environment, Persians can adapt to any type of household as long as their needs are met.
The Persian's Health
One of the drawbacks of owning a Persian cat is that they have poor health. If they are not taken care of properly, they are prone to skin and eye problems, and kidney disease. These cats need daily grooming and brushing, they need to be kept clean, and they also need to be fed properly with the right kind of cat food recommended by your vet.
Since they are prone to eye problems, as the owner, you should watch out for excessive tearing. Wiping the corners of the eyes with clean cloth daily can prevent under-eye stains and can aid this feline's eyesight even more. A Persian cat's health is mostly the challenge of every owner which is why it is better to keep them strictly indoors (not to mention their furs have to be kept immaculately clean and groomed).
Persian cats can be quite the charmer especially towards their owners. These beautiful cats love to be cuddled and petted, and are highly recommended if you want a pet that is even-tempered and well-behaved.