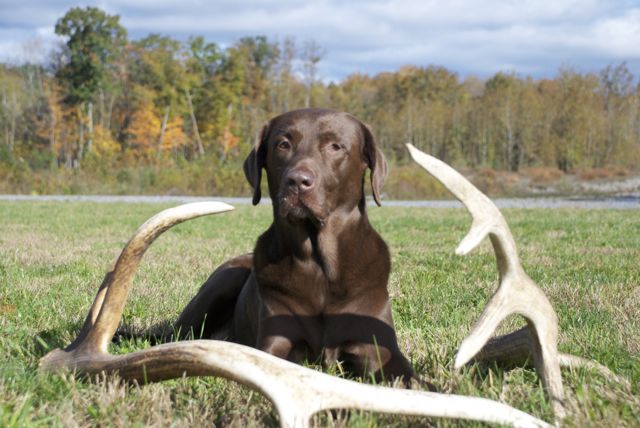 Chewing is a natural behavior in dogs. Not only does it help them pass time, it is also stimulates their mental faculties, strengthens their jaws, and cleans their teeth. However, it can get pretty annoying when your dog starts chewing on wooden furniture, footwear, and expensive dog toys because chances are, your pet will destroy them. The best thing to do is to give your dog something to chew on. But as a responsible pet owner, it is important to know what you are giving your dog.
While the most common type of dog chews are Rawhide and knuckle or marrow bones, many dog owners these days have switched to elk horn chews. Here are some of the reasons why:
1. Elk Horn Chews are All-Natural
Male elks shed and regenerate their antlers or horns every year. Elk horns fall off during the Winter and start regrowing by Spring. During the Summer, which is the peak of their horns' growth period, their antlers grow by as much as 2 inches each day. Horns that have fallen off in the forest are gathered by "horn hunters" and are then sold to dog chew manufacturers.
Elk horn chews are then cleaned thoroughly with water to remove dirt. They aren't processed with chemicals nor are they treated with preservatives and flavorings unlike Rawhide chews or Bully Sticks. This makes them a better choice for dog owners who are conscious about what they give their pets.
2. Packed with Essential Vitamins and Minerals
Elk horn is made up of calcium, phosphorus, water, and other vitamins and minerals which are essential to canine health, particularly for the bones. Since elk horn chews don't undergo chemical processing, these healthy components aren't broken down. Thus, dogs are able to fully benefit from the vitamins and minerals elk horns possess.
3. Safer Compared to Common Types of Dog Chews
Unlike Rawhide and knuckle or marrow bone, elk horn chews do not break down or splinter thus preventing the risk of dogs choking on little pieces. Additionally, the former is only 80% ingestible. Given that elk horn chews are all-natural, dogs do not ingest chemical substances that are hard to break down or hazardous to their health. As such, there is very little risk of dogs developing gastrointestinal problems or other illnesses related to toxin build up in their system.
4. Do Not have an Overpowering Smell
Most dogs chews have a greasy or "meaty" odor that makes them attractive to dogs. Problem is, that smell can be a little overpowering inside the house. Moreover, chews that have been treated with coloring can leave stains on the carpet.
While elk horn chews have a faint smell, they won't leave the house smelling like dog chews and they don't stain. Their smell comes from the marrow found in the center of the horn but is barely noticeable to humans. Dogs on the other hand, go crazy over it.
5. Easier on the Budget
While Elk horn chews are a little more expensive compared to Rawhide and other types of dog chews, they can last months, even years, depending on the size of the dog. In the long run, dog owners are able to save hundreds of dollars each year on dog chews. The key here is to choose the right size of elk horn chew for your dog.
Dogs chew on elk horns to get to the marrow which is why whole antlers are best for medium and large breeds because they are harder to break down. Small breeds are better off with cut elk horns because their teeth are softer. They won't have to exert too much effort, which can lead to teeth cracking, because the marrow is already exposed.