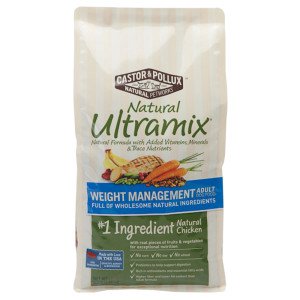 How well do you know the brand of your dog food? When you decide to take care of a pet, it is essential to understand that each brand is totally different from the others. Though most brands today offer organic ingredients, it is not enough to ensure that your loyal pet is in good hands. For dogs to get the right vitamins and nutrients needed for their bodies, it is good to discuss what exactly your pet needs with a vet. There is no guarantee that the same brand will work on two dogs with a different size, breed, and age.
Ultramix Dog Food, just like other brands, needs to be reviewed properly in order for you to see what its' ingredients are. Though at times the longevity of the company in the dog nutrition industry is appealing and tends to be more reliable, it is also possible that newer brands have better technology to test foods compared to the older ones. There is really no specific formula in determining the perfect brand for your dog food.
Ultramix Overview
Natural Ultramix is a product made by Castor & Pollux Natural Petworks. This product was introduced in the market in 2004 and has been receiving contrasting reviews from pet owners. There are some who would insist that it doesn't work with their pets while others will justify that it is one of the best brands they've tried.
On the other hand, Ultramix is available for both cats and dogs. They have specific formulas tailored for the special needs of your pets. Ultramix canned cat foods were recalled in 2007 because of gluten contamination. With this concern, the company tried to create better processing techniques to avoid contamination, and still continue to provide the same brand with better content to their customers.
What are the Ingredients?
Natural Ultramix formula is made from different ingredients including barley, brown rice, chicken, chicken meal, dried peas and turkey meal. L-Carnitine is also added in the food product. This helps your dogs regulate their weight and keeps their hearts healthy. Important ingredients are also in the food such as, omega 6 fatty acids, brewer's yeast and linoleic acid.
Ultramix shows the difference between organic and natural as most brands guarantee to be made of natural products. In Ultramix products' case, ingredients are slightly processed thus its components are not organic. Despite the fact that it is not organic, it has a positive effect according to some pet lovers. Some effects on your dogs will be hardening of its stool, it will become more energetic and the dogs won't beg for more food. Though this brand seems to have higher ratings on other sites, it is still important to be positive and try it on your pet and observe its effect on them before continually using it. Another option for you is to visit an expert for further details.