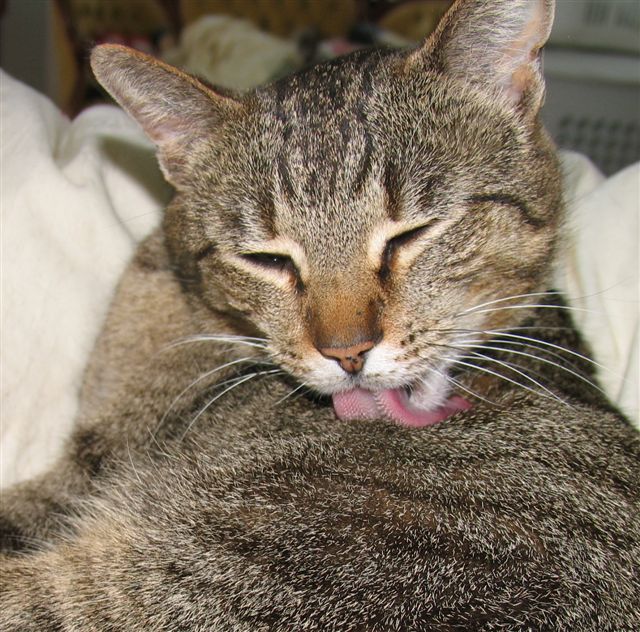 If there is one thing that cats hate, it's getting dirty. This is why you would see cats licking themselves clean when they're not playing or walking around. Grooming is a cat's favorite past time so owners don't get bothered when they often see their cats licking themselves. It is after all, just normal.
Licking is a cat's way of staking a claim on its territory. This behavior is something that cats learn as kittens because it is the first touch they feel when they are born. Their mother licks them to get rid of childbirth blood and mucous as well as stimulate their breathing. As they grow older and start to venture out, their mothers groom them by licking. In effect, her scent is firmly established on her kittens. This is also the reason why cats lick their owners – they are marking them as their territory.
However, there are instances when a cat's compulsive licking should be a reason for worry. When you start seeing bald patches in your cat or shallow infected wounds, it's time to start trying to find out why your cat's licking behavior has suddenly gone on overdrive and how you're going to put a stop to it.
Here are a few reasons why cats lick so much:
1. Parasites
Fleas are often the most common culprits behind a cat's excessive licking. Since cats are obsessed about grooming, they lick themselves like crazy until they've gotten rid of all traces of fleas on their bodies. Ticks, mites, and ringworms are also usual parasites that can cause excessive licking in cats.
Getting rid of parasites can be a quite a feat for cat owners because not only would they have to treat all their pets, but also sanitize the entire house to ensure that the parasitic infestation is eradicated. Cats should be taken to the vet so flea control medication can be prescribed. It would also be wise for cat owners to quarantine their pet for a certain period to prevent the spread of parasites.
2. Allergic Reaction
Cats can develop an allergic reaction to food, grooming products, nutritional supplements, and even products used to clean the house. If you notice your cat licking or scratching excessively, you may have to change its diet to determine if food allergy is the cause. If that doesn't seem to be problem, look into the products you use to groom your pet or to clean the house.
Vets can prescribe oral medications to treat your cats allergies as well as topical ointments to control the itching.
3. Pain
If you cat seems to be licking one specific spot excessively, it may be feeling discomfort or pain in that area. If you don't see any signs of injury, take it to the vet immediately for further tests.
4. Boredom
Cats are very sociable animals and love to play and interact with their owners. When they are bored or lonely, they tend to lick themselves as a way to pass time and entertain themselves. Make sure to allot some time to play with your cat to keep it happy.
5. Stress and Anxiety
Cats are prone to stress when their normal lives are altered in some way. It is very important for cat owners to take it slow when introducing new things, such as a new toy or a new member of the family, to their cats. In the same way, moving to a new house can make them feel anxious and this causes them to lick themselves excessively as a way to soothe their anxiety. Cat owners should try their best to make their cats feels safe in their new environment by soothing them and making them feel at home.
Click here to read about why cats scratch so much