Even new aquarium owners know that a filter system is only one step in keeping your aquarium clean and well-maintained. It doesn't matter if you have a freshwater, saltwater, tropical or reef aquarium, all need proper treatment.
Without proper treatment, bacteria growth is only a matter of time away, and then algae and other unwanted growths.
Regardless of what sort of tank you have, odds are your internal filter isn't doing everything that can be done. Finding the best UV sterilizer for you and your tank means eliminating more microalgae and pathogens than your filter could ever get.
A good UV sterilizer will work to eliminate fungus, algae, and common water contaminants. It is the new solution to a dirty aquarium problem.
After scouring the internet, we've picked the top five available and broken down how to find out which is the best for your aquarium!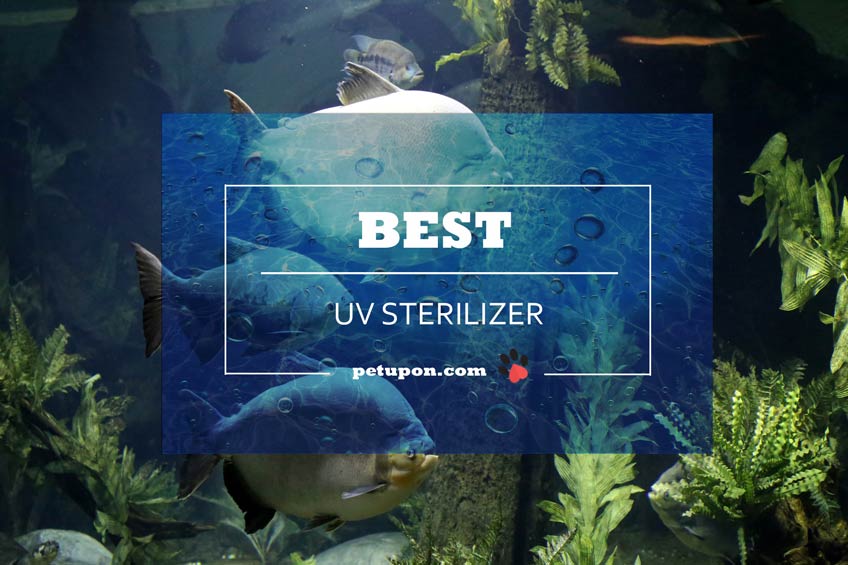 Why Use a UV Sterilizer?
A UV sterilizer is a great addition to your filtration system because they deliver clear and concise elimination. They kill off viruses, microscopic organisms and a multitude of bacteria that can pollute your water.
You may not even notice the number of microscopic unwanted guests in your tank right now. Often they only make water appear cloudy until your fish become sick. The cloudy water is the first sign that you have algae blooming and potential viruses that can attack your fish and plants.
By using a UV sterilizer you can change your water less often, and reduce the workload your filter is currently experiencing. The UV sterilizer filters the water that goes through it with an ultraviolet light ray and makes the bacteria, viruses, and other microscopic unwanted guests unable to develop any further.
This is a preventative measure that your tank will be thankful for! Working as a sterilizer it can treat shady water so your tank is crystal clear and in peak health.
Do be careful when using medications as the UV sterilizer can counteract many medications that are used to treat sick fish.
Finding the Best Value in a UV Sterilizer
Of the features you should look for in a UV Sterilizer, keep an eye out for these:
Adjustable strength
Adjustable flow rate
The sterilizer size is relevant for your aquarium
The unit is easily submersible
The irradiation delivered by a UV Sterilizer is a simple solution to many aquarium issues. Whether you're looking for a hang-on UV sterilizer or an inline either should be easy to install.
Finally, look for the best value for your dollar. Aquarium enthusiasts everywhere devote large amounts of their aquarium budget towards their filtration system.
However, the addition of a valuable UV sterilizer can severely lower the price you're paying to replace your filter media.
Top 5 Picks – Best UV Sterilizer for Aquariums
We've done the research and compiled all the information we could find for you here! Read through and find which best suits your needs and budget.
1. Green Killing Machine Internal 24 Watts UV Sterilizer, with Power Head
Eliminates cloudiness
Kills bacteria
Works for up to 120-gallons
No installation
[img_products img_code="61xL4D-QqHL" alt="Aquarium Green Killing Machine 24W " code="B002ZVODP0″ reviews="View on Amazon"]
Hands down, the best feature here is the ease of use! No installation and maintenance is a breeze. Many users of the Green Killing Machine 24 Watt UV Sterilizer note they see substantial improvement in their tank within a few days of use.
If you're struggling with algae bloom and don't have a ton of time to dedicate to installation and tank cleaning, this is a quick fix that keeps performing!
>
For a unit that processes up to 120-gallons of water, you couldn't get a better price. Although many of its features seem completely standard for a UV Sterilizer the Green Machine is one of the most commonly known names in UV sterilizers.
2. 13w UV Sterilizer Adjustable Pump Filter 150 Gal Aquarium Fish Tank
8 Watt water pump
UV light included
Adjustable water flow
150-gallon tank
[img_products img_code="61EPy48WHiL" alt="SUN 13W UV Sterilizer Adjustable Pump Filter" code="B01824RDNC" reviews="View on Amazon"]
This UV Sterilizer is fully submersible, compact and ready to install. There isn't any addition assembly required, any extra tubes or circulation pump necessary. The built-in pump helps microorganisms flow through the UV lamp to have a completely clean and clear tank.
The adjustable water flow is the best feature here. Although we aimed in our value section to have a UV Sterilizer with an adjustable water flow this one stands out.
At an affordable price, you can use this UV Sterilizer to eliminate how often you're cleaning your tank. But, it can also improve the health of your tank. It's not a name brand, but it's one of the top rated UV Sterilizers on Amazon and it has earned that spot!
>
The UV Sterilizer here has the obvious benefit of an adjustable pump filter. This means you can watch and control the water flow. Many aquarium enthusiasts find they start with a higher water flow rate and then reduce it as the water becomes more consistently clear.
3. Sun Microsystems In-Tank Submersible UV Sterilizer
Lamp balance is integrated in system
One cord to deal with
Sponge tray is removable
With a UV-C light it uses a quartz sleeve that builds a 99% transmission flow rate. All this means for your is that the pathogens and bacteria are eliminated quickly and thoroughly. The flow valve is customizable, and there is a mechanical pre-filter.
It's meant for installation right out of the box and is plug-and-play! So as soon as you get it, you can begin using it.
Delivering a great level of clarity to your tank through a pre-filtering system is this UV Sterilizer's best system. Not to mention its visual appeal.
If you're using a sump, the UV Sterilizer can be added right in, or it can fit nicely into your tank discreetly. After it catches the particle debris, it utilizes ultraviolet lighting as any other UV sterilizer does. This pre-filtering system is a benefit that other UV Sterilizers on this list don't have.
If you have any doubt about your current mechanical filters ability to grab particle debris, this could be a great addition to your tank.
>
An adjustable flow rate valve, pre-filtering system, and easy to clean sponge is nearly everything you could ask for in a UV Sterilizer.
On top of it, Sun is a well-respected brand in the aquarium community. But a good reputation doesn't counteract the cleaning it requires. Since there is a particle debris catcher or essentially an extra filter, you do have to clean the exterior quartz sleeves regularly.
All in all, the cleaning is simple, but easy to forget about. If you are looking for something to plug in and forget about this may not be the right UV Sterilizer for you.
4. Aqua UV Hang-On UV Sterilizer, 15 Watt
Meant for small ponds and water features
Great for Koi ponds
By small ponds and water features, Aqua means, up to 85-gallons. Although this seems large, remember that the capacity is also affected by how populated the water is. If you only have a few koi or plant lives, this could be a good option.
[img_products img_code="31Y1AYdfF4L" alt="Hang On UV Sterilizer" code="B003WRL6KG" reviews="View on Amazon"]
The best thing about the Aqua UV Hang-on UV Sterilizer is that it's ready to go right out of the box. There aren't a ton of great benefits or cons either. This is your very standard UV Sterilizer. It mounts easily, is compact and is easy to connect.
>
If you have the budget for your small pond or water feature to have a UV sterilizer, we wouldn't talk you out of using the Aqua UV sterilizer.
Where we can say this sterilizer works best is in a canister filter. The pump should be able to process about 500-gallons of water per hour. This means you should see results either overnight or within a few days.
5. Coralife Turbo-Twist UV Sterilizer
Works for up to 250-gallons
Barbed inserts
Double wall light chamber extends life
Requires a pump with a flow rate of 200-400 gallons per hour
The Coralife Turbo-Twist UV Sterilizer can either be mounted easily to the aquarium or added in-line with your current pump. It works best on a canister filter that has a flow rate of 200-400 gallons per hour.
[img_products img_code="51H3yBf5cvL" alt="Coralife Turbo Twist UV Sterilizer" code="B0011UP9L8″ reviews="View on Amazon"]
The best feature here is the size it can handle. If you have a large tank or pond this is worth the investment. It can process both salt and fresh water features so your fish and plant life is taken care of regardless.
On top of it, the UV light it uses is far more powerful than what is normally in UV Sterilizers. This 36 Watt UV light eradicates algae, bacteria, and microorganisms through a quartz glass sleeve. It is a durable piece of equipment and it's easy to install!
>
If you're looking for heavy duty UV Sterilizing power, this is a top choice. The option of having such a large capacity UV Sterilizer is great for many aquarium enthusiasts that have large setups or ponds.
The quartz packaging is great to ensure the longevity of this device, and for its size, it is pretty affordable. Preventing damage by using a UV Sterilizer means fewer chemical treatments for sick fish, and less time cleaning your tank regularly.
Top Pick!
The Sun Microsystems In-Tank Submersible UV Sterilizer is a top pick not just because of its price but because of its size. Although there was a huge array of sizes in our list, the Sun Microsystems In-Tank Submersible UV Sterilizer system fits most household aquariums.
If you're looking for something to add to your tank at home, this easy plug-and-play setup is a definite go-to.
Throughout this list, a variety of tank sizes and UV Sterilizer options were covered. If you're looking for the best UV Sterilizer it is certain that one of the UV Sterilizer options listed here is right for you and your tank or pond!