Whether it was us overfeeding our beloved cats, or them not knowing when to stop eating, cat obesity is a real problem. Fat cats have taken over the internet, but the health problems that could come from years of being overweight as a cat aren't worth the extra attention. Here are the best wet cat food options for weight loss.
Top 5 Wet Cat Foods for Weight Loss
You can quickly get your cat's weight under control and help them get back to a healthy lifestyle with any of these wet cat foods. Almost all of them are grain-free, low-carb and will help your cat get some energy back too!
1. Nutro Wild Frontier High-Protein Diet
[img_products3 img_number="52774″ alt="Nutro Wild Frontier High-Protein Diet" img_code="V1499979173″ product_name="https://www.chewy.com/nutro-wild-frontier-real-salmon/dp/159105″ check="Buy from Chewy"]
A high-protein formula is the best way to address the issues that come with any cat being overweight. The 24 twin-packs help you portion out your cat's daily meals and allows them to eat twice rather than just once so there's no fear that you're restricting them from food.
Nutro is becoming a well-known household name although they've been in business as a top-tier pet food company for a few years now. They almost always feature high-quality meat as the first ingredient, and their recipes are always inspired by nature.
More than anything else we like the packaging and that they set strict serving sizes. You can rest at ease knowing that your cat is getting enough to eat. Although you might hear cries while they sit at their food dish, know that they want to comfort eat.
No carb, pate-style and portioned for you, there isn't anything to dislike about this wet cat food. The only downside is that there's a solid foundation of chicken liver and pork broth which combine for moderate fat content. You might need to keep your cat active and playful to help them lose a bit of that weight.
This is an excellent option for cat owners, but one of the best for weight loss. We've seen that even exceptionally picky eaters will take to this food without much issue. Always be sure to slowly introduce new foods, because cats will quickly decide that they won't eat anything if they realize that you're changing something.
Wet cat foods, Nutro Wild Frontier, is no expectation, are the worst to try to get your cat to take to if they are picky. But you may have to wait out your cat's hunger strike because Nutro Wild Frontier is a great food to help your cat start to lose weight.
2. Purina Beyond Wild Prey-Inspired Canned Cat Food
[img_products3 img_number="148020″ alt="Nutro Wild Frontier High-Protein Diet" img_code="V1531838585″ product_name="https://www.chewy.com/purina-beyond-wild-prey-inspired/dp/174852″ check="Buy from Chewy"]
Pate style
High protein
No Grain
There's the issue for overweight cats that not only do they regularly have low energy, but they often overeat because they're trying to get more nutrients. This cycle plays through many pet inhabited homes. Purina tries to break this cycle with a reasonably priced alternative to high-end high-protein cat foods.
Real salmon is the first ingredient, and the proteins here are focused on creating lean muscle which will ultimately help your cat lose some of their bulk. A lot that can be said for choosing the right protein!
Not only is there only top-grade proteins here, but there is no filler. Purina has done well by keeping out unnecessary carbs such as sweet potato, or brown rice. Instead, they've opted for a grain-free, no-carb formula.
There is a high kcal count per serving but, it's almost the necessary evil of this formula. Along with salmon chicken and arctic char, the formula relies on Egg to fill in a lot of missing ingredients such as potassium and Vitamins A, E and B. The egg, however, brings in a much higher kcal count.
Although the kcal count is rather high compared to some of the other options on this list, you don't get any "meal" or "byproduct" ingredients here. This wet cat food is the full package. It has the protein focus with enough fat and fiber to keep their other systems and skin healthy while still being affordable.
Purina Beyond Wild Prey is definitely in the top 5 for wet cat foods for overweight cats. But, you might be surprised to see how well it outperforms some of the top brands. It stands apart from any dry food competition with its dense nutritional value.
3. Crave Chicken and Turkey Recipe Grain-Free Adult Cat Food Trays
[img_products3 img_number="147838″ alt="Crave Chicken and Turkey Recipe Grain-Free Adult Cat Food Trays" img_code="V1525800731″ product_name="https://www.chewy.com/crave-chicken-turkey-recipe-cuts-in/dp/174670″ check="Buy from Chewy"]
6 oz servings
Twin-pack design
Protein-Rich wet cat food that helps curb appetite between servings is the hungry and overweight cat's dream. As a cat owner, you might worry that they're hungry between meals, but that's not a problem with Crave. This brand has been carving out a name for themselves in the past few years and has been shaking up the recipes they use in the wake of a grain-free pet world.
We love that the bits of meat are still packed into a gravy. Other recipes for overweight cat's or cats on a high-protein diet stick with a water-based pate style. Instead, this gravy is made from chicken broth and pork plasma to maintain a thick and satisfying texture for your cat.
Although Crave Grain-Free recipes have every vitamin and essential nutrient that you could want in cat food, a lot of them are present through additives. You're giving your cat a large serving of protein with a multivitamin ground into a gravy. That's not the worst thing you could have in pet food. The additives are safe, and although not natural, all of them contribute as a vitamin source.
Honestly, this product is excellent, and the all-natural community should quiet down. This formula is made for overweight cats, and they do well by not specifying that fact. Instead, they offer a grain and carb free wet cat food option for pet owners.
Finally, when you look at the feeding instructions think carefully about how often you're currently feeding your cat. Crave advises feeding 6 or 7 portions for every 10 pounds your cat weights. Pet companies will often overestimate on how many servings to deliver to your cat. Crave isn't likely to fit into that category because their products have no fillers.
4. AvoDerm Natural Grain-Free Salmon and Chicken Entrée in Gravy
[img_products3 img_number="46686″ alt="AvoDerm Natural Grain-Free Salmon and Chicken Entrée in Gravy" img_code="V1516654293″ product_name="https://www.chewy.com/avoderm-natural-grain-free-salmon/dp/31866″ check="Buy from Chewy"]
Rich in Minerals and vitamins
Fish-based proteins
All too often overweight cats are given food that uses complex starches such as sweet potatoes, wheat flour, or rice. AvoDerm works with an alternative carb, tapioca starch which is filling but not so complex that it slows down digestion or drains your cat of energy.
This chunky texture also lets cats feel like they're still getting something substantial rather than a pate that they might lap up quickly.
We love that the calorie content is shallow, and they have achieved a respectable balance between protein, fat, and fiber. Unlike other formulas that do well for overweight cats, they have a higher fiber content which will help process the larger volume of protein.
The serving sizes are not useful at all. The AvoDerm feeding instructions advise the user to give their adult cats 1 can for every 3 pounds of body weight or provide a 25 (wet) to 75 (dry) percent ratio for mixing dry and wet food. If your cat is overweight, let's say in about 20 pounds in total, then you would be giving your overweight cat more than 6 cans of food a day!
This is an excellent product, but don't trust the serving instructions. Instead of following the serving instructions you should keep a close eye on your overweight fluffball. Don't deny him food if he's hungry, but common sense says that more than 6 cans of food a day are excessive.
You could use this wet cat food to supplement a stricter dry food diet, but honestly, it can stand alone as a stable diet for an overweight cat. You can find all of the essential nutrients and a protein-based, vitamin-rich diet in this can.
5. Rachael Ray Nutrish Peak Natural Grain-Free Wetlands Recipe with Real Chicken & Duck
[img_products3 img_number="143728″ alt="Rachael Ray Nutrish Peak Natural Grain-Free Wetlands Recipe with Real Chicken & Duck" img_code="V1536335317″ product_name="https://www.chewy.com/rachael-ray-nutrish-peak-natural/dp/170601″ check="Buy from Chewy"]
2-oz packages
Chicken and Duck
If you haven't heard, Rachel Ray loves animals more than she loves food. But, she brought the 2 together for everyone to have the chance to provide their pets with healthy diets. This formula isn't specifically for overweight cats but instead offers a universally healthy diet, in reasonable portion options. The meats are always high-quality, and she has a ton of different varieties aside from chicken and duck.
The boost of vitamins, minerals, and taurine will keep your cat in peak health while they lose weight. You don't have to worry about restricting food because you'll know that at least they're getting the vitamins and nutrients they need to sustain a healthy lifestyle.
In this instance, the higher crude fat content poses some problems for overweight cats. Not only because they don't need any more fat, but because the source of the fat is nutrient rich and high in protein duck. It's the double-edged sword of this formula.
Cats love it, and there's not much more to say. The only issue to address is the serving size. Unlike other wet cat food that gives you a per pound suggestion, Rachel Ray recommends feeding adult cats up to 8 oz for every 8 pounds. But, they offer the stipulation that you should accommodate not only the body weight but activity level as well.
Ensure that you're watching and responding to your cats current eating habits. But, the high-protein grain-free option is an excellent choice for any overweight cat.
Value Section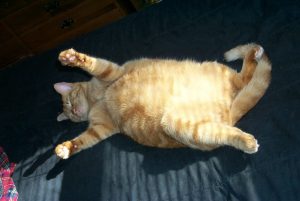 There are a few, maybe obvious, aspects to consider when looking for the right wet cat food for your overweight cat. But, some of these aspects come down to your self-discipline too, forget your cat having self-discipline. Weight loss will happen to your cat, and they won't like it at all, but it's for their own good.
Portion Sizes
Cat food labels are tricky to read because their serving sizes are usually far different from what any cat eats. Not to mention, most pet owners will free-choice feed, or in other words, leave a bowl down.
Cats are notoriously shy eaters and usually won't eat if you're hanging around. For most cat owners that means that it's best to put the food down and walk away. How long would you let the food sit there? What if it wasn't enough and they get hungry again?
Unfortunately, as part of the weight loss journey with your cat, free-choice feeding has to stop. The best way to curb the fear that your cat isn't getting enough is to give them an appropriate portion size. The great thing about wet cat food is that they're proportioned, and there's no guessing about whether it was an adequate serving or not.
Avoid Over-Processed Options
When you're looking at canned cat foods, you can't help a bit of processing, but you can avoid the terrible end of processed foods. Always avoid any "meal" or "by-product" as these are usually bits of reject meat ground into an unidentifiable pulp and then loaded up with water. This processing means that the nutrients are lost, and your cat is missing out on quality vitamins and protein.
High Protein – Low Carb
It's the formula most people have heard at some point in time, cut out carbs for fast and healthy weight loss. While some pet owners may need to cut back on how much food they put down for their cat, they don't need to restrict their cat from eating. Let's be honest; your cat will find something to eat if they're hungry.
But, you want to remove carbs which can sit heavily in their stomach and take a long time to digest and replace them with proteins that break down more easily in the digestive system. Protein should also increase their energy and motivate them to become more active.
The Winner…
Purina took a wild approach to craft a formula that will get cats moving and not weight them down. They created the Purina Beyond Wild, with prey inspired flavors such as "Salmon, Liver and Arctic Char" which offers protein and vitamins.
But, Purina took the win here because there's no corn, wheat, soy, potato, rice, or sweet potato. No fillers mean that every bite your cat takes is full of nutritional goodness! While the no-carb diet will help them burn through any weight, they've put on over the years.
Finally, the Purina Beyond Wild recipe should also raise your overweight cat's energy levels helping them get up and get going! Purina has laid down a pledge to provide only complete and balanced formulas, and they aren't disappointing cat owners. This canned food is the best wet cat food for weight loss available now.