When your pup has irritable bowel syndrome (IBS), it's a real bummer for them and you too. They'll be uncomfortable and likely experience diarrhea and vomiting.
IBS and IBD (inflammatory bowel disease) are two different conditions that can look very similar. Both are pretty common digestive issues for dogs, but IBD is a long-term problem, while IBS is more situational and like a sensitive stomach in humans.
Changing your dog's diet might help soothe their symptoms, especially if they have IBS. Talk to your vet about what to feed your pup with IBS. They might recommend specific dog food or dietary supplements that can help. They'll be able to devise a plan to manage your dog's IBS and keep their tummy happy.
First, look at what IBS is, what causes it, and what symptoms you should watch out for. Then we'll talk about what you can feed your pup to help manage their symptoms and keep their tummy feeling good.
Dogs with Irritable Bowel Syndrome (IBS) have sensitive stomachs and may experience digestive problems such as diarrhea, constipation, and abdominal discomfort. The right dog food can help manage these symptoms and promote digestive health. The best dog food for IBS will have high-quality ingredients that are easy to digest and may also have added fiber to promote healthy bowel movements.
Additionally, it should be free from ingredients that commonly cause digestive issues, such as grains, fillers, artificial colors, and preservatives.
These foods are formulated with ingredients that are easily digestible and gentle on the digestive system so that your dog can get the nutrition they need without any discomfort. You can help keep your dog healthy and happy by choosing the best dog food for IBS.
The best dog food for IBS usually contains easily digestible proteins, limited ingredients, and fiber to promote healthy digestion. These types of dog food are often labeled as "limited ingredient diets" or "sensitive stomach" formulas. Additionally, it's important to avoid ingredients that can irritate the gastrointestinal tract, such as wheat, soy, corn, and dairy.
When it comes to finding the best dog food for IBS (irritable bowel syndrome), it's essential to choose a food that is gentle on your dog's digestive system and doesn't contain any ingredients that may trigger an episode of IBS. Here are some factors to consider:
Limited ingredient diet: Look for a dog food that contains a limited number of ingredients, as this can help minimize the risk of triggering an IBS flare-up.
Novel protein: Consider a dog food containing an unknown protein source (such as venison, duck, or lamb) that your dog has not eaten before. This can reduce the likelihood of triggering an allergic reaction.
High-quality ingredients: Look for dog food that contains high-quality ingredients and avoid foods that contain fillers or artificial additives
Probiotics and prebiotics: Some dog foods contain probiotics and prebiotics, which can help support a healthy gut microbiome and reduce IBS symptoms.
Prescription diets: If your dog's IBS is severe, your veterinarian may recommend a diet formulated specifically for dogs with digestive issues.
The best dog food for IBS depends on your dog's needs and sensitivities. Working closely with your veterinarian to develop a nutrition plan tailored to your dog's unique situation is essential.
Our Top Choices
1. Halo Ocean of Vegan, which is the best vegan dog food for IBD
Our preference lies in observing the noticeable improvement in gastrointestinal conditions in dogs when put on a non-animal-based diet, despite the conventional consumption of meat-based diets by canines. This vegan formula comprises non-GMO produce, specifically oat groats, and lentils, and is entirely balanced and highly digestible. The recipe includes inulin, turmeric, and B12 to combat IBD symptoms. However, it's important to note that the formula isn't gluten-free due to the presence of barley. Additionally, we observed the absence of traditional whole vegetables and fruits in the recipe, which could be modified for better nutrition.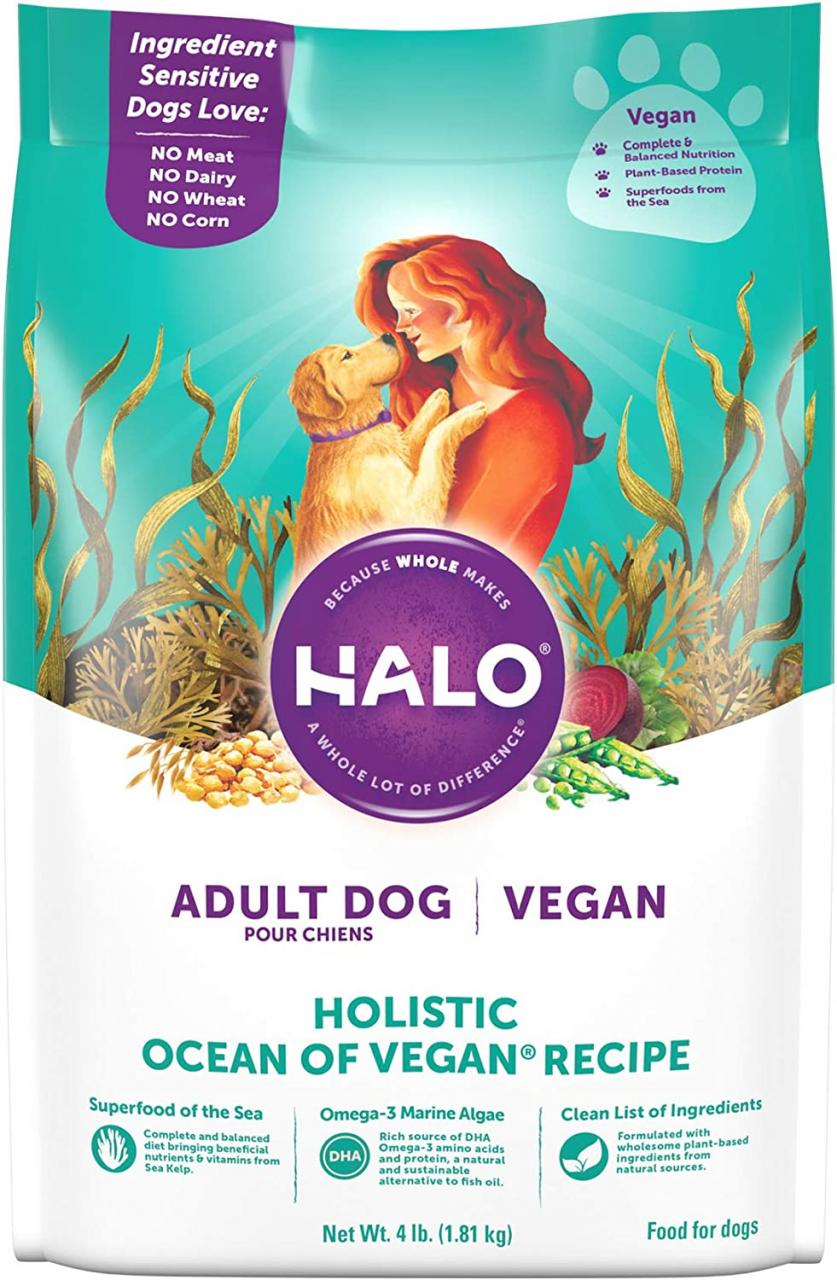 2. Halo Salmon & Whitefish is the ideal small dog food for IBD.
We're digging Halo dog food because it's one of the best budget-friendly options for dogs with IBD. Without breaking the bank, it lets you cut out GMOs, animal meals, and animal byproducts. The small kibble size and balanced nutrition make it perfect for our little fur buddies. This fish-based recipe is a winner for dogs who can't handle poultry or other meat. It's got a good mix of protein, grains, pea fiber, dried fruits, and veggies like sweet potatoes and carrots.
But here's the deal. While all Halo food is free from meat meals and animal byproducts, some recipes, including this one, still have stuff like soy, egg, and gluten that can be allergens for some dogs. But hey, that doesn't mean your pup will have a reaction to them. You have to work with a vet to determine what your dog is sensitive to and avoid those allergens.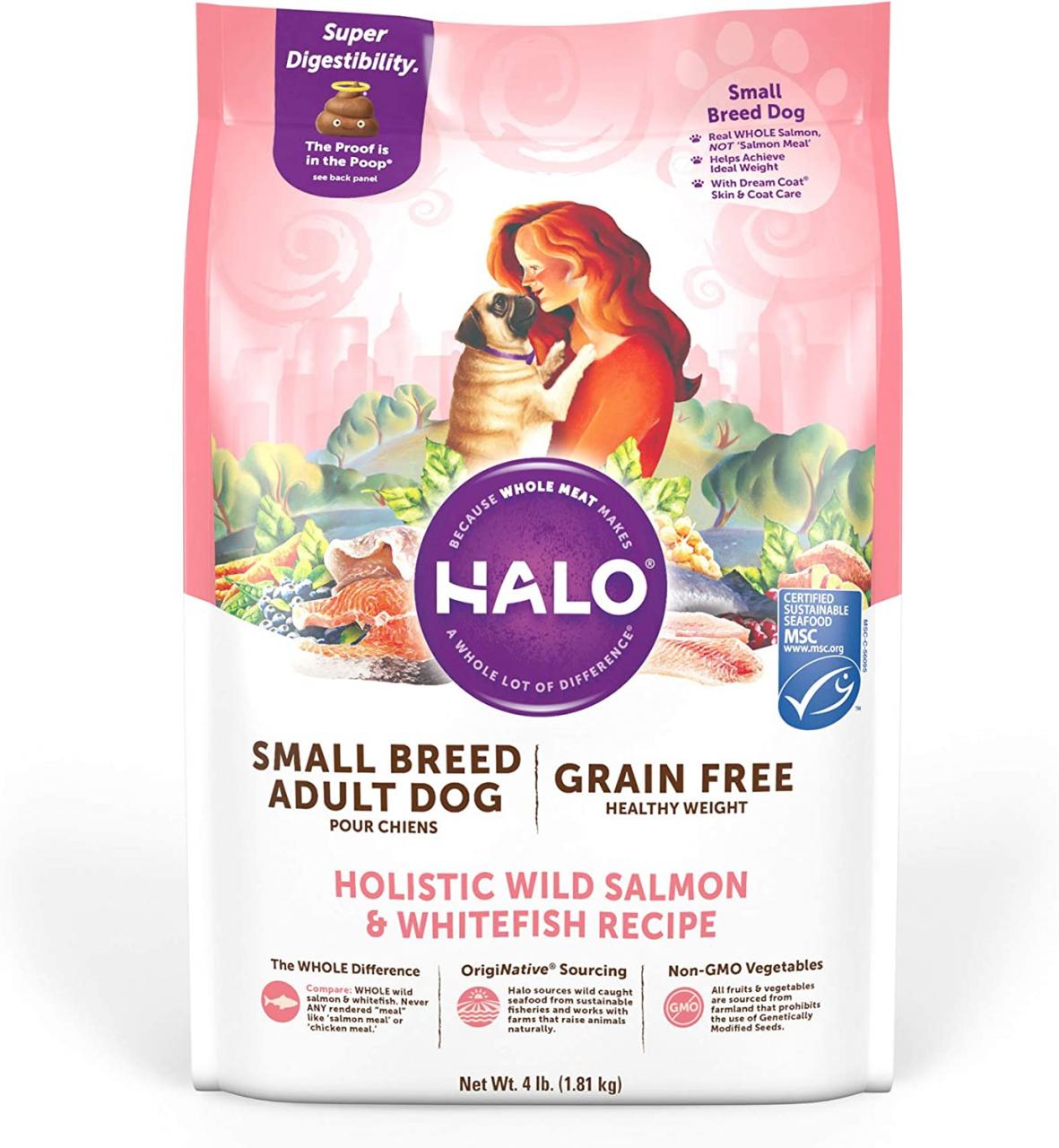 Ingredients that can treat canine IBD
The solution will be more straightforward if IBD is a complicated mix of factors. But let's start with Dr. Pitcairn's advice: feed your dog natural, high-quality food.
This study says, "Nutrition can directly affect the disease by giving your dog important nutrients, and it can also indirectly mess with the gut microbes, which then messes with how your dog responds to food." What your dog eats (or doesn't eat) can mess with the disease differently.
Here's the deal: real, unprocessed food with lots of vitamins and minerals sets up a strong foundation for your dog's digestive health and gives them the best chance to fight off the ongoing issues. And there are some specific foods and vitamins that might help ease those annoying IBD symptoms. But remember, always check with your vet before you start using supplements or homeopathic stuff or switch up your dog's IBD diet.
ingredients to consider while selecting a dog food for IBD
When dealing with an IBD diagnosis in your dog, the focus isn't just on eliminating or adding specific ingredients to their diet. According to Dr. Pitcairn, the key is to provide natural and high-quality food.
However, it's important to note that certain foods should be eliminated, primarily if your dog has known allergies. Some proteins can trigger allergic reactions in dogs, so consulting with your vet is essential to determine which foods to avoid.
IBD in pets, including dogs, is not caused by a specific food item. It's a complex interaction involving the immune system, diet, gut bacteria, and other environmental factors. Genetic abnormalities in the immune system can also predispose some pets to IBD.
While not direct causes, several factors contribute to GI problems, as stated by Dr. Pitcairn. These include a poor diet, genetically modified foods, bacterial or parasitic infections, imbalance of gut bacteria, genetic predisposition, antibiotics, other pharmaceuticals, and stress.
When the immune system reacts abnormally, it often targets proteins in food. Food triggers for dogs include beef, chicken, dairy, eggs, lamb, pork, rabbit, fish, soy, and wheat. Switching between different protein sources may provide temporary relief, but plant-based diets have also alleviated symptoms in many dogs.
Focusing on natural and high-quality food, working with your vet to identify allergens, and considering hypoallergenic plant-based diets can help manage IBD in dogs.
FAQs
What dog food is best for dogs with gastrointestinal problems?
Dogs with gastrointestinal problems can benefit from dog food that is easily digestible and provides balanced nutrition. Look for dog food that contains high-quality protein sources, such as chicken, turkey, or fish. Avoid ingredients like corn, wheat, and soy that can be hard for dogs to digest. Foods with added fiber, such as brown rice, sweet potatoes, and pumpkin, can help regulate digestion. It's also a good idea to choose a dog food that contains probiotics to promote healthy gut flora.
Is grain free better for dogs with IBS?
It is still being determined if grain-free dog food is better for dogs with IBS. While some dogs with IBS may benefit from a grain-free diet, others may not. In fact, recent studies suggest that grain-free diets may be linked to an increased risk of heart disease in dogs. Working with your veterinarian to determine the best diet for your dog's needs and health conditions, including any dietary restrictions or allergies, is essential.
Is chicken OK for dogs with IBS?
It depends on the individual dog and its specific IBS symptoms. Chicken can be a good source of protein for dogs, but some dogs may have an allergy or sensitivity to chicken, which can worsen their IBS symptoms. It's always best to consult a veterinarian before changing your dog's diet, especially if they have a health condition like IBS.
What Causes IBS in Dogs?
The exact cause of irritable bowel syndrome (IBS) in dogs is poorly understood. However, it's believed to be related to various factors, including genetics, diet, stress, and changes in gut bacteria. Dogs with IBS may have an overreactive immune system that responds excessively to certain foods or environmental triggers. This can lead to inflammation and irritation in the gastrointestinal tract, resulting in the symptoms commonly associated with IBS, such as diarrhea, vomiting, and abdominal discomfort.
What Are the Symptoms of IBS?
The symptoms of irritable bowel syndrome (IBS) in dogs include diarrhea, constipation, abdominal pain, bloating, gassiness, and vomiting. Dogs with IBS may also have a decreased appetite and weight loss. These symptoms can be uncomfortable for your dog and may require treatment from a veterinarian. It's essential to be aware of the symptoms of IBS and to seek veterinary care if you suspect your dog may be experiencing them.
How is IBS in Dogs Treated?
If you notice your dog experiencing IBS symptoms, you must take them to the vet. The veterinarian may perform various tests to rule out other health issues. If it's diagnosed with inflammatory bowel disease, your dog may require medication, dietary changes, and other treatments. On the other hand, if it's IBS, stress relief and nutritional changes can be effective treatment methods. Reducing stress triggers and transitions in your dog's diet can help alleviate IBS symptoms. A high-fiber, allergy-sensitive, or probiotic supplement diet can help your dog's digestive system. However, if your dog has severe symptoms like weight loss or frequent diarrhea, it's time to see a vet, as it may be IBD or another health issue.