Choosing the right puppy food can be a bit overwhelming, but it's really important for your pup's health and growth. Look for a puppy food that's designed for your pup's breed size and has high-quality sources of protein like meat, fish, or poultry. Avoid foods with fillers like corn or wheat that can be tough to digest.
Make sure the food contains all the essential vitamins and minerals your puppy needs, like calcium and omega-3 fatty acids. Check if the food has been certified by AAFCO, which means it meets the minimum nutritional standards for puppies.
It's also a good idea to consider any individual needs your puppy may have, such as allergies or sensitivities. Your vet can help you choose the best food for your pup based on their unique needs.
Remember, the best puppy food is one that provides your pup with a balanced and nutritious diet that supports their growth and overall health.
Top 5 Puppy Food Brands Recommended by Experts for 2023
When your puppy is growing up, it is super important to feed them a healthy diet for their proper growth and development. The best food for puppies is specifically designed to meet their unique nutritional requirements as young and growing dogs. This includes helping to prevent obesity and supporting their immune system. A recent study of 4,000 young dogs found that the type of food a puppy eats can impact their chances of developing allergies and skin conditions later in life. Puppies fed raw tripe, organ meats, and human meal leftovers during puppyhood showed less allergy-related skin symptoms as adults. In contrast, puppies fed dry kibble and fruits, as well as heat-dried animal parts, were more likely to develop skin issues as adults.
Purina Beneful Healthy Puppy is a great option for the overall best puppy food. It has important omega-3 fatty acids and high-quality protein to help your puppy grow strong and healthy. The version with farm-raised chicken is especially good because it has a lot of protein and essential vitamins and minerals. Purina also offers a version called Pro Plan Sensitive Skin and Stomach for puppies with sensitive stomachs. It's made with real chicken and is enriched with vitamins, minerals, and antioxidants, making it easy to digest and helping your puppy build lean muscle mass.
Royal Canin puppy food is a good option for medium-sized puppies. It contains antioxidants and vitamins that help develop healthy joints, and L-carnitine, which supports a healthy heart. It's also tailored to specific breeds, such as Chihuahuas or French Bulldogs, so if you have a purebred puppy, you can choose a food that meets their specific needs. Even if you don't know your puppy's breed, Royal Canin has options for small, medium, and large puppies that aren't specific to any breed. With high-quality ingredients, this brand offers complete nutrition for your puppy.
Hill's Science Diet Puppy Food is a solid choice for puppy food. This puppy food is made with high-quality ingredients that contain all the necessary nutrients your pup needs to grow and develop properly. It's also filled with vitamins, minerals, and antioxidants to help your pup stay healthy. Many experts recommend this food, including veterinarian Dr. Jessica Kirk, who likes that it's affordable and available in many pet-supply stores. This food contains easily digestible ingredients and high-quality proteins and carbohydrates to support your pup's energy needs. Dog Lover's Digest also praises this food, saying it has a lot of flavor and nutritional value, thanks to chicken meals and barley that keeps your pup strong and active.
Wellness is a good brand for puppy food that has natural ingredients without any artificial colors, flavors, or preservatives. It also contains nutrients like DHA and L-carnitine to help your puppy grow strong and healthy. Their puppy food includes fresh chicken and chicken meal as the primary sources of protein, and it has a high fat-to-protein ratio that's good for your pup's growth.
If you're looking for a grain-free option, Wellness CORE puppy food is a great choice. It has superfoods and supplements that help support your puppy's developing immune system. The recipe is designed to mimic a dog's ancestral diet that is mainly comprised of meat, so it's packed with premium protein. According to Dr. Danielle Bernal, a Veterinarian for Wellness Pet Company, the nutritional philosophy behind CORE recipes is to ensure your puppy has everything they need to thrive from the CORE.
Blue Buffalo puppy food is a great option for your furry friend. It has special LifeSource Bits, which are filled with vitamins, minerals, and antioxidants. This brand is packed with all the essential vitamins and minerals that your pup needs to grow and develop well. It has everything from building strong muscles and bones to developing healthy immune systems.
According to Dog Food Advisory, "This Blue Buffalo puppy product gets its meat protein from fresh chicken and chicken meal. Our dry matter label analysis shows the recipe contains 30% protein, 18% fat, and 44% estimated carbs… creating a fat-to-protein ratio of about 59%."
Our Top Choices
1. Best Overall Dry Purina Pro Plan Puppy Chicken & Rice Formula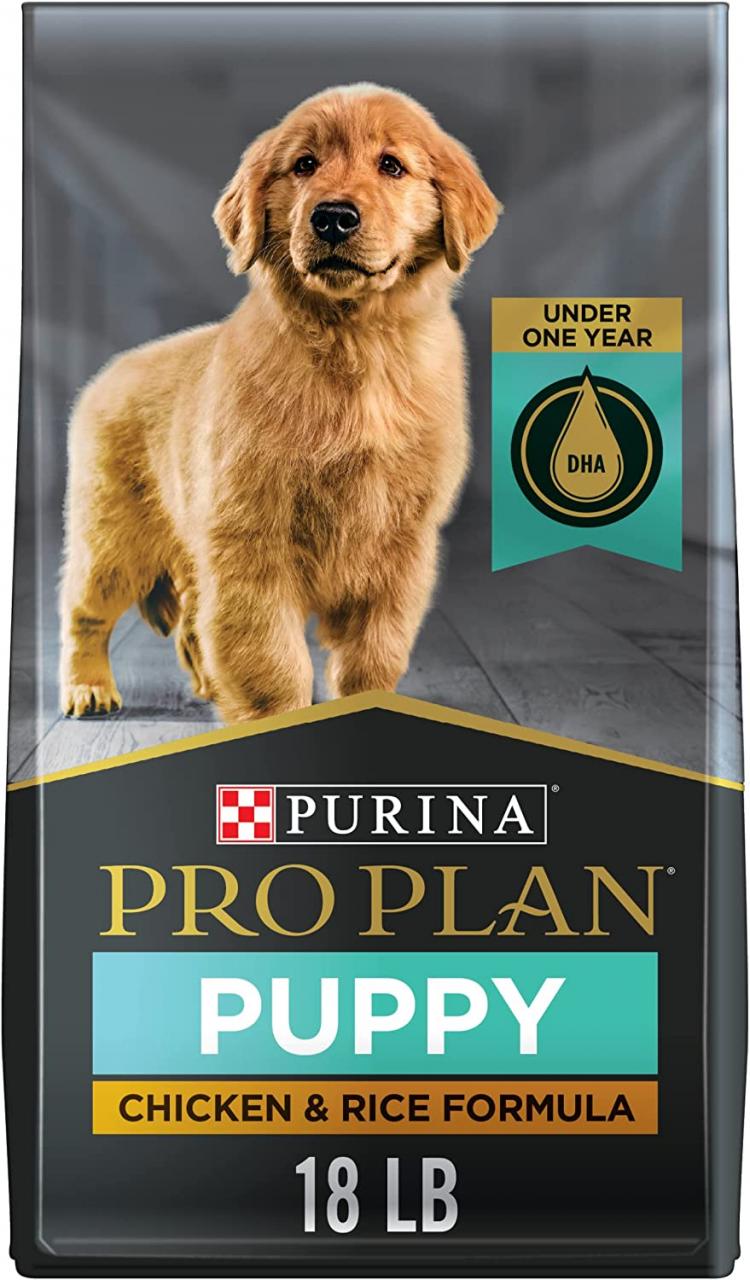 Puppies grow real fast, so they need a lot of protein in their diet, around 22-32% of their food intake. Purina Pro Plan Puppy Chicken & Rice Formula knows that, and that's why they have a higher proportion of protein and just the right amount of fats in their puppy food. This special formula is made to address the unique needs of young dogs, preventing problems like obesity or orthopedic diseases.Purina Pro Plan Puppy food is made with high-quality chicken protein that helps puppies develop their muscles, and it also includes bone-healthy ingredients like c
alcium, phosphorous, and other minerals. Additionally, the formula has probiotics that are great for your pup's digestion, omega-6 fatty acids derived from fish oil, and a bunch of different vitamins to support your puppy's growth.The bag even has a helpful chart that gives you month-by-month serving size guidance based on your puppy's anticipated adult weight. Purina Pro Plan Puppy Chicken & Rice Formula comes in 6-, 18-, and 34-pound bags, and Purina also has different formulas for large breeds, toy breeds, and young dogs between the ages of one and two.
2. Best for Small Breeds Hill's Science Diet Puppy Small Paws Chicken Meal, Barley & Brown Rice Recipe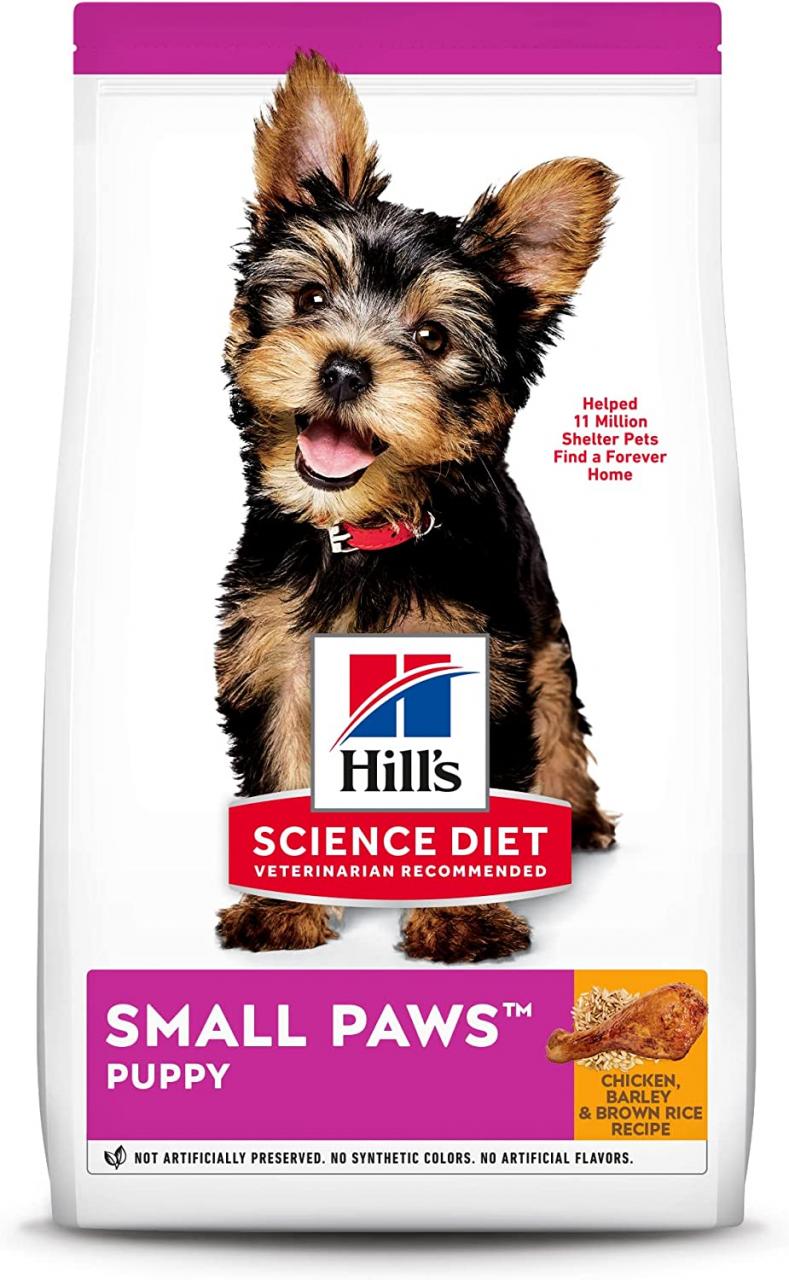 Hill's Science Diet Small Paws Puppy dry food is specifically designed to meet the unique nutritional needs of small and toy breed puppies. The kibble size is smaller to make it easier for them to chew and digest. The puppy food is made with chicken meal as its protein source and has essential nutrients such as DHA from fish oil and antioxidants to support a healthy immune system.
Small Paws Puppy food is made in the United States and is appropriate for puppies up to 1 year old, as well as pregnant or nursing dogs.
3. Best for Allergies Hill's Science Diet Puppy No Corn, Wheat, Soy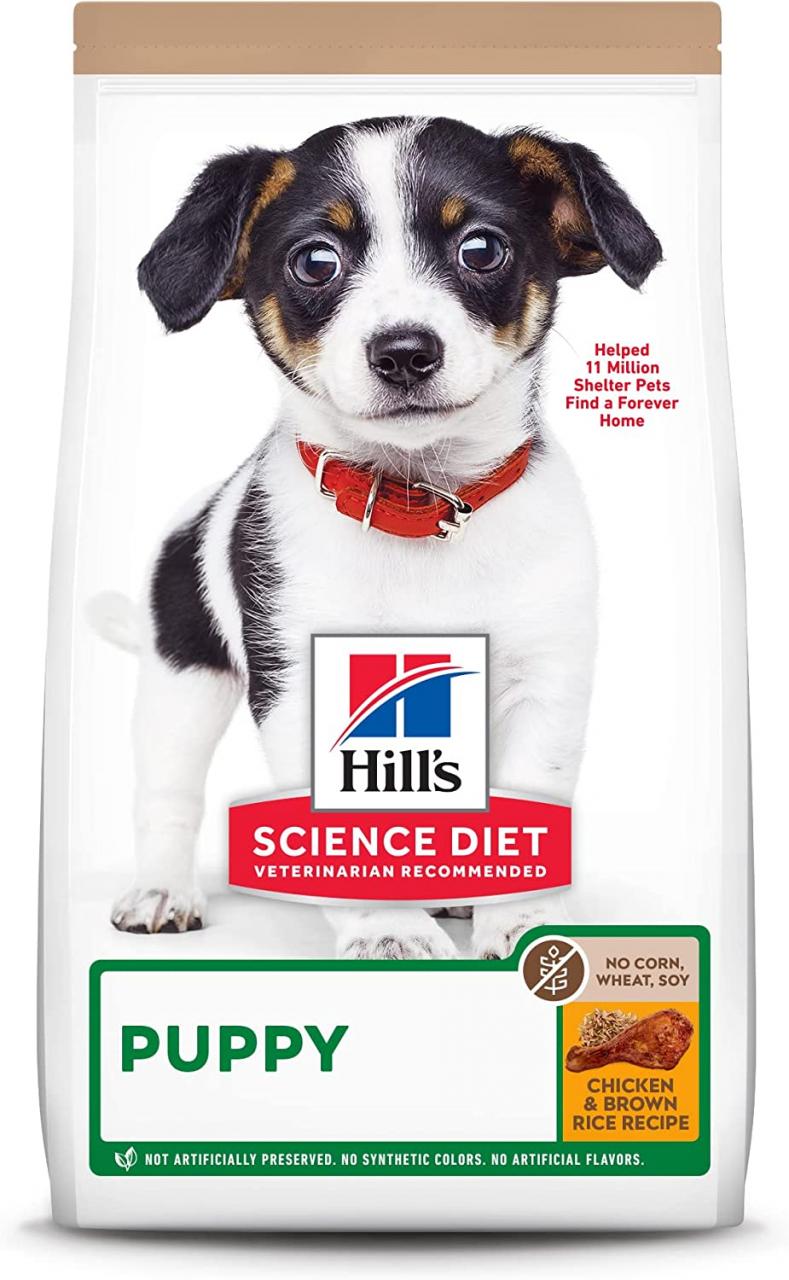 Grain-free dog food is popular but not safe for dogs, as it has been linked to a life-threatening condition called dilated cardiomyopathy. The Federal Drug Administration is still investigating the exact cause. While we don't recommend grain-free dog food, some puppies have allergies to wheat or other ingredients, which require special diets. For those puppies, we suggest Hill's Science Diet Puppy No Corn, Wheat, Soy. Instead of being completely grain-free, it eliminates common allergens by using chicken with brown rice, whole grain oats, and pearled barley. This puppy food is recommended for puppies up to one year old and has all the essential nutrients for healthy development, including DHA from fish oil, balanced minerals, and supplemental taurine.
Which food is best for puppies?
Choosing the right food for your puppy is important for their health and growth. There are different types of food to consider, such as dry kibble, wet or canned food, and raw or homemade diets. It's important to look for high-quality brands that contain real meat, fish, or poultry as the first ingredient, and avoid fillers or by-products.
You should also consider your puppy's individual needs such as their breed, size, age, and nutritional requirements. Consulting with your veterinarian can help you choose the best food for your puppy.
Dry kibble is the most common type of puppy food and is easy to store. Wet or canned food is higher in moisture and may be more appealing to some puppies. Raw or homemade diets can be an option, but it's important to consult with an expert to make sure your puppy is getting all the necessary nutrients.
What dog food is recommended by vets?
Veterinarians often recommend specific dog food brands, but the best choice for your dog depends on their unique health needs. Some popular vet-recommended brands include Hill's Science Diet, Royal Canin, Purina Pro Plan, and Blue Buffalo. These brands offer different formulas tailored to different stages of a dog's life, sizes, and health issues.
While these brands can be a good starting point, it's important to remember that not all dogs are the same and some may require a different type of food
What should I feed my 8 week old puppy?
At 8 weeks old, your puppy should be eating a high-quality puppy food that is formulated specifically for their nutritional needs. Look for a puppy food that contains high-quality sources of protein, such as chicken or lamb, and is also rich in healthy fats, vitamins, and minerals.
It's important to feed your puppy several small meals throughout the day, as their small stomachs cannot handle large amounts of food at once. Aim for three to four small meals a day and make sure your puppy always has access to clean drinking water.