According to some surveys, every 8 out of 10 people would love to keep a pet. Many people like to keep a dog, cat or a parrot as their pets. And while having an animal companion can be fun, properly keeping and training a pet isn't an easy job, especially when you are unaware of the essential caring tips.
It is imperative that one person should learn proper caring tips to keep their pets happy. Someone love to adopt smaller pets such as puppies and kittens. Keeping puppies or kittens as a pet is a different story when compared to having an adult dog or a cat as a pet.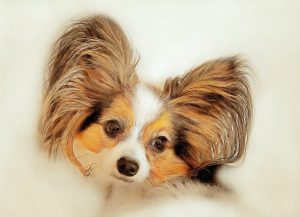 Your behavior towards your pets determines the kind of relationship you'll have with them. You probably are someone has meant to adopt a puppy. This article can help you out as we will discuss the important tips you should know about when it comes to taking care of a 6 weeks old puppy.
Taking care of a puppy
Dogs are popular pets worldwide as being the most loyal ones. This is the reason why everyone adopts a puppy because they want to have a dog that would be loyal, offer love, support, and even protection.
However, keeping a puppy as a pet is not an easy job. It is just like taking care of a baby. If you are planning to have a puppy, you should know some of the basics that cover food, hygiene, and more.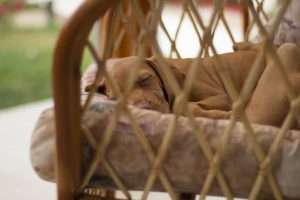 Guide for taking care of a 6-week old puppy
Foods
A 6-week puppy caring totally depends on you just like a small baby. A 6-week old baby puppy can eat solid foods and this does not depend on their mother's milk. So, you should know about foods to give your puppy.
Such a small puppy cannot eat large and heavy portions of dog meals. Take note that it is very important to feed your puppy throughout the day in small portions. You should be present at the time of feeding your puppy as to keep a check on their meal.
You can feed your puppy with good quality of pup food or raw diet. Your 6-week old pup does not need any milk supplements at this age. You can increase the number of meals in the 8th week but not before that.  Also, do not overfeed your puppy.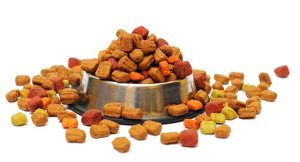 Milk is said to be the most energetic drink for humans, but cow's milk may cause diarrhea for dogs. You enable to give them goat milk instead if he or she is not eating food properly.  On the one hand, you could feed your puppy soft food items, specially created for puppies.
Water is also important for hydration your puppy. Keep hydrated and healthy by giving him or her the proper amount of water time to time. Water plays a key role if a puppy is suffering from diarrhea. Always have a filled bowl of water available for your puppy.
Do not switch the puppy food brands continuously. This is because switching of brands can lead your puppy to experience digestive problems. Also, search for the best brands and then try to stick to one brand of food.
You should follow the guideline on the food packs to avoid over-feeding.
Sleep
Another important thing is to check the pup's sleeping schedule. A 6-week old pup needs a lot of sleep.
Please keep in mind that your 6-week old puppy needs almost 18 hours of sleep because she or he still is a baby. You should provide your puppy with the best shelter to sleep in.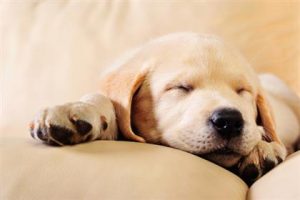 Sleeping also helps your pup when it comes to developing its immunity system. The more rested it feels the more energy your pup will have to play.
Playing with your pup
You can play with your puppy, but you should avoid touching your 6-week old puppy. Your puppy may not like a lot of touching. In addition, too much touching may lead your puppy to exhibit aggressive behavior later on in life. You can also teach your puppy while playing. Teach him or her to sit when you say the specific word.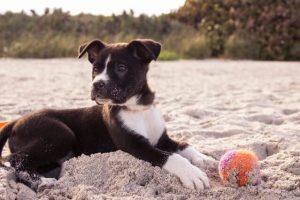 Repeat this several times until they start responding. Appreciate your puppy's compliance with small treats in return. Teaching a puppy at an early age through playtime can lead to you being the owner of a well-trained pet.
Train your dog must not bite
Some puppies have the habit of biting humans. This biting habit can continue to increase with age.You should teach your puppy not to bite and harm anyone through different tricks.
Some puppies start biting if they do not have their mother around. Your pup can also pick up the habit from siblings. You should be very attentive towards your puppy and stop them when they bite something or someone.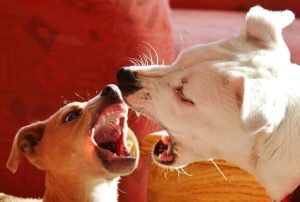 'Nature's call' training for your puppy
A very hectic job for the master of a 6-week old puppy is training it to relieve itself in the appropriate area. You can start your puppy's training by teaching him or her to answer nature's call on a newspaper.
Lay a newspaper in your pup's house and teach them that they need to use that specific newspaper whenever they have to 'go.' This kind of training requires a lot of patience.
You can also schedule a specific time for your pup to relieve itself after every two hours. You can also take your puppy outside after giving it food or water.
You can also limit the food or water intake two hours before your puppy's bedtime to avoid a mess.  You can also make a routine of taking out your pup after he or she wakes up so they can relieve themselves.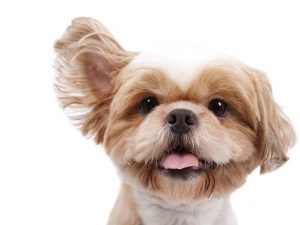 Taking your puppy at the same spot is crucial. This will help your puppy when it comes to recognizing the specific spot every time.
You should also praise your puppy after every successful session. You can also tie a bell on the knob of the door to train your puppy to let you know whenever it has to 'go.'
If you continue to ring the bell before taking your pup out, your pet will ring the bell too after several weeks, if not sooner, whenever he or she needs to go.
Some essentials for caring a puppy
If you own a 6-week old puppy, then you should know that your pup needs their own shampoo. A doggy shampoo is a must buy for your puppy. Opt for a good-quality product. You don't want your pet to experience skin problems due to a bad product!
Just like a newly born baby, your puppy also needs some toys to play with. A small sized ball is a good choice when buying toys for your puppy. There are many puppy toys you can choose from.
A pup house
It is very important to provide your puppy shelter in a safe place. A pup's shelter should be comfortable and big enough for it to play and sleep in.
You should keep your puppy away from sharp and big objects. Chairs, tables or stairs can be very dangerous for a 6-week old puppy. You should also train your puppy to stay in his shelter when it's time to sleep.
You can also sit near the shelter until your puppy sleeps during the initial training period.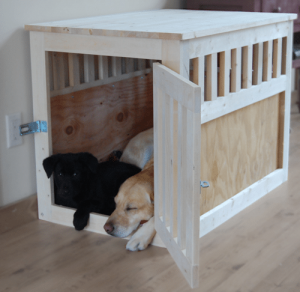 Social training of your puppy
At the 6th week of your puppy's age, he or she is not aware of social skills. You must train your puppy when it comes to social interactions with others.
You should train your puppy to interact properly with different animals and human beings. You can take your puppy to a nearby park for enhancing social skills.
Furthermore, you can take help from your friends in training your puppy. Invite your friends to your home and ask them to help your puppy when it comes to feeding and socializing.
You should also train your puppy to be home alone. Some dogs and puppies that aren't trained to be alone at home grow hyper when left on their own.
They can chew your stuff and create a mess in your house.
Training your puppy to be home alone
You can place your puppy's crate in a specific area with a food bowl, water, and newspapers.
Leave your puppy in the area and go for a while.
Begin your training process in one week. Your puppy may get hyper and aggressive in the start. But after some time, they will be calm down and stop making a mess when you are not around.
Give your puppy a treat when you see  an improvement in its behavior.
Vaccinations for your puppy
Just like a human child, there are huge chances of illness in a 6-week old puppy. Symptoms may cause severe infections for your puppy if not treated on time.
You should keep a check on your pup's routine and behavior to see if it's showing any signs of an illness.
Some of the main symptoms of puppy-related illnesses are:
Having difficulty in breathing;
Vomiting;
Allergies;
Not gaining weight according to age;
Red eyes, discharge from eyes;
Coughing;
Wheezing;
Diarrhea;
Not passing stool or urine properly;
Difficulty in taking meals;
Swelling in the abdomen;
Dizziness.
If you find any of the above symptoms in your puppy, then it's time to contact a vet. There are different vaccines for different ages of dogs starting from 6-weeks to 3 years.
List of vaccines according to age
A 6 to 8 week of puppy needs a recommended distemper and measles vaccination. The Bordetella vaccine is optional.
At 10th to 12th week a puppy is recommended to have a DHPP vaccine for hepatitis, distemper or parvovirus. Bordetella and Lyme vaccinations are optional.
Rabies vaccination is recommended for 12 to 24-weeks.
DHPP is a must vaccine for the puppies of 14 to 16-weeks. Coronavirus and Lyme vaccine is optional.
A puppy of 12 to 16 months needs DHPP and Rabies vaccination. Every 1 to 2-year puppy is recommended having DHPP vaccine and Rabies vaccines for 1 to 3 years as per law for animals. Puppy's vaccines may differ in price and age. You can also go for titer tests of your puppy which can help in measuring pup's immunity level.
This test can also determine if vaccinations are necessary or not. You should take note here that a titer test has nothing to do with being an alternative for a Rabies vaccination. It is because RABIES is a must vaccination for all the puppies as per the law.
Help your pup do exercise
Your puppy needs to be active and healthy for it to grow properly.  Exercise is a must for a puppy just as it is for humans. You can have better results down the line with regards to your pet's health when you take your puppy for a walk. Regular walking sessions can be very helpful in keeping your pup's immune system strong. Exercise is also a great way of using up a puppy's activeness in a positive manner.
According to some experts, a 6-week old puppy needs 5 minutes of exercise regularly. You can increase the time limit of the exercise with your puppy's age.
This exercise can be walking, playing with other dogs or with exercise balls.  You can also check if your puppy needs rest during such a session.  If your puppy starts to sit while you are on a walk, you should give your puppy some time to rest.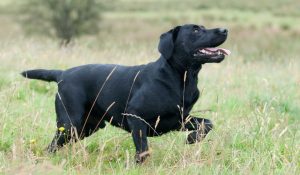 Conclusion
Keeping a 6-week old puppy is very much similar to taking care of a newly born human child, in a sense. The teaching and training procedure needs a lot of patience and time.
Your puppy needs all of your attention in learning different skills at such an age. You can ask for help from your friends and family to train your puppy with you if possible.
You can also throw puppy parties on the weekends so your pet can interact with other pets at your home.
Your puppy is your responsibility, and you should know how to properly take care of a 6-week old puppy for it to grow into a healthy adult pet.