Maintaining a
clean carpet
can be a challenge for everyone, but for pet owners, it requires a good vacuum for pet hair, specialized tools for removing pet hair, and frequent cleaning of pet urine and feces stains, as well as eliminating pet odors. Despite these efforts, accidents and messes will occur, so it's essential to have the right carpet cleaner for pet stains and odors on hand. One of the most challenging to remove is pet urine, as it can cause discoloration of carpet fibers due to the ammonia content. Peters states, "The longer urine stays on the carpet, the more likely it will cause a permanent color change." This highlights the importance of cleaning up urine stains promptly. Additionally, urine can penetrate deep into the carpet padding, which is why odors, particularly from cat urine, can persist Pet stains can include urine, feces, and vomit, each with their own unique challenges. Urine can cause discoloration in carpet fibers due to its ammonia content, and should be cleaned up quickly to prevent permanent damage. Feces can be difficult to clean due to the proteins and bacteria it contains, and vomit can be even more challenging because of its acidic nature. Other common sources of stains include muddy paws, dirt, grass, and pollen. To keep carpets clean, it is recommended to use specialized products such as pet stain removers and UV urine detection flashlights in conjunction with a pet carpet cleaner.
What to consider when choosing the best carpet cleaner for pets
There are various types of
pet carpet cleaners
available at different price points. Some include different cleaning tools such as brushes, suctions, upholstery tools, and nozzles. They can be portable handheld units or upright units for larger spaces, with more expensive models boasting more power and suction options, larger tank size and additional accessories. According to Guy Peters, owner and founder of MOP STARS Cleaning Service, when using a steam cleaner, the most important feature to consider is how easy it is to clean the
machine
. He advises to look for a steam cleaner that has easily accessed hoses, and to clean them thoroughly at least every three months, depending on usage. He suggests soaking the hoses and nozzles in a hot water and bleach solution for 10 minutes to kill germs that can exist in pet stains.
Our Top Picks
#1 Best overall carpet cleaner for pets
Bissell ProHeat 2X Lift Off Pet Pro Carpet Cleaner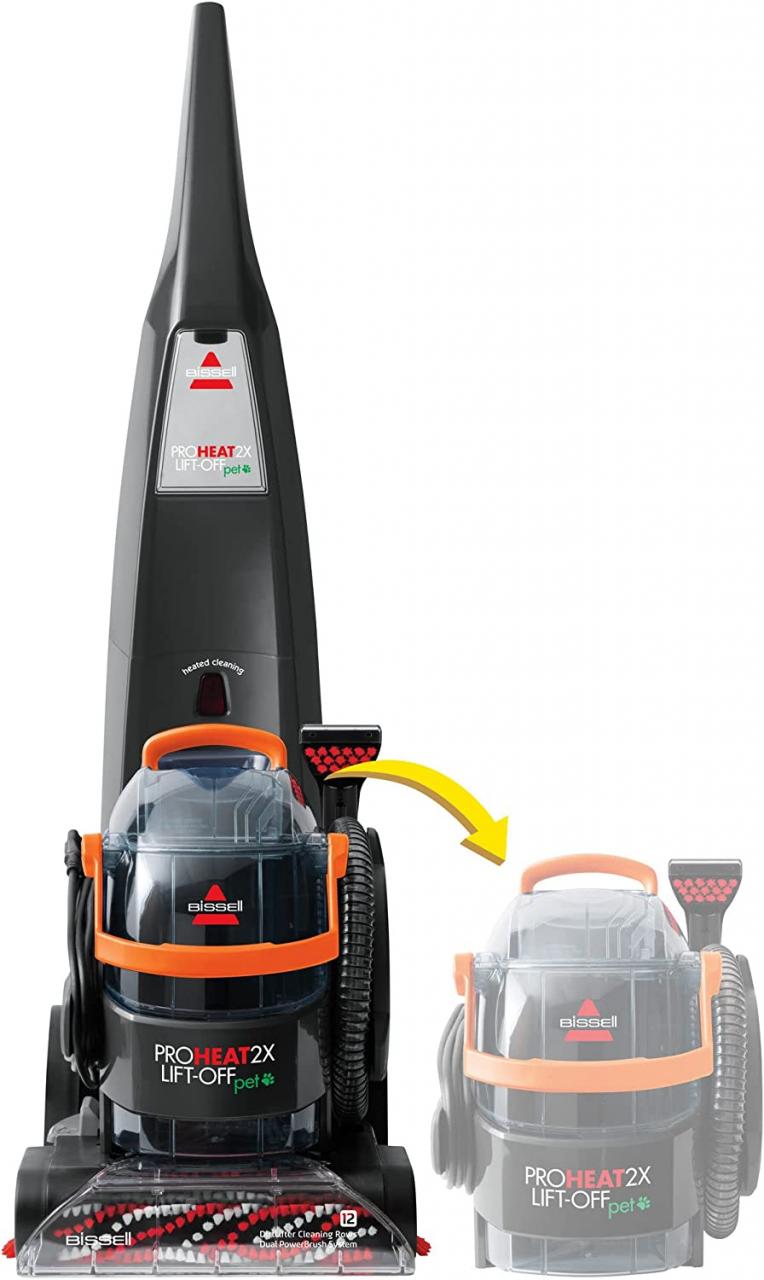 According to Guy Peters, owner and founder of MOP STARS Cleaning Service, his top choice for the best carpet cleaner for pets is the Bissell SpotClean Pet Pro. He states, "I love it for my multi-pet home because it's easy to use and cuts my pet stain cleaning time in half." The SpotClean Pet Pro uses a suction tool and powerful enzymatic cleaner to remove stains and odors, as well as preserve the flooring. It weighs only 13 pounds, making it portable and easy to use around the house, and comes with two tools and a bottle of Pet Pro Oxy Urine Eliminator formula. However, it may not be as effective at cleaning large areas as an upright carpet cleaner, and emptying the dirty water tank can be difficult.
#2 Best value carpet cleaner for pets
Hoover PowerDash

The Hoover PowerDash upright cleaner is a great value at just over $100. It's compact, lightweight and easy to push, making it perfect for cleaning larger spaces and wall-to-wall carpets. It has a half-gallon tank, making it easy to transport and store in tight spaces. This powerful machine is a favorite among Amazon reviewers, with an average 4.5-star rating from over 72,000 ratings. However, it has some limitations, such as needing to empty the dirty water tank more frequently and being louder than most vacuum machines.
#3 Best corded carpet cleaner for pets Rug Doctor Pet Portable Spot Cleaner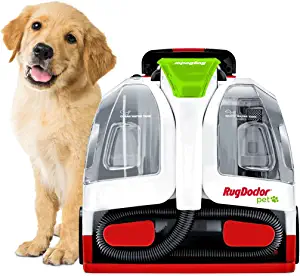 The corded Rug Doctor Pet is a favorite among pet owners who spend a lot of time cleaning pet messes. It features a 4-foot hose, retractable handle, and wheels for easy movement around the room, and it has a larger tank than most units of similar size which holds 64 ounces of cleaning solution. This means less time spent refilling the tank, and it can also be used for non-pet-related cleaning tasks like baseboards. However, it is louder than other models and being corded means that cleaning different rooms might require unplugging and plugging it in again.
#4 RUNNER-UP
Bissell ProHeat Pet Pro Carpet Cleaner

The Hoover Smartwash is a quality midrange pick for pet owners, it features automatic cleaning technology, and the ability to switch between wash and dry with a simple change in direction. It has a sturdy frame that is 18.9 inches by 13 inches by 43.5 inches, and it weighs 18.49 pounds. The machine's base has FlexForce PowerBrushes that are gentle on carpet fibers but effectively remove pet dander, dirt, and messes. The built-in Auto-Mix function eliminates the guesswork of mixing cleaning solution with water. This carpet cleaner for pets has a 1-gallon water tank, a 22-foot-long power cord, and a triggerless handle. It also comes with an upholstery pet brush tool, a cleaning solution sample, and an 8-foot hose. However, some users have reported issues picking up cat hair.
#5 Bissell Big Green Professional Carpet Cleaner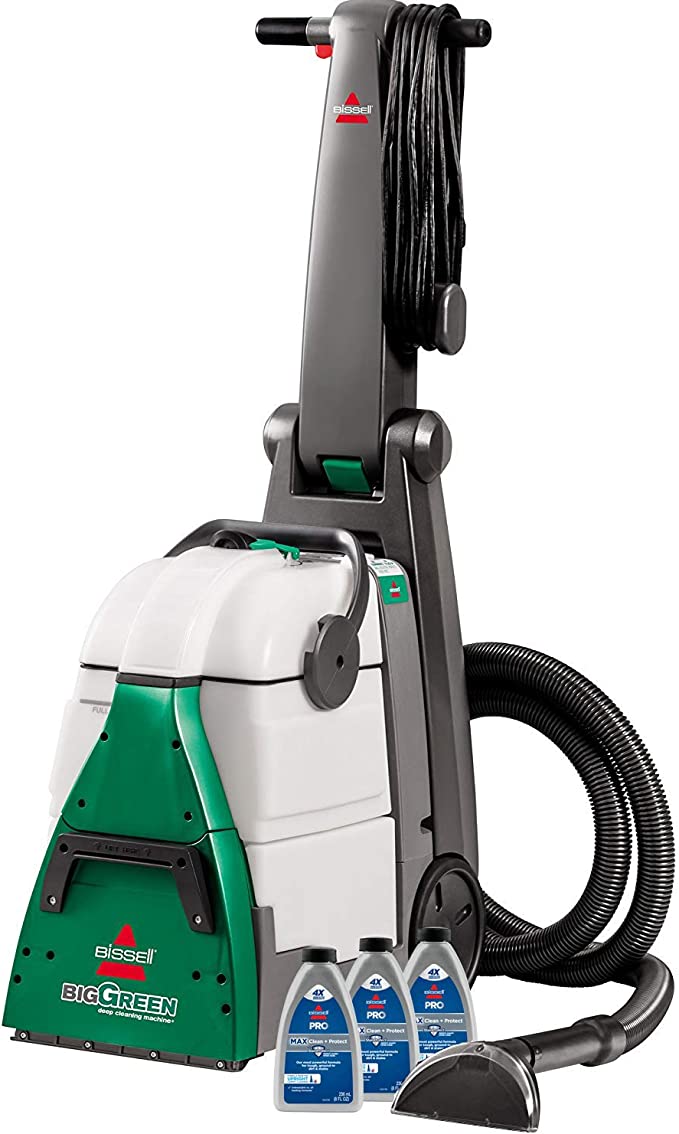 The Bissell Big Green Professional Carpet Cleaner is a heavy-duty machine that is 20.5 inches by 11 inches by 42.25 inches and weighs 48 pounds. The water tanks can hold up to 1.75 gallons. Its size and weight make it not ideal for portability but it provides a powerful cleaning punch that rivals professional machines. Key features include an XL DirtLifter PowerBrush lined with eight rows of bristles that penetrate dirt embedded in carpet fibers. The cord is 25 feet long, and the cleaning hose is 9 feet long for increased reach. This cleaner comes with 8 ounces of carpet cleaning solution and a 6-inch wide stain tool that roots out pet messes. However, it may be hard to carry and/or store due to its large, heavyweight design and it is pricey compared to other carpet cleaners.
#6 Bissell Pet Stain Eraser PowerBrush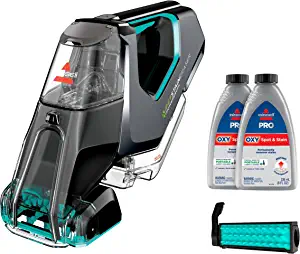 The Bissell Pet Stain Eraser is a handheld device that effectively spot cleans pet stains and odors. It uses rotating DirtLifter PowerBrushes to loosen dirt and pet dander and strong suction to remove it from the carpet. It's cordless and powered by a 7.2-volt lithium-ion battery with an extended runtime of approximately 20 minutes between charges. It weighs less than 4.5 pounds and is 18.25 inches by 10 inches by 7 inches. However, it has limited runtime compared to similar options and its 8-ounce tank may require frequent refilling for tough stains and large areas.
#7 Bissell 3624 Spot Clean Portable Carpet Cleaner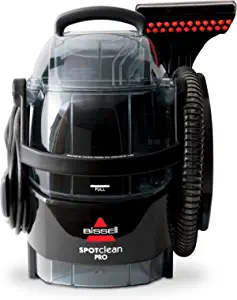 The Bissell SpotClean Pro Carpet Cleaner is a compact and lightweight machine that is 10 inches by 14 inches by 14 inches and weighs 13 pounds. It has a power cord that reaches 20 feet, a suction hose that is 8 feet long, and a water tank that can hold up to 96 ounces of water. It does not have wheels on the base but its rounded handle makes the machine easy to carry from its storage spot to the carpet. It comes with a 6-inch tool that removes pet hair and dander from stairs, a 3-inch tough stain tool, and a PRO MAX Clean and Protect sample. However, it does not have wheels on the base, which might make carrying the machine more cumbersome for certain users.
What to consider when choosing the best carpet cleaner for pets
When choosing a
carpet cleaner for pets
, consider the type of machine (upright, handheld, or portable), whether it is corded or cordless, power and suction, tank capacity, and portability. Upright cleaners are larger and have wheels for maneuvering, while handheld cleaners are smaller and often cordless. Corded cleaners have sustained power and charge, while cordless cleaners can reach difficult places but have limited runtime. Power and suction are measured by the air watts rating, with higher ratings indicating stronger suction. Tank capacity varies depending on the type of machine, and some have separate tanks for clean and dirty water or a solution tank. High portability is a valuable feature for easy and convenient cleaning.
FAQs
What is the best type of carpet cleaner for pets?
Upright carpet cleaners are generally considered the best type for pets, as they offer the most power and suction. Handheld cleaners are also suitable for spot-treating stains, but they may not be as powerful.
Is a corded or cordless carpet cleaner better for pets?
Both corded and cordless cleaners have their own advantages. Cordless cleaners are more portable and can reach difficult places, but they have limited runtime and may not be as powerful. Corded cleaners have sustained power and charge, but they may be less portable and require an electrical outlet nearby.
How do I know if a carpet cleaner has enough power and suction for pets?
The air watts rating is a measure of a carpet cleaner's power and suction. A higher rating indicates stronger suction. A standard upright cleaner may have 100 air watts of suction, while a more professional machine may have up to 220 air watts.
How big should the tank capacity be for a carpet cleaner for pets?
Tank capacity varies depending on the type of machine. Upright cleaners typically have tanks that can hold 1 gallon or more of water, while portable cleaners may hold a half-gallon, and handheld cleaners may hold about a quarter-gallon.
Can I use a pet carpet cleaner with just water?
Though it is recommended that you use a cleaning solution in your carpet cleaner's water tank for tough stains, you have the option to just add water to your model for everyday carpet cleaning.
Does a pet carpet cleaner need hot or cold water?
For best results, hot or warm water should be used in your carpet cleaning machine. Boiling water should never be used.