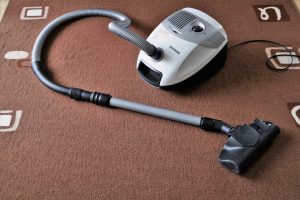 Our pets are our best friends, but they aren't friends with our furniture or carpet. We've done all the research, so you don't have to on the vacuum cleaners that do the best job on handling pet hair and hardwood floors. If you've never had to dig a lump of curly retriever hair out of your vacuum hose, consider yourself lucky.
Dog hair, whether it's curly hypo-allergenic poodle strands, or long fluffy St. Bernard Tufts, can take a toll on your vacuum. These are the best vacuums for pet hair and hardwood floors, so it doesn't matter if you have a cat, or other four-legged creature leaving a mass amount of hair around your home.
Top 10 Vacuum for Pet hair and Hardwood floors
We've looked, high, low and everywhere in between to find a wide array of vacuums. We know that the pet hair function is only one aspect to consider for the vacuum cleaner that's right for your home. Read through our vacuum reviews to find which vacuums have the fit and function that's right for you and your pets.
Some models are exceptionally quiet for the skittish dog, while others are powerful enough to handle a houseful of winter-coat shedding puppies. But, the overall vacuum goal is to get the loose hair and dander out of your carpet and furniture.
36-gallon bags
Weights 21 pounds
Washable filter
39-foot cord
The upright vacuum designed for up cat and dog owners this is one of the most expensive vacuum cleaners that caters towards pet hair. But, it's worth it with the suction power and trapping stray hairs, so they don't fly back into the room when you're looking for something to grab the stubborn hair out of the carpet fibers, the Miele Dynamic U1 is the best vacuum cleaner for pet owners. But, it's not in everyone's budget.
This vacuum is worth the investment though if you don't plan on getting rid of your pets anytime soon. It uses an advanced filtration system called the SF-AA30 Active Air Clean system. The Miele Dynamic U1 Pet Vacuum Cleaner uses activated charcoal to remove pet smell and allergens. It's one of the very few pet vacuums that actually makes the room smell better.
Although the filter isn't HEPA, it works in a similar way, and it's made in the same shape and size. If you prefer, you can easily replace it with a lifetime HEPA filter. The dirt that the vacuum traps seals itself in bags that are easy to change out with zero risks of reintroducing the dust, dander, and other allergens back into the air.
This is the best choice for people who have a lot of pets or have skittish pets. The Miele Dynamic U1 is the quietest vacuum we could find. It also has a swivel neck which makes it much easier to steer and direct. So, you won't be running into your coffee table and startling your pup.
When you're looking for something that can get everywhere, this is the right unit for you. It can lay down flat enough to get under couches, and recliners as well.
What is best about this vacuum cleaner for pet owners though is the handheld turbo brush that comes with it. Most of the time handheld vacuum option isn't great because people end up not even using them. There are many closets in America that are home to completely unused handheld vacuums. This vacuum has a handheld option as a bonus feature.
Canister vacuum
Radial root cyclone technology
Triggerhead tool
The Dyson DC39 Animal Canister Vacuum Cleaner uses the classic canister model with the classic Dyson ball for enhanced maneuverability and suction. This machine lets users capture even microscopic dust. The competitors' machines can't keep up with the performance of the Dyson DC39 Animal Canister Vacuum Cleaner.
Probably the best feature of this Dyson is that the entire unit turns flawlessly. In addition to the ball, it has a central turning mechanism that helps the entire canister turn. It has controlled that no other canister vacuum does.
But there are a few downsides. Because the canister vacuum doesn't have the same power as upright vacuums, you're sacrificing a little bit of suction.
Initially, the Dyson DC39 Animal Canister Vacuum Cleaner seems like everything you could want out of a vacuum for your pets. But, it's more expensive and less potent than our top pick. When you're looking for something to pull out every pet hair, you'll need to look elsewhere.
But, if you prefer a canister vacuum, this is the best canister vacuum that caters towards pet homes. The triggerhead is great because you won't need to bend over for anything. The handle relies on a turbine head control which allows it to adjust to either carpet, tile, or hardwood.
Lift-away hand vacuum
Anti-allergy seal
True Pet motorized brush
HEPA filter
If you're looking for something lightweight, this might be the best option for you. This upright vacuum doesn't' have any of the weigh that you would expect with how bulky this vacuum appears.
So, what's so different about this vacuum that makes it great for pets? Well, it uses a brush roller that increases suction and helps grab the hair out of the carpet. Rather than mashing the hair down into the carpet, this brush roller uses an upward flicking motion.
But the Shark Rotator NV752 True Pet Upright Vacuum also has a cleaner head and a brush designed for pet hair. These attachments turn this otherwise standard vacuum into a vacuum that's great for picking up fur and fine dog hair.
The motor used in this model works on air pressure which creates a stronger vacuum effect. Other sharks use a similar design, and it's one of the ways the company keeps their vacuums so reasonably priced.
The Shark Rotator NV752 True Pet Upright Vacuum comes with a lifetime HEPA filter that catches about 99% of all allergens including pollen. It uses a cannister rather than a bag, so there is a bit of chance when you're emptying the canister that some of the dust will escape. But this is still a great vacuum cleaner.
There are a lot of Shark options available, but the Shark Rotator NV752 is best because of its lifetime HEPA filter. You don't have to worry about a family member's allergies, with this vacuum cleaner.
170 AW of suction power
Holds 0.4 gallons
SmartSeal allergen filter
Weighs 17.75 pounds
30 feet of cord length
What you need from a top of the line vacuum that focuses on picking up pet hair, without the price tag of a Dyson. Don't get us wrong, Dyson's are fantastic. But, honestly, they aren't in everyone's budget. If you're looking for something that will get the job done well at a reasonable price, try this Bissell.
It's "lift-off" technology pulls hair straight up first, and then sends it into the whirls and turns of the vacuums suction system. Many people love the Bissell Pet Hari Eraser Bagless Vacuum because you can use it as both a canister model or an upright vacuum.
The downside? Well, for this price you won't get a HEPA filter, but Bissell does have their own filters which give of a fresh Febreze scent. But, the tangle-free brush roll makes up for the lack of a HEPA filter.
If you've ever spent hours cutting hair off of a vacuums brush roll, you'll know that hair is the enemy of vacuums. The tangle-free brush uses a cyclone pet hair spool systems that make it easy to grab hair off the brush roll for quick cleaning.
The Bissel SmartSeal targets allergens which are outstanding for anyone who has a family member with pet allergies. The SmartSeal works with the Febreze filter to grab onto small particles before they fly back into the air.
Probably the best part of the Bissell Pet Hair Eraser Bagless Vacuum is that it has multiple pet hair tools that help get the hair out of the thicker carpet, and upholstery. The tools are also useful for reaching into corners, under couches, and on stairs.
The best tool is the Pet Hair Eraser's telescoping wand that gives you control over the level of suction. This extra control is excellent for anyone who knows where their pet likes to curl up for naps on the carpet. The LED lighting also helps you see the hair that is still left on the floor.
12 pounds
WindTunnel technology
Quick Fit hose
Multi-cyclone action
The Hoover UH72405PC WindTunnel Air Bagless Upright Vacuum Cleaner is an excellent steal for any pet owner. This machine has an outstanding performance track record, on both carpet and hardwood. The bristles use a medium thickness. They are thick enough to grab up tufts of pet hair but won't damage wood flooring.
The WindTunnel technology is very powerful, and its suction will grab up many different hair types. If you're looking for clean carpets, and an easy to use vacuum system this might be the best option for you.
This Hoover product can keep up with even the Dyson vacuums. The maneuverability aspect and price make it perfectly reasonable for this vacuum to be in every home that has pets.
It's powerful enough to give you flawlessly clean carpets and maneuvers under couches or around coffee tables well. Anyone who is on a budget can do well without with this deep cleaning Hoover.
Filters for pet hair
Cleans best in carpet
Uses BoostIQ Technology to increase suction power
uses a 3-point cleaning system.
The Rumba isn't quite catered towards picking up pet hair. But the RoboVac can make an effort. You don't have to maneuver the Eufy Robovac, because it does it all. You can manually control the Eufy Robovac to set a path. But, why would you?
Unlike other robotic options for vacuums with a focus on pets, this model retains a lot of the suction power. You'll want to ensure that the RoboVac is only on carpet. Straight out of the box you'll have the Robovac device, remote control, charging base and AC power adapter.
We believe that the Robovac is the only good robotic option for pet owners. Many pet owners might not realize that the robotic options aren't very good. But if you have one dog, you can get away with a robotic vacuum.
Robovac sets lower than other robotic options which make it ideal for picking up pet hair. The smaller size is actually a bonus! Not to mention, it's a great price.
Hard floor hero attachment
Handheld vacuuming option
Ultra-lightweight
Pet multi-tool for picking up pet hair
From hardwood to couches, you'll be able to pick up dog and cat hair without any problem. The Shark Rocket True Pet Corded Ultra-Light Upright Vacuum has many functions. The thing that caught us off-guard at first was the price. Sharks are known to come with a hefty price tag, but this model is unbelievably affordable.
Then there is the design which makes an upright vacuum meet in the middle with stick design. The very slender vacuum makes it easy to use on stairs and furniture. It has one of the best mobility aspects, even when you compare it to a Dyson. The Shark turns on a dime.
Maneuverability is outstanding, and the innovative design allows it to retain its claim to lightweight without losing out on features. You can get into corners and any other tight space you could imagine.
The bonus feature that surprised us was the hardwood attachment. If you're looking for a versatile, and powerful machine, you should consider this option.
The hardwood attachments and powerful suction off such a small device make it useful for small spaces. Although the slim design comes with a few drawbacks, its nothing that would deter someone from enjoying this vacuum.
There is not a hose option which is a big deal to some people, but you can pull out the handle for precision handheld vacuuming. The handheld use is great for pet owners that know someone with allergies is coming over. You can quickly vacuum down the couch, as well as the living areas of the house within only a few minutes.
306 Air Watts of suction power
Hygienic bin changing
Works on all surfaces
Tangle-free turbine brush
35 feet of cord
Dyson is well-known as the vacuum brand of choice, and this unit uses its signature ball. But, how does it target animal hair or fur in a way that other vacuums don't?
The Dyson Ball Animal 2 Upright Vacuum can lay claim to the strongest suction of any Dyson vacuum. It's actually strong enough to pull curly pet hair out of carpet fibers. That way you're not crushing hypoallergenic dog hair into the carpet. Further, you're actually pulling it out.
This unit also relies on a HEPA filtration system that processes the entire machine. It captures common allergens from pet hair and dander, as well as bacteria. With a 306 AW suction power, this beast is something to reckon with.
The best part about the Dyson Ball Animal 2 Upright Vacuum is the adjustable head and base. You can click through the options for carpet, vinyl, wood and tile flooring. It's great for the whole house and has attachments you can purchase to get into your furniture.
Overall, this is a great option to pick up the pet hair around your house and would make a big difference for anyone with allergies.
The pink and grey vacuum that is not only smart but affordable. That's right this vacuum uses advanced technology to prevent hair from kicking around the room you're vacuuming. Eureka started working on this technology a while ago, but in its simplest form, Eureka severely reduced the number of twists and turned it takes for the hair picked up off the floor to make it into the canister.
The air path has very few bends, which reduces the amount of debris floating around the room after you completed vacuuming, but it does have a negative effect on suction. When it comes to finding the best vacuums for pet hair and dander suction isn't everything.
Eureka makes up for the lack of suction with a lightweight design and a pet comb. The pet comb aptly named the "PET Power Paw, is a dusting brush and help deep clean when you're focusing on picking up pet hair.
Overall, the Eureka is a good purchase and work well for anyone with carpet floors. This choice is best for people who prefer an upright vacuum without a ton of attachments.
Don't let the Hoover name fool you. This vacuum is a dream for pet owners. If you have animals in your house, especially ones that shed heavily this is a great unit for you. The WindTunnel technology that Hoover brings with nearly all of their models creates a vortex for fun that won't escape.
The suction power of this model is made with pets in mind. The Pet Rewind focuses on carpeted floors and does not do well on upholstery or flat flooring.
The only downside of the Hoover T-Series WindTunnel Pet Rewind Bagless Upright Vacuum is that it doesn't have a head that performs as well as the base of the vacuum. If your dogs or cats make their way up onto your furniture, there is no way that you will ever get all of the furs out of your home.
Dog hair is also well-known for getting into corners, and the head can't suck it all out. But it has a few redeeming functions. Most importantly, it's the UH70210 brush pedal. This part makes all the difference because it's a pedal that turns on and off the brush roller.
The brush pedal alone makes this a great vacuum for anyone with pets. The pedal will allow you to catch hair where it's at its worst but operate as a standard vacuum everywhere else.
Vacuum for Pet hair and Hardwood floors Comparison
There are 4 primary types of vacuums. Handheld vacuums are among the most common for pet hair because it's easy to get deep into furniture cushions, and corners. But, a lot of people hate handheld vacuums, and that's fine. There are robotic options now as well as the traditional canister or upright vacuum.
Robotic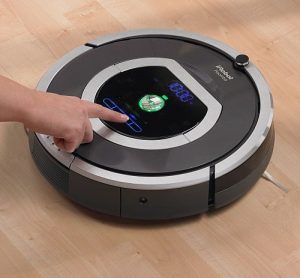 From iRobot we've seen the Rumba, and now there are many different renditions of robotic vacuums. These aren't great options for dog hair or pet hair because they usually aren't powerful enough to handle the hair and break the static charge. They rely on a design for multi-function use, rather than power and filtering the air as it sucks up dander or dirt.
Handheld
There are a number of stick or other handheld vacuum options that are easier to use on furniture than anything else. Handhelds are preferred if you really need to vacuum your couch daily to get the dog hair up. But, if you're looking for something to take care of the overall pet hair problem you need something with a little more power and a little more range.
Handheld vacuums are best for anyone who has allergies. If someone in the household has allergies, you can quickly and easily get up the excess fur or dander off the couch. This quick cleanup will make their lives better instantly.
Canister
The canister vacuum works best for really low carpets, rugs or even flat floors. The best part about canister vacuums is how they handle hardwood and tile. They are easier to maneuver and handle. It's also great for vacuuming your furniture as well. Usually, canister vacuums have a number of attachments that are useful for handling pet hair.
Upright
Without a doubt, upright vacuums are the most popular. But why? Well, upright vacuums usually work well on both carpet and hard flooring, as well as rugs. Most people grow up with an upright vacuum, and they are the easiest to find.
But, upright vacuums are the most common choice because of their power. Until recently, there hasn't been a handheld or robotic vacuum cleaner that has power to content with an upright cleaner.
Things to consider: Vacuum for Pet hair and Hardwood floors
There are a few vacuums, or vacuum combination machines that use a design with your pets in mind.  A vacuum designed specifically for pets or dogs will tackle the shedding problem head-on.
An experienced pet owner knows that one round with the vacuum isn't going to pick up all the hair that their pet has left around the house. Your pet leaves hair on the carpet, tile, wood, laminate and then all over the furniture as well. Some pet designed vacuums utilize a steam function to pick up pet hair from flat surfaces.
A normal vacuum won't break the static charge that pet hair can have with fabric, tile, or wood. So, after you're done cleaning the hair settles back into place, and it's like you never vacuumed at all.
When you're choosing the best vacuum for pet hair and hardwood floors, keep these 3 bits of advice in mind:
Find an option that is handheld or has a handheld attachment.
Use features that focus on suction and filters, not power or capacity.
Multi-function options are amazing if they perform each function well.
Finding the right vacuum for your preferences is hard enough without thinking about the pet hair and dander factor too. You can have a comprehensive list of the things you are looking for, and we guarantee you'll find something to meet your needs in our reviews.
We made sure when reviewing these vacuums to focus on a wide variety of cleaning methods and preferences. If you love upright vacuums, then the handheld couch cleaner isn't going to work for you. Don't just buy a vacuum because it's for pets. Buy a vacuum that is great for your cleaning methods that also works wonders on pet hair. There are too many options out there to compromise on your needs.
FAQ
Vacuums are only part of the solution, and there are many other issues you'll face along the path of pet ownership. We have everything here you could ask for when it comes down to evaluating vacuums or cleaning accessories for pet hair and dander.
What's the Best Type of Vacuum for Getting Pet Hair Off Couches?
For couches, you want either a handheld vacuum or a vacuum that has hose attachments. You can definitely find an upright or canister vacuum that has attachments to grab hair off of upholstery fabric.
The only downside to using a handheld vacuum is that it really only serves the purpose of vacuuming your couch. Even though it's the best type of vacuum for getting pet hair off of couches, it's best to get an upright or canister with the option of attachments.
When you're looking at attachments, you'll need something that has bristles surrounding the suction area, not just plastic bits.
How to Get Thick or Curly Dog Hair Out of Carpet
Getting thick or curly dog hair out of carpet seems impossible. It's as if vacuuming only mashes it into the carpet fibers more. But, there are a number of vacuums that cater to dog hairs. What you need to get curly dog hair out of the carpet fibers is a rotating, thick bristled, vacuum brush.
The rolling brush is a common feature, but there's usually soft bristles. The thick bristles you need will cause damage to hardwood or vinyl flooring which is why most brands use soft bristles instead.
But on top of bristles, you need power. The power you need will far surpass a normal vacuum cleaner. Look towards pet specific vacuum cleaners that deliver a lot more suction power and can cut the static charge that helps hair stay in carpet long after you've vacuumed.
How Often Should I Vacuum with Pets in My Home?
The short answer is that you would ideally vacuum every day, but in some cases that's overkill. What you really need to do is consider how many pets and people live in the house. If you have 2 or 3 pets, you can get away with vacuuming only twice a week.
But, if you have more than 3 pets, and children you really do need to vacuum every day. The dander buildup will remain even after you vacuum because you can't break the cycle. Vacuuming every day ensure that you're eliminating part of the dander buildup, proactively combatting long-term distress.
If you're worried about vacuuming your couches, most homes only need that done once a month with pets. But, if someone in the house has allergies, it's best to vacuum the couches a few times a week. If you have someone in the house that has allergies, it's one of the few times to justify having a handheld vacuum cleaner. These handheld devices are great for picking up hair and dander.
What is a HEPA Filter and Can I Clean It?
Our hearts go out to people who love pets but have allergies. They are really taking one for the team, but they can severely reduce their allergies by using a vacuum that has a HEPA filter. These filters use smart design to capture dander and allergens that trigger reactions from cat or dog hair.
Now, the question of whether you can clean it or not depends on the manufacturer and filter type. Not all HEPA filters are made equal. Although they all out-perform a standard vacuum filter, there are some functionality differences.
Washable filters are easy to rinse off and reuse. But, non-washable filters require replacement filters. You'll definitely notice the initial price difference between the 2 options. Washable HEPA filters can nearly last a lifetime if you maintain them.
But, a vacuum with a replaceable HEPA filter will have a smaller price tag because they want to rope you into buying a new filter every month.
In short, yes, you can clean washable HEPA filters with nothing more than warm water and a few hours of time to air dry. But, if you try to wash a non-washable HEPA filter, you'll ruin it.
Should I Use an Air Purifier Too?
Some people think its overkill, but if you have anyone over to visit regularly that has even a mild allergy, they'll appreciate it. The best trick with using an air purifier is only to turn it on when you're vacuuming.
You can let the purifier continue to run for an hour or so after you've cleaned up the house to catch anything that was flung into the air properly. So, the downside with vacuums at all is that they kick up a lot of dander, dust and fine hair that was otherwise settled.
As you vacuum, it's impossible for the machine to catch every particle of dander that goes up into the air. Turning on an air purifier will help catch the stragglers and prevent them from settling down again.
If you think an air purifier is too much, skip it. But, if you'd rather your vacuuming efforts show, turn on the air purifier for a while after vacuuming.
Final thoughts
When you're worried about pet hair getting everywhere, or you just need to know that. You have a cleaning up plan available, start with your vacuum. A vacuum is the best cleaning tool for pet care as many pet-focused vacuums pick up hair, dander, and the allergens that aggravate many people's eyes and sinuses.
You can get rid of itchy eyes, and tufts of pet hair but keep your dog too. Use one of the vacuums we reviewed here or review our buyers guide to find the best vacuum for pet hair and hardwood floors.
Without a doubt, our favorite pick here is the Dyson Ball Animal 2 Upright Vacuum. It has everything a pet owner could need, from specialty attachments to tons of suction power. This vacuum has more air watts than any other vacuum available.
Although it's a Dyson and comes with a high price, it's worth the investment if you have more than 1 dog or cat inside. We also enjoyed that this unit uses a lifetime HEPA filter. In the long run, you'll save money.