As a pet owner, knowing how to groom your dog at home is necessary. If you add more grooming sessions at home to your routine, you will be able to control the process, and you'll save a lot of money as time passes.
Why is grooming so important?
The hygiene, appearance, and health of your pet all reveal how well you care for your dog. When dogs are healthy and clean, they do not transfer infections to the kids in the house or other occupants.
Also, when dogs are properly groomed, they will not be susceptible to annoying yeast infections. These infections cause skin irritation and excessive itching.
Dog grooming is quite similar to human care. It includes brushing of teeth and cleaning the gums. This helps prevent gum disease and tooth decay. You also need to trim the hair properly. When long hair is not trimmed regularly, it begins to tangle.
What you need to groom your pet
Before grooming your dog, you need to have the required supplies. You need these things to produce the best results. Some include:
Washbasin or dog bathtub according to the size of the pet.
Faucet sprayer of good quality
Dog shampoo
Dry towels
Dog nail clippers
Speed blow dryer
Medicated ear solution
Cotton wads
Strong leash or adjustable collars.
You also need to create a safe space for grooming. It should be easy to clean after each grooming. Some dog groomers choose to wear coveralls, and it protects their hair and clothes from the water.
Before starting, you should try to calm the pet. This process reassures the pet and can help the dog ease into the process. It will reduce anxiety, and when dogs are calm, both the owner and the pet enjoy the process.
How to groom your dog at home
Prepare the grooming tools
Ensure that you have the supplies mentioned earlier. Set them up in the grooming area before taking the pet there. Arrange the room in a way that all the necessary items are within arm's reach. This way, you won't need to move around the house searching for supplies while grooming.
Remove tangles or mats on the fur
Before starting, it is necessary to search for areas with tangled or matted hair and detangle them. Remember to keep the dog calm while you do this. You can use a detangle solution if it is difficult to remove. Note that mats are more difficult to remove when they are submerged in water. So remove them completely before starting.
Dogs with lots of matted hair may require a special tool for detangling known as a matting rake. The rakes have sharp edges to help in detangling the hair but are also very sharp, so be careful during use.
Clipping or pre-bath trimming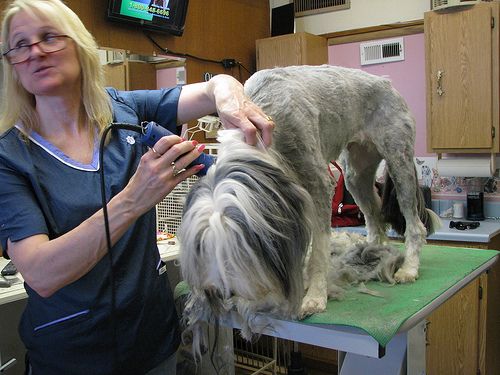 After clearing the tangled and matted areas, you need to use scissors and hair clipper to trim the hair. The tool to use for this exercise depends on the dog breed here. Long-haired breeds require more clipping on their hocks, chest, belly, and feet pads compared to other dogs. For such dogs, dog-grooming shears can come in handy. Be very careful if you choose to use grooming shears with a sharp blade to prevent injuries to yourself and the dog.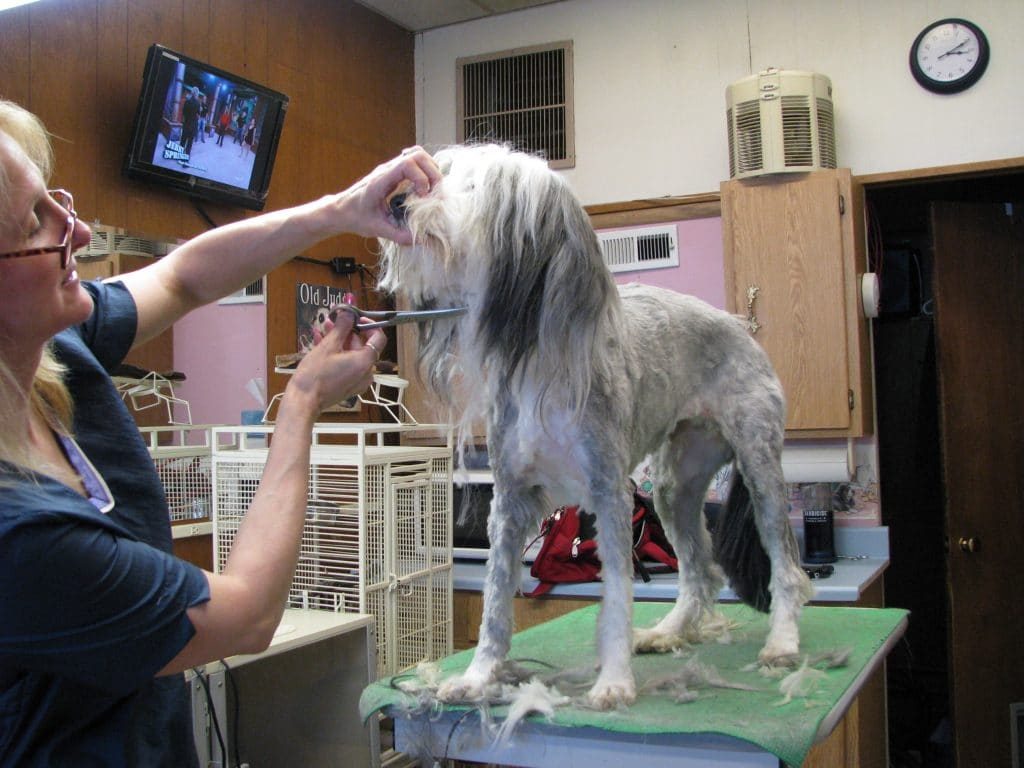 Combing or brushing
You need to brush your dog before bath time. It may take a longer time to do this for long hairs mutts. They also need to be combed more often to prevent the accumulation of dog fur around the house.
Combing the fur must follow a sequence starting from the dog's head to the rear from top to bottom. Ensure that you brush the full coat including the small hair on the head and tail. Be cautious while using tools near the eyes, ears, and face of the pet.
Bathing the dog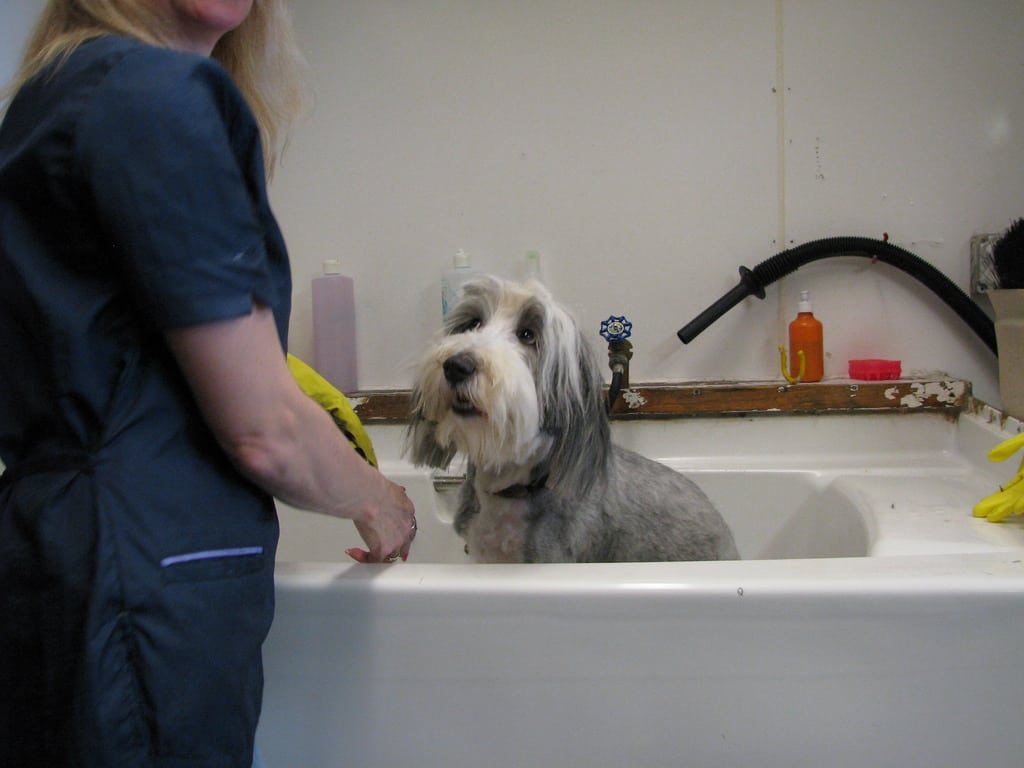 Most dogs do not enjoy taking baths, but others enjoy it more. You can never tell which dog will like bathing because there is no way to tell. You can help your dog to love the process by introducing the dog to the water slowly. Offer friendly rubs as well as verbal encouragement during the process to help the pet ease into it.
If you prefer home bathing and grooming, you need to think about a good spot for this purpose. Some owners opt for a bathtub or standing shower, while others prefer the kitchen sink. The best option is to do it outside because it reduces the amount of mess you will have to clean up. It is also faster. Also, ensure that the water used for bathing is lukewarm.
Dry up after bathing
After completing the previous steps, it is now time to dry the hair and skin. You can opt for one or more dry towels to clean up the water and then follow it up with a low or no heat blow dryer.
Clean Ears
After drying the fur, you need to clean the pet's ear because of possible wax buildup. Ensure that the ears are dry always because moisture promotes bacteria growth.
Trim the toenails
Dog's need nail trimming occasionally when they grow long. If they begin to snag on the floor when the dog walks, it is time for clipping. Long nails on dogs can cause ingrown nails or infections that are even more serious. Ensure that you clip the dewclaw nail in the leg as well.
Brush the teeth
Dogs also require a good oral hygiene like humans. They chew, pick objects and lick things with the mouth, and this can cause tooth decay in the long term. You need to brush the pet's teeth often but do not use human toothpaste. Use toothpaste that is made specifically for this purpose.
Final thoughts
Grooming sessions should be fun and stress-free for dogs. Dogs experience stress like humans and can react negatively during grooming especially with the tools used. Make it a duty to ease the dog into it. Don't yell at the pet, just speak softly and as time goes by, it will become less stressful for both of you.
Image Credit: https://www.flickr.com/photos/libbydorazione