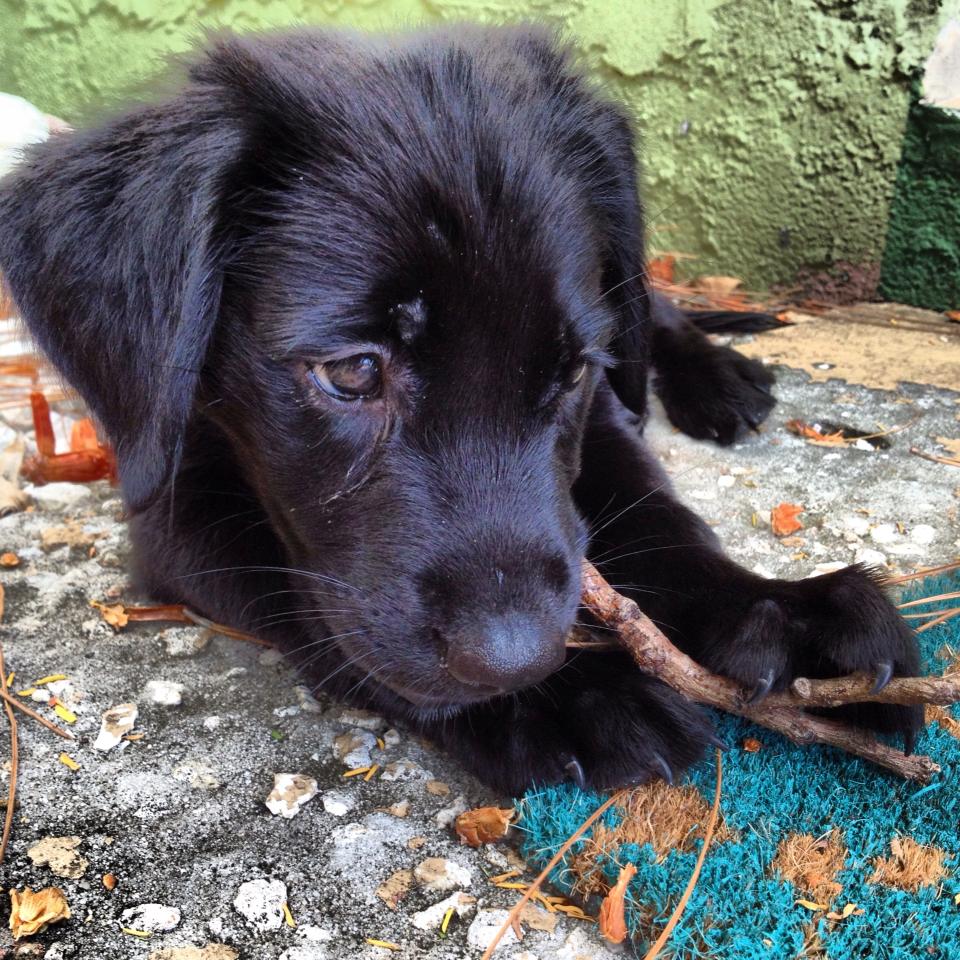 This is Buddy: The first day we brought him home.
We were so excited. After months of discussion, we were finally ready for a dog. We chose to go with a rescue, a lab puppy. We got the phone call and made the drive to pick up our new addition.
When we first saw him we knew he was the right one for us. He was soft and fuzzy, about the size of a football, and had the unmistakable smell of a fresh little pup. We argued over his name and half-heartedly agreed on Zeus.
Our first day with him was a blast. He was adjusting well and getting himself into all sorts of stuff as we watched him learn and explore. That evening I got a phone call from his foster mom.
One of his brothers in the litter had been taken to the emergency vet for symptoms of parvo-virus. We didn't really know what that was and he was running around like a madman so we just continued our night as usual. The next morning everything changed.
The three most telling signs of parvo are:
Bloody diarrhea
Lethargy
Lack of appetite even for water
When he went out for his morning pee he didn't want to walk and immediately had bloody stools. He ate a little food but only a couple nibbles. All he wanted to do was lay on the couch.
I immediately went into "mother mode". I called the vet we had decided on using and hoped they would take him in. Many vets will often refuse care because their facility can actually be shut down for decontamination. Thankfully the Northlake Animal Hospital accepted him.
He was rushed in and immediately put on an IV drip and held for observation. The vet gave us grim news, he may not make it.
"Puppies, especially as young as he was, only have about a 20% survival rate," stated our vet.
Of course, I start breaking down. I begin to look up treatment options, cost, calling other vets to see what they had to say. They all said the same thing. It would be a miracle if he survived.
A telling sign is that he didn't have a fever and wasn't vomiting when we took him in. I hung on to anything I could, and that to me was good news.
When we picked him up after the first day of treatment it became clear that the situation was much worse than we had thought. He couldn't even lift his head; he hardly even wanted to open his eyes. We were told that he may not make it through the night.
We spent the evening forcing liquids via syringe into his mouth to keep him hydrated and prepared ourselves for the worst when we got up in the morning. But he made it through the night.
We spent the next week going back and forth to the vet at 7:30 every morning and picked him up at 5:30 every evening. Days 1-3 were the hardest. He showed no signs of improvement and we were told on day 3 that if he doesn't start showing signs the next day that we would most likely have to put him down.
On night three we had a minor breakthrough
We had been sent home with high-calorie moist food to syringe feed to him. He was starting to lick the syringe and the spoon on his own. That was huge!
His fourth day was even better. He began to eat and drink on his own and was way more alert. We sent him in for a fifth day just to get another round of antibiotics and fluids to make it through the weekend if this didn't work we would have no choice but to say goodbye.
When we picked him up it was a totally different dog. He was still tired but he was up and moving. He ate like a madman and drank as much water as he could!
For the past month and a half, we have had to have weekly check-ups because he got behind on his shots due to his compromised immune system. I am happy to report that we have renamed him Buddy, and he is the happiest most energetic six-month-old Labrador Retriever puppy ever.
He is growing every day and is receiving his final shot next week! What happened to us was rare, the fact that he survived was even more unheard of. He beat the odds and we are incredibly happy to have him running around the house chewing on everything.


Unfortunately, the recovery Buddy experienced doesn't happen often
Parvo infects the entire body by taking over the white blood cells and is incredibly antibiotic resistant. It often causes cardiac arrest.
Dogs also have zero immune defenses against it unless they have been vaccinated. Even vaccinated dogs can get it, but it's usually a much milder case with light vomiting and diarrhea.
There are five breeds that are more susceptible to the virus than others: Rottweiler's, Doberman Pinschers, Labrador Retrievers, American Staffordshire Terriers, and German Shepherds. It is also insanely contagious.
It's transferred through an infected dog's feces and saliva. This means they can get it just from sniffing another dog. The virus literally is EVERYWHERE (i.e. Dog parks) which is part of what shocked us the most. The other thing is that the virus can live on surfaces for up to six months and there is only one thing that will kill it, bleach.
When Buddy was dropped at the vets in the morning I would come home and begin the very long cleaning process. His bedding and any toys or sheets he touched would get bleached in the washer, bowls and syringes would get sterilized in the dishwasher, and the floors would get bleach mopped. Carpets were rolled up and there was a bucket of bleach water ready to go in case he vomited or peed in the house.
There is no actual treatment for parvo. The virus does not respond to antibiotics. The most important thing for a dogs' survival is IV fluids.
They may give him something for his tummy to soothe the pain, vomiting, and pooping, but other than that it's all fluids and prayer. Treatment is also incredibly expensive. Buddy's treatment cost around $5,000.
That was just for a week. Often time's dogs will need longer than that. Some treatment can be as high as $10,000. Fortunately for us, the Florida Lab Rescue covered all of Buddy's treatment costs. For many people, they will have to pay out of pocket which is usually very difficult. In those cases, the vet will advise you to put the dog down.
There are two ways to prevent any of this from happening
1. Vaccinate your dog
The population of animals is growing; many of your neighbors probably have pets. You don't know their vaccination or health history, so you must be one step ahead of them.
Don't take your dog to socialize with other animals if they haven't been vaccinated. They can be carriers of the parvovirus and not display symptoms, that isn't fair to other dog owners.
I know it's exciting to have a new puppy and you can't wait to show it off, but a few weeks can make a huge difference. Don't be selfish and possibly infect your pet. I'm not saying that your dog is going to get parvo, it may never happen, just be smart about it.
It's a lethal and terrible virus for your dog. We were incredibly fortunate and had amazing luck on our side. We don't want you to ever have to go through what we did.
Buddy looks like a champ and fully recovered from parvo!