Sometimes our loving furry family members want to get out and run. Some breeds like Huskies can't fight the urge to run. Other breeds like Basset Hounds will catch a scent until they're too far out to get home. So how do you teach boundaries?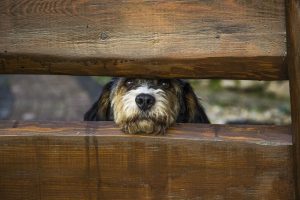 Wireless dog fences are great ways to set boundaries down and let them know that this is where you draw the line. Some models are portable, while others are permanently fixed. There are many options available. We have put together all the information possible to help you find the right wireless dog fence for you and your pup.
How Does a Wireless Dog Fence Work?
How the system works is pretty straightforward. The transmitter sends out a signal wirelessly to the corresponding collar. This signal extends out into a circular boundary that will contain your pets in one area. This containment area is the safe zone for your yard. The safe zone is usually adjustable.
There are some variations on how different fences work, but there are some similarities. The safe zone will adjust depending on the size and strength of the transmitters. If you're looking for something to use to crate train your pup, you'll want something with a very weak signal.
But if you have acres of farmland and want to keep your dogs close to the house, you'll need something a little more powerful. When your furry friend gets out of the safe zone, they'll have received a form of correction. This is another way that the types of fences differ.
Some fences emit a warning sound when your dog is close to the barrier. This sound will alert them of the impending correction if they don't stop. However, most fences don't offer this feature.
But, there is another difference. The correction is not always a shock. Although the shock correction is the most common, there are also vibration or noise correcting systems. The reason that shock fences are most common is that they can set up for long-lasting correction to behaviors.
Finding the Right Wireless Dog Fence
3 primary factors go into finding the best wireless dog fence for you and your pet. Your furry friend should never be put into a position where they are in harm. For that reason, you should always consider your dog's size. A smaller dog needs a weaker signal and less intense corrective response.
But, you should also think about how much ground you need to cover. Ground coverage can help you set down your boundaries. But many models have wide ground ranges. Finally, think about your environment.
Area
The space you need to cover might vary depending on whether you're traveling, out for the day, or need a permanent fence. The idea is that you should always get slightly more space than what you plan to allow for your dog.
If you want to give your dog 20 feet from the porch, you should get a wireless dog fence that has a 25-foot range. This gives you the ability to extend your reach a little more. A lot of pet owners don't realize how small their initial estimate was.
The other aspect with an area is portability. Portability plays a part if you're planning on traveling or if you want to use the barrier when camping. Sometimes people enjoy taking the more portable obstacles with them when camping, so their dogs aren't tied up all the time.
Environment
Because the fences are wireless, you must consider your environment and the strength of the signal. The ideal environment is an open space without trees, poles, or other obstructions. A tree may make the perimeter of the safe zone disjointed and displace the safe zone.
The strength in the signals makes all the difference. If your backyard is full of trees, low fences, and structural aspects, you want to get a wireless fence with a strong signal. But, you have to be careful because you don't want something that will overpower the environment either. Most often the strength of the signal means a bigger area coverage.
Sometimes you can find a great wireless dog fence that comes in various sizes or signal strengths. If you're camping, you can have the smaller version of your favorite wireless fence with your camping gear while the larger setup is in your backyard.
When you're working with an environment that might have trees breaking up the perimeter, you could also consider using a fence that allows you to make your perimeter. Some fences will let you place multiple transmitter pieces to create a perimeter that is not a circle.
Dog Sizes
Of course, you don't want to use a shock collar that's too powerful for your small dog. But, how can you tell the difference?
Most wireless dog fences are meant for medium to large sized dogs. This means that if you have a small dog, you might feel a little hesitant to get a wireless dog fence.
The word that you want to see in a product description for a small dog or puppy is adjustable. There's a lot of wireless dog fences that are adjustable. Usually, the lowest setting will work well for small dogs, but if you're concerned about a puppy to find one that notates the weight.
A common weight association for wireless dog fences is 8-pounds. If your pup doesn't weight 8-pounds yet, you should try to correct digging behavior or escape with positive reinforcement. There is a particular note on puppies who dig or escape.
Usually, if a puppy is digging or getting out a lot, they aren't running off all their energy. There's a lot of puppies that need to spend some time running out of steam so that they can settle down. If they can't get that out of their system, then they will start digging or following new smells. When your pup goes in the backyard, they should be tired.
Top 5 Picks Wireless Dog Fences
Lightweight
Portable
Adjustable perimeter
This stay and play wireless fence is great for dog parks, or wide open spaces where you want your pet to run, but with a few restrictions. The adjustable perimeter is circular and can extend for up to three-quarters of an acre. That is a lot of lands for your dog to run, play, and be mostly free.
5 levels of static support
Rechargeable collar
Comfortable collar
No wires to bury
Susceptible to interference
The difficulty with a circular shape
Price
If you're looking for something at home, this is probably not your best choice. The susceptibility to interference and issues with the circular shape can confuse dogs. But, if you're trying to train dogs to behave off the leash or stop running when off the leash this is a great tool. You can take this wireless fence and the 50 marker flags that it comes with to any dog park and train for competitions or for educational purposes.
Make the most of this training system during long training sessions. The battery on the rechargeable collars lasts for days and is comfortable for your dog.
Plug and Play
Simple setup
Covers half an acre
This simple system sets up in just minutes. You can cover about half of an acre for your dogs to run and play. The great aspect of this system is that you can easily bring it with you anywhere. With about 5 minutes of setup time, you can bring this wireless fence to a friend's house, or a dog park.
Low maintenance
Easy to use
Fast setup
Great for camping or when on vacation
Circular perimeter
Not enough space for large dogs
Not good for the home
Overall, this system is great if you're often traveling. If you are constantly stopping on camping trips or taking your furry friend out to the park, you should give this system a chance. Many pet owners love the freedom it gives them in dog parks or at campsites.
But, if you need a perimeter at home, this is not the best option available. This system doesn't give you the long-term use you need at home. It also doesn't cover a space that you would want on a large property. This also is not a great option for people with large dogs.
Comes in a Kit
4 Different Sizes
Adjustable nylon collar
Whether you need to keep your dog in a specific area, or out of a certain area, this pet barrier is a great option. The multiple sizes make it a great option for any pet owner. You can use the indoor option to help crate training. Or, you can use the outdoor option to stop digging or running away.
The kit is a bit expensive, but it's useful. You can also purchase collars separately, so you're not buying multiple kits if you have more than one furry friend. This system is a great option for anyone who has a pet family.
Easy disk setup
Waterproof
As small as 8-feet in all directions
Collar has a safety shut-off feature
Some pet owners claim their pets don't respond to the stimulus
Current is too strong for small dogs
This is a great choice for big dogs that you want to have inside on occasion. The 8-foot option can help crate train larger dogs. But, if you're looking for something to cover a larger area you can opt for the outdoor option.
There aren't many wireless fences that come in a variety of sizes. That feature makes this system stand out from the rest. But, there is some concern about using the device on smaller dogs. The current begins with a mild, attention-grabbing warning shock. But, for some small dogs, this mild sensor is too much.
Wireless
Uses Wi-Fi
Covers from 40-500 feet
With a completely wireless system, you can set up this boundary easily. The cordless, circle shaped boundary can adjust to 100 different levels. It can also reach up to 500 feet in radius.
The FunAce wireless dog fence uses a shock system to grab the attention of your dog. But, it has an emergency shut-off after 54 seconds to ensure that your dog's safety. This feature ensures that your dog is not receiving potentially harmful shocks.
Covers up to 17 acres of land
Incrementally adjust the radius
Completely wireless transmitter
No port or wire to bury
Collars must get recharged
Price
If you have a really large section of land, this is the right choice for you. Because it uses a Wi-Fi radio transmitter, you can set this system up easily without having to bury anything. The maximum radius of 500 feet can keep your dog in a large yard but also close to the house. The collars are rechargeable, but the Wi-Fi transmitter uses only a single-use battery.
The FunAce works well for both large and medium-sized dogs, however, is not such a great choice for small dogs. Although the FunAce is easy to set up, it's not really for moving around.
Safe and Easy
Works above and below ground
Collar fits most dogs
This wireless fence is a great solution for off-leash training. You can keep your dog in the yard, and work with many other training issues such as digging. If your dog keeps jumping the fence or digging under to get out, you need a wireless fence.
The best part of the fence is that you can customize your electronic dog fence so that you can have different zones where your dog can or cannot go. For instance, you can separate a garden from the rest of the backyard.
Adjustable
Design your own perimeter
Sound and static correction
Waterproof unit
Short battery life
Fence loses strength as battery drains
Sharp contact points
Overall this is a good choice, but you should be prepared to monitor the battery of the electric, wireless fence regularly. There are 2 rechargeable collars and a step by step guide. The installation is easy, and you can install it above or below ground.
When installing this wireless fence, you should be careful that you're not near any metal plating. The transmitter for the wireless fence sends out a signal to 2 collars. The settings are easy to adjust whenever necessary. You should give your dog a few days to get used to the new system. It's great for people who are moving onto a large property.
Our Top Pick
The PetSafe Paws Away barrier is by far the best value and best product. The high-quality transmitter and collar will last for a long time. The ease of adjusting the collar or the settings make it a top choice for any dog parent.
But, the thing that sold us was that you could purchase collars separately. It is a well-known fact that if you have one dog with a bad habit, it's only a matter of time until other dogs learn it too. If you have one dog that has issues with digging or getting out, you'll find that your second or third dog will start getting out too.
With this kit, you can accommodate your whole pet family. Keep your dog safe and set your boundaries.
Wireless Dog Fence FAQ
People have tons of questions when it comes to these types of things. We've taken all the information we could to answer some of the most common questions here.
Do They Work?
In short, yes, a wireless dog fence will work. These are great tools to stop digging and help your dog learn new barriers. If you have a problem with your dog digging or getting out, you should give a wireless dog fence a try.
Are Wireless Dog Fences Waterproof?
Not every wireless dog fence is waterproof. In fact, it's best to avoid any shock collar in water just in case there's a possibility of unintended harm. Whenever possible, look for a waterproof system. But, if you think that rain or water is a possibility, you should take the collar off.
Are These Fences Safe?
Invisible fences or wireless dog fences are great training tools that provide virtually no element of harm to your dog. But, there is an element of risk in everything. To make sure that your wireless dog fence is safe don't leave your dog unattended with the corrective collar active.
The point of a wireless dog fence is to train your dog to know their boundaries and prevent them from getting out. If you think that the problem will persist you should spend time with the daily to correct these bad behaviors.