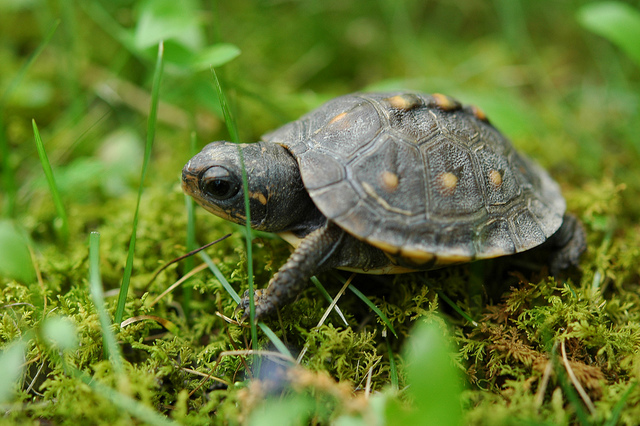 Baby Turtles Facts On What Do Turtles Eat
One of the most amazing experiences a person could have is to watch a baby green sea turtle make its journey to the ocean. Although it may seem cute to you, it is a perilous journey for them and is often frought with danger from humans and wild animals alike.
Although most people won't have a baby sea turtle as a pet, every pet turtle owner should have the proper knowledge to care for baby turtles. You never know when you might have to care for one.
So when asking yourself what do turtles eat, keep in mind that for baby turtles there are three main types of food that are commonly fed to baby turtles: Commercially bought turtle food,  fish food, and live foods.
Commercially Bought Turtle Food For Baby Turtles
This is probably the most common and most easily available for of pet turtle food. They come in small sticks and pellets, and there are some  which are specifically made for baby turtles. They tend to be smaller sized pellets to accommodate the smaller mouths of baby turtles.
You can of course feed them "normal" pet turtle food but be sure to break the food up into bite size pieces for their little mouths. If you feed baby turtles food that is too large for their small mouths they might choke.
Fish Food For Baby Turtles
Fish food is actually a welcome alternative to traditional pet turtle food. The small flakes are very easy for baby turtles to eat and they still provide all the required nutrients and vitamins to maintain a healthy diet.
Obviously as your little friend grows you'll need to add larger foods, and portions, to their diet.
Live Foods For Baby Turtles
Live foods are any pet turtles dream come true. All animals, as far as I know, enjoy the thrill of the hunt. Cats love mice and birds, dogs love rabbits and squirrels, and turtles…they love fish and worms.
As mentioned before, be sure to provide live foods in small bite size chunks, or at least cripple them a bit so the baby turtles can easily catch and eat them.
How To Feed Baby Turtles
As an owner of baby turtles you should think about giving them a variety of food choices to begin with. Like any pet, they have preferences for food and may take to some types more than others. No matter what types of turtlesyou have, try giving them a mix of pellets, sticks, flakes, and cut up live foods.
This will give them a option and greater opportunity for feeding on.
As they get older you will start to learn their preferences and know what they do and don't like. And as you learn that you can remove the items they don't care for to make sure they stay as healthy and motivated as possible.
Water turtles such as the red eared slider or painted turtle must be fed in water since they don't produce saliva like other animals.
A recommendation is to feed them in a separate container of water using the same water from their normal tank. Not a lot is needed, just enough to cover the turtle half way.
What do turtles eat that you would need to do this? Well for one it keeps dirt and morsals from uneaten food off the turtle and out of their normal home. This helps to keep their home clean. Also it helps baby turtles get use to being handled on a regular basis.
Keep in mind that not all turtles and baby turtles should be fed by hand, snapping turtles for example SHOULD NOT be fed by hand. You don't want them associating you, your hand, or your fingers with meal time.
PATIENCE IS A VIRTUE WITH BABY TURTLES
Remember, like most infant animals…and people… baby turtles can be fussy eaters. It's important to know that you should feed them EVERYDAY. And leave food for them a bit longer than you would for adults. 30-60 minutes should suffice.
By the way. Baby turtles are like a watched pot. They never boil…or at least they don't like when you watch them eat. Give them some space so they can eat in peace. How would you like it if someone was staring at you while you ate dinner?  
What Do Turtles Eat – Baby Turtles
So what do turtles eat? Well since baby turtles are commonly carnivorous they tend to go after small insects and animals that are already dead or easy to catch.
What Do Turtles Eat In The Wild – Baby Turtles
In the wild they tend to prefer eating a variety of bugs, worms, and other insects.
As they age of course they tend to develop a more omnivorous taste and enjoy a steady diet of both animals and plants.
What Do Turtles Eat In The Home – Baby Turtles
Luckily, if you want to feed your baby turtles something a little more practical then dead bugs you'll find that there are many pet turtle foods readily available in the home. You have a variety of options such as Chicken, Fish, Beef, Turkey, Eggs+Shells, Etc.
As mentioned before, be sure to cut any food up into tiny little pieces for your tiny little turtles mouth. Also make sure the meat is cooked and unseasoned. You don't want your little friend to get sick or choke.
And although they tend to prefer meats, it's important to include the option of fruits and vegetables in your baby turtles diet. You can offer them simple things like Apples, Lettuce, Tomatoes, Carrots, Grapes, Cucumbers, Celery, etc.
Again, cut them up into small morsels to avoid chocking hazards.
KNOWING WHAT DO TURTLES EAT FOR HAPPY AND HEALTHY BABY TURTLES
And there you have it. What do turtles eat you ask? For baby turtles you now have the Do's and Don'ts of a happy healthy pet turtle. Like every pet, the baby turtles can make an excellent companion when taken care of properly.
If you enjoyed this information, or have any suggestions please be sure to comment below or share this page with someone you know who would benefit from this information.