Regardless of what type of fur your dog has, odds are they need the occasional trim. But if your dog does have thick or wavy fur it's important that you keep them trimmed short through the summer and prevent matting in the winter. We've gathered all the information possible on how to find a dog grooming clipper for your four-legged friend.
How to Pick A Dog Grooming Clipper for Professionals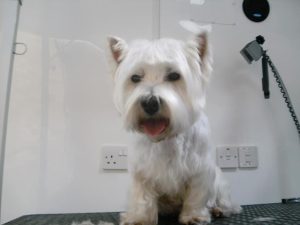 There are many aspects to consider before purchasing a professional dog clipper. We've explored both sides here and gathered as much information as possible, so you can find the features that will make a great value for you.
Noise and Heat
There are a few factors that cause dogs to have anxiety about grooming. Specifically, noise, heat and occasionally vibrations. Because dog clippers use a motor that moves blades, similar to a facial hair trimmer, it vibrates, is noisy, and heats up. The more powerful the clippers are prone to their blades heating, vibrating and lots of noise.
Some major brands have developed blades or motors that are quieter and vibrate less. There are even some instances where they take longer to heat up. However, the primary solution to heat is sticking with fully ceramic blades as they disperse heat better than titanium.
High Rotary Speed
Good rotary speed is important for both you and your pet. It will help to finish grooming task quickly and efficiently.
If you choose a normal speed dog clipper, it will take much time. Moreover, you will need to trim one place more than once. It can also hurt your pet. So, it is important to consider high rotary speed per minute to get good support.
Durable & Sharp Dog Clipper Blades
You need to consider sharp blades set for your pet. A sharp blade will help to give an accurate cut. Moreover, there is no risk of tangles or nips when using the device. As a result, it will not hurt your pet at all.
Durable blades will help to reduce your cost for blades replacement. You can consider a ceramic blade for getting durable and sharp support. When finding a replacement, you need to make sure the blade suits your clipper properly.
The weight of the Clippers
Lightweight clippers are important to give a smooth cut. If you are using a lightweight clipper, you can feel comfortable. Moreover, it will not hurt your arms.
Using a heavyweight dog clipper can make your arms uncomfortable and tired. Therefore, you will lose control and give an unattractive cut to your dog. So, the weight of the clippers is also important.
Make sure you are not compromising the quality and motor power of the weight. You should pick a clipper that is a good combination of weight and motor power.
Multi-Speed Dog Clipper
You should buy a multi-speed dog clipper. Every dog does not have the same fur. As a result, you will need speed depending on the quality and type of fur.
If you are using a single speed model, you are limiting the use of it. Moreover, it is frustrating on slow speed work. It can also reduce accuracy and make it sloppy.
Depending on your requirement and use, you can consider 3-5-speed level. The more speed level, the more you can expect a good result.
Quiet Motor
The quiet motor can help you in many ways. If your dog has a nervous disposition, it will scare because of the motor sound. As a result, you might face trouble to finish a grooming session.
You need a quiet motor that can help to work properly. It will help to soothe your dog and complete the grooming session. Having a quiet device works well with any sleep. So, make sure it does not make any noise for cutting the furs.
Corded vs. Cordless Dog Clippers
There are two choices for you. You will get a corded and a cordless model to choose.
A corded dog clipper is good because it will always give the same contagious speed. Moreover, you can use the clipper for better grooming. However, you can't use it if there is no electricity. On the other hand, it comes with a limited corded design. So, you can't move to another place.
Cordless dog clippers are best if you like portable use. The dog clippers are easy to use and maintain. Moreover, you don't need to think of the cord length at all. However, you can't operate it for a long time. Some models do not give continuous speed because of low battery support.
Accessories included
Accessories are extra with the dog clippers. Depending on the models, you will get additional accessories. You can expect to have cleaning oil, combs and cleaning brush.
You can also get the accessories buying them separately. However, it will increase your cost. So, a dog clipper with some good accessories can help to save money.
These are the same factors that you need to consider. They are important to make your dog feel comfortable during the grooming. Otherwise, you will face trouble and it will result in a bad and inaccurate cut.
5 Clippers for Professional Groomers from petupon

| Dog clipper | Canine | Price | Our Rated | |
| --- | --- | --- | --- | --- |
| 1. Andis Vet Pak Detachable Blade | Scotties, Poodles, cocker spaniel | $$$$ | | View on Amazon |
| 2. Wahl Bravura Lithium Professional | Shih tzu, maltese, biewer terrier, Schnauzer | $$$ | | View on Amazon |
| 3. Oster A5 2-Speed Animal Grooming Clipper | German Snauzers, Maltese, English Springer, German shepherd | $$$ | | View on Amazon |
| 4. Andis UltraEdge Super 2-Speed | Poodles, labradoodle, golden retriever, Maltese | $$$ | | View on Amazon |
| 5. PetTech Professional Dog Grooming Kit | Shih tzu, Maltese, Cocker spaniel, cockapoo | $$ | | View on Amazon |
Top Rated Professional Dog Grooming Clippers
To keep your pet comfortable they need regular grooming. You can either take them to a groomer once every 6 or 8 weeks, or you can groom them at home. There's no right or wrong answer but, groomers need a professional dog clipper because they're constantly using them. For pet lovers caring for their animals at home, buying clippers is an investment that can save you money in the long run.
1. Andis Vet Pak Detachable Blade Clipper Kit for Veterinarians
[img_products img_code="91VLIpq2nRL" alt="Andis Vet Pak Detachable Blade Clipper Kit for Veterinarians" code="B0018KOHD2″ reviews="View on Amazon"]
Heavy-duty
Self-cooling
Corded and Cordless
The Andis Vet Pak caters to professional groomers who have to from many different hair textures, thicknesses and are using their clippers constantly. These clippers are super quiet, so they're great to use around skittish dogs or dogs with grooming anxiety. The Andis Vet Pak uses an ergonomic design to prevent wrist fatigue.
If you're looking for power, this set of clippers clocks in at a max of 3800 rotations per minute, but it retains its cool temperature because of the ceramic blade. It also comes with comb guides and many blades which are detachable.
The Andis Vet Pak is everything, you would want in a great clipper except the weight. These clippers are meant to last the busiest of groomers for years, but you'll experience some muscle building in your dominant hand after a bit of use.
These clippers are an investment, most people at home aren't ready to spend this much on a new set of clippers. But, professionals should consider that buying a set of clippers that are this high in quality can save them money from having to replace clippers once a year.
The battery on this cordless clipper is pretty good as it can last for over an hour without charge. Many professionals prefer to keep it corded and charging until they start detailing.
2. Wahl Bravura Lithium Professional Pet Clipper
[img_products img_code="510wj453ZhL" alt="Wahl Bravura Lithium Professional"  code="B00EVBXI2G" reviews="View on Amazon"]
90-minute runtime
Rapid Power
Lithium-Ion battery
Wahl is a brand that anyone in the dog grooming industry knowns. The Wahl Bravura Lithium has one of the most reliable batteries available right now. There's no memory effect on the battery so you can charge it all night without the risk of killing it.
The motor uses a variety of torque settings to adjust the power and blade speed according to the dog's coat. If you're taking care of a thicker coat, the motor will adapt by slowing the speed and increasing the power.
This clipper relies on many different technological advances from Wahl. This clipper works great for years and holds up well to any type of dog hair. There are many concerns that people have with Wahl because it's a well-known brand. However the price is low, and the longevity is proven!
Many professionals swear by Wahl for their quality and quickly focus on how they're great to use with skittish dogs because they're so quiet and have low vibrations.
3. For thick coats: Oster A5 2-Speed

Animal Grooming Clipper
[img_products img_code="51Zdo9Kl3cL" alt="Oster A5 2-Speed "  code="B000LRN31A" reviews="View on Amazon"]
Stay cool blade
2-speed setting
#10 CryogenX blade
Would a list be complete without an Oster? The answer is no; it wouldn't. Oster is a brand that has dominated the grooming industry for years. Whether you're occasionally grooming your dog at home, or are a professional groomer, you could gain quite a bit with this clipper.
The Oster A5 2-Speed provide 3,000 RPM which isn't the most powerful on the market, but it offers lower power in one setting, then on the high setting cranks it up to 4,000 RPM. The reason that Oster regulates their RPM is to prevent heating. They want your dog to be comfortable too!
Overall the Oster A5 2-Speed  is a great set of clippers for a home groomer that has 1 or 2 dogs to take care of. However, adjusting it is difficult which wouldn't make it ideal for professional groomers that are looking to take care of multiple dogs with varying hair needs.
4. Andis UltraEdge Super 2-Speed Detachable Blade Clipper
[img_products img_code="31CA02TMvyL" alt="Andis UltraEdge Super 2-Speed Detachable Blade Clipper" code="B00UT3EYPA" reviews="View on Amazon"]
Andis is a well-known brand for providing long-lasting dog clipper. The clipper comes with two speeds for providing easy grooming. You will get 3400 and 4400 strokes per minute at two speed. Therefore, you can use any speed mode depending on the requirement.
For providing good durability, it comes with shatterproof material made handle and housing. The housing is easy to clean and maintain. You can remove the blades for easy cleaning. The detachable design makes it a perfect dog clipper.
To ensure sharpness and strength, it comes with carburized steel blades. Therefore, you will always get good performance. Moreover, the blade design is suitable for support maximum blades. Therefore, you can easily find a replacement for the blades.
The best part is its quiet experience. Your dog will never be scared of the sound. Moreover, it has no maintenance cost. You don't need any cleaning oil or grease for using it.
You will get a 14-inch cord for easy operation. Therefore, you can easily move around your dog for grooming. However, you need to be careful as you are connected with electricity.
Overall, the dog clipper is a good device for grooming your dog. The versatile speed design with an impressive blade will always give you a premium cut for grooming.
5. PetTech Professional Dog Grooming Kit
Cordless model
Best for dogs with anxiety.
Come with multiple blades
Complete grooming kit with scissor ,combs , and nail clippers
[img_products img_code="712akafZOhL" alt="PetTech Professional Dog Grooming Kit" code="B0765BFVGK" reviews="View on Amazon"]
Another cordless dog clipper for you! It comes with lithium battery for long backup time. Its ergonomic design is perfect for providing comfort during a grooming session.
According to the manufacturer, you will get up to 120 minutes backup for 2.5 hours charge. Moreover, there is a LED display for showing the battery power. So, it is user-friendly and you can easily know when to charge the battery.
For coming up with hairstyle, there is two-speed mode. Moreover, it gives you a turbo switch for speed up the motor. You can use also adjustable combs depending on the size you need. So, you can easily give a good cut on various size.
It is important to cut long hairs before you start. Otherwise, the motor may not cope with long hairs. So, you will not get an accurate cut from the dog clipper.
Overall, the dog clipper is a complete set for grooming. You will get clipper, nail file, nail clippers, adjustable and detachable combs, and a cleaning brush.
Conclusion
The Wahl Bravura Lithium Professional Dog Clipper is the overall winner when it comes to choosing the best professional dog clipper. There are many options available but when it comes to power, speed, weight, size, and budget this clipper is a great option.
The blades are Snap-On which makes them extremely easy to handle and clean. There's also the adjustment which spans come 0.7mm to 3mm. The Wahl Bravura Lithium Professional gives you so much control that if there's any pulling or tugging you only have yourself to blame.
The system is lightweight, quiet and utilizes the Wahl low vibration technology to prevent skittish dogs from becoming upset when this clipper comes out. The blades quickly cut through thick coats and undercoats easily.
With a quick charge, and long-lasting battery you can't pass up the Wahl Bravura Lithium Professional.
When you are plenty of choices, you will surely become confused. Therefore, we pick only 6 dog grooming clippers for review. So, you can read detailed reviews with advantage and disadvantage. As a result, it will help to make a wise decision for your pet. Don't hurry, just give some time to choose the best model for your dog.